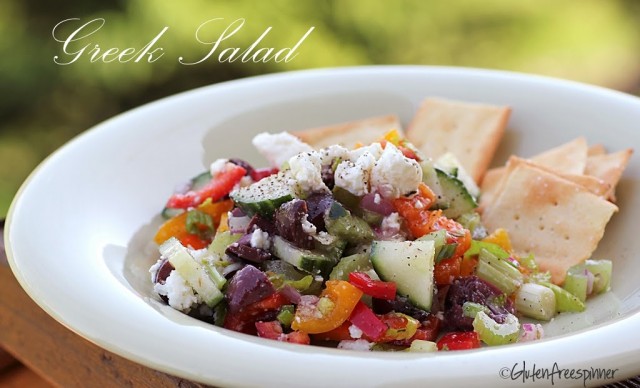 Fresh crisp sweet peppers, cucumbers and onions are tossed with Kalamata Olives and creamy feta cheese then dressed with a tangy red wine vinaigrette to create a summertime salad bursting with flavor.
The inspiration for my salad came from a surprise party I attended last weekend for a good friend. The hostess served a delicious cream cheese dip topped with tomatoes, peppers, olives, and feta cheese. It was such a nice change from the usual appetizers and I craved the Greek flavors for days.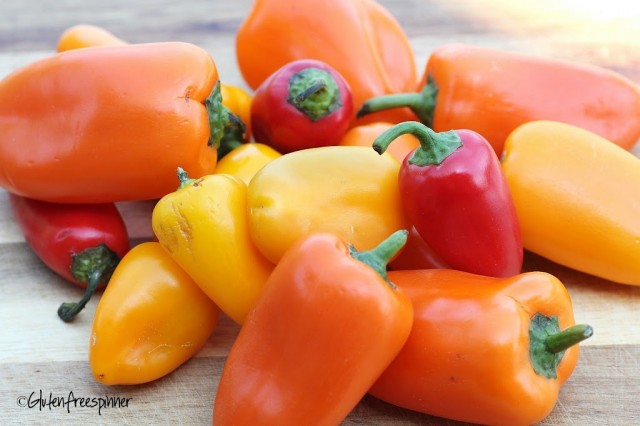 This salad comes together quickly and stays fresh and bright into the following day. It would be lovely served over a grilled chicken breast or tuna steak, but I ate it solo and savored every bite. It's great for picnic's and outdoor parties as it doesn't contain mayonnaise and the flavors get better with time. If you do make ahead, hold off adding the feta until just before serving to keep the texture of the cheese crumbly and light. When it comes to purchasing the feta cheese, buy only the best…like French Feta by Valbreso, my personal favorite. It has a unique creaminess with just the right amount of tang and no bitter aftertaste…and it's made with 100% sheep's milk.
I enjoyed my salad with Mediterranean Lentil Sea Salt Crackers, a proven favorite of mine. I found them at Home Goods of all places, but you can order them online…just click the link. I was elated when I first tasted these crackers as they are light, crisp, full of flavor and most like 'regular' crackers. Being the wine and cheese connoisseur I am, a good cracker is a must! And speaking of wine and cheese…you could serve this salad along-side a cheese tray as a Greek Salsa…it would be wonderfully colorful and a delicious addition.
1 English Cucumber, quartered (leave skin on unless using a regular garden cuke)

1/3 cup chopped red onion

1 1/2 cups chopped assorted sweet mini peppers, 1/2″chop

1/2 cup diced celery

1/4 cup chopped green onions (use all the green too)

1/2 cup sliced Kalamata Greek Olives

Juice of 1/2 lemon

Good quality French feta cheese, crumbled – use the amount you prefer
Dressing:
1/3 cup red wine vinegar

2/3 cup olive oil

1 Tbsp honey

1 tsp dijon mustard

1 tsp Greek seasoning- McCormick's Gourmet has a good blend (oregano, mint, thyme, basil, marjoram)

1 tsp garlic powder

1 tbsp grated Parmesan cheese

salt and pepper
Combine the vinegar, spices, honey, mustard and parmesan cheese. Whisk in the olive oil and add salt and pepper to taste.
Directions:
Combine all the salad ingredients (except Feta) in a medium glass bowl and toss to combine. Squeeze the juice of 1/2 lemon over all and toss again. Add half of the prepared dressing and toss to coat the vegetables. Add more dressing if needed until the desired consistency and reserve the remaining dressing for another day. Cover and chill until ready to serve and just before serving crumble the feta cheese over all while lightly tossing into the salad.