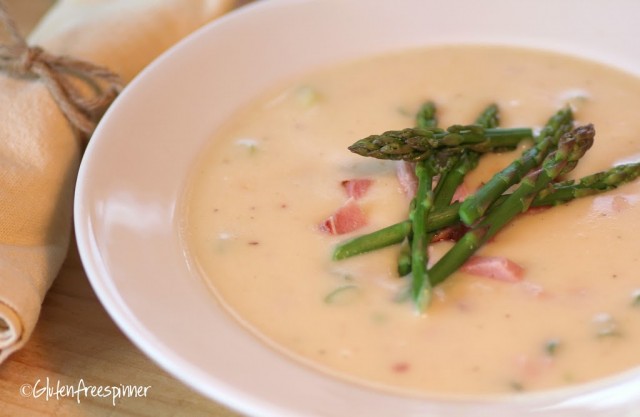 Potato Soup – Slow Cooker Style
Imagine this…you make this creamy-dreamy slow cooker potato soup, enjoy it with your family for dinner deciding it's incredible, then wake up the next morning and realize you left it on the back counter to cool before packing into lunch containers. Grrrrrr…felt so wasteful and almost cried as I dumped it. Sigh.
And to make it even worse, I used the last package of our super-sealed smokey ham in this soup…yep, you heard me…super-sealed smokey ham. (Tee-hee…we love our super-sealer and we Love this special ham). I have to tell you about this ham….it's Elliotts Up North Smoked Ham…and it's AMAZING. This all natural smoked ham is gluten free (as is their bacon), and it's by far the best smoked ham we've ever had. If you haven't purchased your Easter Ham, check out their site for where to buy one. If you already have your ham…put it in the freezer and buy an Elliotts…afterall, it is Easter, and you only serve the best. Good thing Easter is this weekend so we'll have more smokey ham to super-seal.
Anyway, the soup. Yumm-yumm. And I'm posting it just in time for the Easter weekend leftover's of all those 'smokey hams' people are making. I love potato soup and think I make a pretty tasty pot, in fact my Ultimate Potato Soup recipe is listed on this site, and as ultimate as it is…it's also very time consuming. This slow cook version takes away all the labor and time and gives my original soup a run for the money. I think it might be even better…dare I say.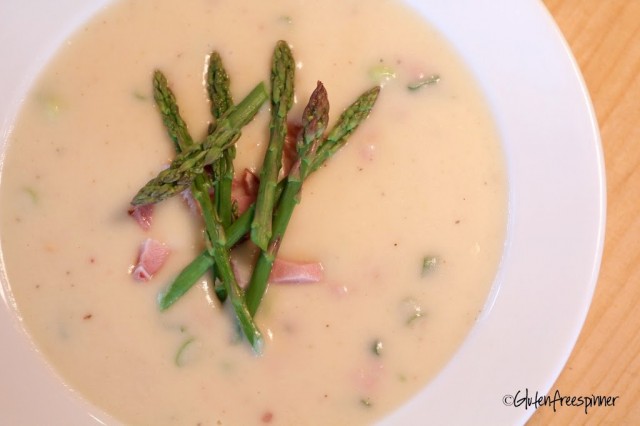 There are many versions of slow-cook potato soup, all of which are created to save time, but flavor still needs to be first. I tweaked mine to include sweet potatoes and ham, and I've excluded cream and butter. Adding a large sweet potato (not yam) to my potato soup added a nice creamy sweetness to the entire pot of soup. Then…I topped off each bowl with roasted asparagus. So Yummy.


Hipppity Hopppity Happy Easter!
(And remember to pack your leftovers BEFORE hopping into bed….)
1 large Vidalia onion, chopped

2 pkgs Simply Potatoes hash browns or

frozen hashbrowns thawed (check GF)

1 large sweet potato, peeled and small dice

1 Tbsp seasoning salt of choice

1 tsp garlic powder

1 tsp onion powder

2-3 Tbsp minced garlic (to taste)

6 cups GF chicken stock




8 oz cream cheese (1/3 less fat) softened

2 cups shredded cheddar/montery jack cheese

½ cup Daisy Light sour cream

¼ cup grated parmesan

3 cups good quality lean smoky ham, cut into ½" cubes (save a little for garnish)

½ cup chopped green onions

Red pepper flakes

Asparagus spears – Roasted just until tender but still crisp, halved.
In a large slow cooker (Crock Pot) add in this order the onion, potatoes, sweet potatoes, seasoning salt, garlic powder, onion powder and garlic then pour the chicken stock over all. Cover and turn crock pot on high for 4 hours or low for 8 hours.
After the cooking time, add the cream cheese, shredded cheese, and sour cream and stir. If it seems a little too thick, just add a little chicken stock to your preference. With an immersion blender, blend the entire contents of soup until smooth and creamy. Add the ham, Parmesan, chopped green onions, and pepper flakes. Cover and allow to cook another 15-20 minutes.