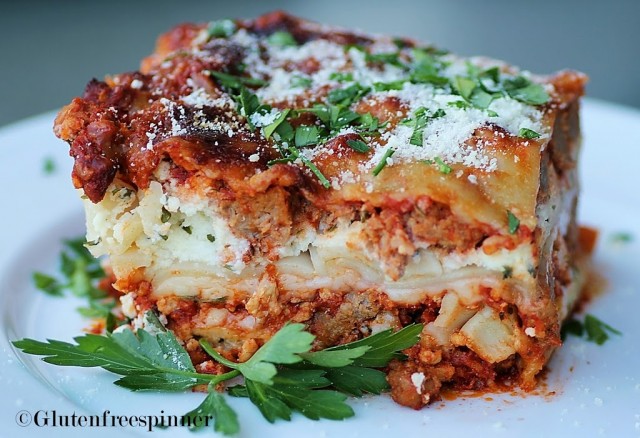 LASAGNA
It's a chilly April day at our cabin in Northern Minnesota and I'm re-posting my Lasagna recipe as I make it for some good friends tonight.
I first posted this recipe in 2010, and as I follow my recipe and Norah sings "come away with me" in the background, I decide it's worth a re-post.  As we all know, lasagna is a labor of love, but make it a day ahead and keep in the frig until ready to bake…you'll find it's a great entertaining choice!  You can enjoy your guests as it bakes and bubbles emitting aroma's of Italian goodness throughout your home.  Serve with a Caesar  salad and a nice bottle of Red, the cheesy layers will bring happy faces and satisfied tummies.
For dessert it's my key lime pie, which I'm "kicking-up" a bit.  I'll re-post that recipe with my kicked-up version as soon as it's set so I can take a new picture…it's an easy dessert that always proves refreshing after a heavy Italian meal.
Have a great weekend
XO  Mary
* * * * *
This is my traditional lasagna recipe…minus the gluten…and you'll never know the difference.  Tinkyada Brown Rice Lasagna Noodles taste and perform just like original semolina wheat lasagna noodles.  I use ground turkey and Italian turkey sausage in my lasagna, but you can certainly use ground beef and sausage.  For my sauce, I add organic pizza sauce for an additional kick along with fennel seeds and fresh parsley.  The finishing layer is a combination of mozzarella and Parmesan cheeses which creates a bubbly brown crust on top.  Serve with a side salad and garlic toast.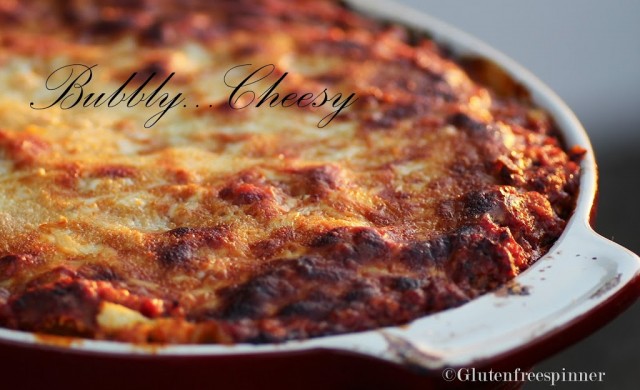 Cheers to enjoying this Italian comfort meal again with a glass of Malbec or Cabernet and celebrate the many advances in gluten free living…like fabulous lasagna noodles made with brown rice and rice bran.
Ingredients:
1 pkg (1.25 lbs) ground turkey breast
1 pkg sweet Italian sausages (4 in package)
2 Tbsp olive oil
1 medium onion, chopped
3 cloves garlic, minced
1 – 25.5 oz jar Muir Glen Tomato Basil pasta sauce
2 – 15 oz can Muir Glen Pizza sauce or your favorite
1 Tbsp brown sugar
1/3 cup chopped fresh parsley, divided
1 pkg Tinkyada Lasagna noodles
16 oz low fat Ricotta Cheese
1 egg
3-4 cups shredded mozzarella cheese
1 (8 oz)pkg Mozzarella cheese slices
1 1/2 cups Parmesan cheese, divided
Seasoning Mix:

2 tsp fennel seed, 1 tsp garlic powder, 1 tsp onion powder, 1 tsp dried basil, 1 tsp Italian seasoning, 1/2 tsp sea salt, 1 tsp black pepper, 1/2 tsp red pepper flakes.

Grind all the seasoning mix ingredients with a mortar and pestle until well blended breaking the fennel seeds as you grind.
Directions: 
Heat a large pot of salted boiling water for the lasagna noodles and cook them for about 6-8 minutes so they are still slightly firm.  Drain and rinse with cold water, separate the noodles and lay them flat so they don't stick and set aside.
Remove the casings from the turkey sausage and break into 1″ chunks.  In a large saute pan, heat the olive oil and start browning the sausage.  Brown until sausage is no longer pink, then transfer to a plate and set aside reserving the liquid/oil in the pan.  Add the ground turkey breast to the same pan and break up with spatula while browning, ensuring to chop the turkey into small pieces (the idea is to have the ground turkey in small ground pieces and the sausage in larger chunks). Add the chopped onion and sprinkle about 2/3 of the seasoning mix over the ground turkey and continue browning until no longer pink. Check for seasoning, adding more of the additional seasoning mixture if needed.
Add the sausage back to the pan along with the pasta sauce, pizza sauce, garlic, 2 Tbsp parsley, and brown sugar.  Stir to combine and allow to simmer on low, partially covered.
In a medium glass bowl, combine the Ricotta cheese, egg, remaining parsley, and 1/4 cup Parmesan cheese and mix well to blend thoroughly, set aside.
Heat oven to 375 degrees
To assemble:
Spread 1 cup of the meat sauce on bottom of pan to thinly cover.  Lay enough of noodles to cover the sauce, overlapping if needed.  With a spoon, spread 1/2 of the ricotta mixture on top of the noodles spreading down the noodle to cover.  Top with 1 1/2 cups of the shredded mozzarella cheese, 1/3 of the Parmesan cheese, and 1/2 of the meat sauce.  Repeat the layers ending with meat sauce (you'll still have 1/3 of the Parmesan and all of the slices left).  Place the slices of mozzarella cheese over the top of meat sauce, overlapping to cover all areas.  Sprinkle with the remaining grated Parmesan.
Spray a large sheet of foil with non-stick spray and cover the lasagna.  Bake in preheated 375 degree oven for 40 minutes.  Uncover and continue baking for another 30-40 minutes or until dark brown and bubbly.  Allow to stand for 15 minutes before serving.