I'm so excited to bring this post to you today! I have the pleasure of welcoming Jeanine of the Baking Beauties as a guest, and if you don't already know Jeanine, you are in for a "treat".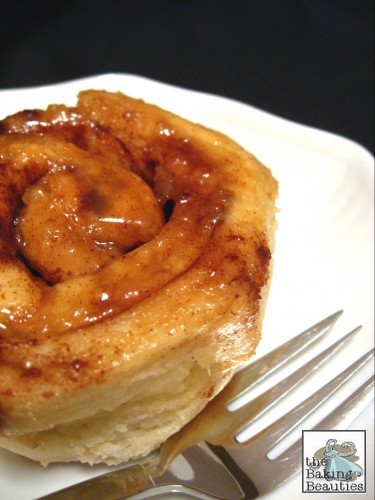 Jeanine's blog is The Baking Beauties and I came across her blog through a post for The Best Gluten Free Cinnamon Buns recipe. I'm a sucker for sweet breads, and I took one look at the texture of her cinnamon buns and knew I had to try her recipe.
In 2011, the holiday season was approaching and I wanted to convert a family favorite recipe for Potica to gluten free. The previous week I had tried a different recipe for sweet bread dough, but the results were disappointing and the flavor wasn't good as it contained bean flour, which I'm not a fan of.
Imagine my excitement when I rolled out Jeanine's dough and it performed just like real (gluten full) sweet dough! I was giddy just spreading the filling across the beautifully puffy roll-able dough! And if you've worked with gluten free dough in the past, you know what I mean by roll-able. Hooray for The Baking Beauties! And…hooray for finally converting my Potica recipe to gluten free, it was exciting.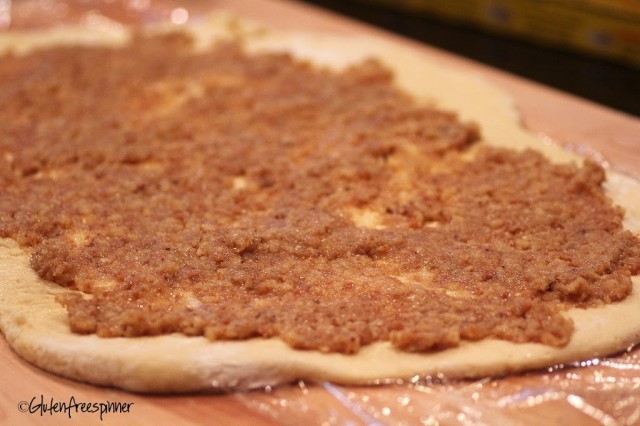 See the edges how puffy they are? That doesn't happen often with gluten free dough. I knew this recipe was going to be a keeper.
And below is the final result of my Holiday Potica. It turned out moist, sweet, and beautiful…thanks to The Baking Beauties!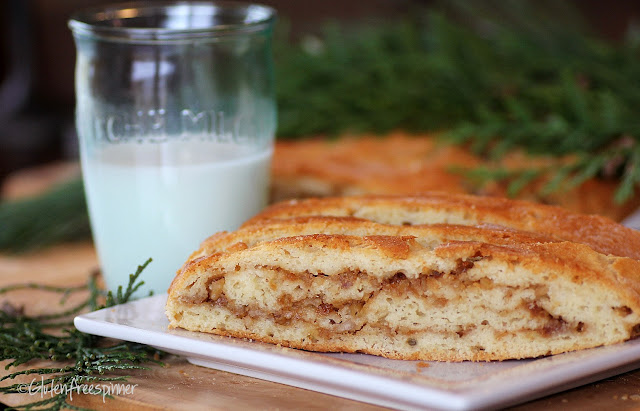 So let's get back to Jeanine and her incredible talent for baking.
As soon as I realized the success of this dough I sent Jeanine a message to thank her for the great recipe. It wasn't until I made my Holiday Potica again this year for Easter that I became equally thrilled and asked Jeanine to be a guest on my blog. Anyone who can create a gluten free sweet roll dough as perfect as this one must be a skilled baker! Happily, she accepted and now I'm honored to introduce her to you!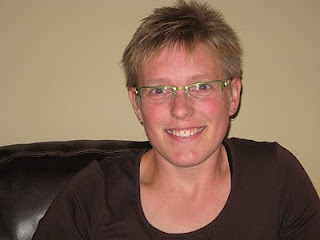 The first thing I wanted to do was ask my readers to send questions they had with regard to baking gluten free…the response was overwhelming!
I pulled the most asked questions and Jeanine graciously answered each of them below.
But first, I asked her to share a little about herself:
·
How did you learn you had celiac disease and how long have you been living gluten free?
After living with over 16 years of unexplained anemia, and then digestive issues and joint pain, I was finally diagnosed with Celiac Disease. First I had the blood work, which came back positive, and then I had a biopsy of my small intestine, which showed damage to the villi. Since May 1st, 2008 I have been living gluten-free.
Gluten Free Spinner:
Have you always been a baker? Who inspired your passion for baking?
I'm not really sure when I started to bake. I know I always enjoyed it, and after we were married I would bake so that we had fresh goods for lunches or dessert, but it was only after my Celiac diagnosis that baking became an obsession. I think it was out of a desire to not feel like I was being deprived of anything. Our local stores at the time carried nearly no gluten-free foods, and what they did have tasted horrible and was extremely expensive. To make sure that I wasn't going to have to live without breads & baked goods my whole life, I decided to re-create all my old favorites in the kitchen. I do enjoy a good challenge.
Gluten Free Spinner:
How did you learn to bake gluten free?
Jeanine:
I taught myself to bake gluten-free. The library resources in our town were horrible, so I went online and searched for any recipes that I thought I 'needed'. I bought myself a few cookbooks gluten-free baking 'pioneers', like Bette Hagman. The number of gluten-free bakers and bloggers has grown, and I think everyone has something great to contribute. We all do things slightly different, and with different backgrounds, all produce slightly different recipes. Reading recipes and blogs is a great way to learn and grow as a gluten-free baker.
Gluten Free Spinner:
We all know and love your gluten free cinnamon buns, how did you develop your basic recipe? Was it a challenge?
I began baking cinnamon buns when I was in high school. One of the first recipes I tried to convert to gluten-free was that recipe. It was edible, but not great. After a few years, and feeling more confident with gluten-free baking, I decided to give that recipe a try again. This time, it was a success. I got a soft, sweet dough, that I was actually able to work with, and roll, similar to my regular cinnamon buns.
Now the Reader's Questions:
Gluten Free Spinner:
What are your three best tips for baking gluten free?
Follow the recipe. I think the main reason I've had readers tell me a recipe hasn't worked for them is when they have made substitutions.
Be sure to use flour blend that is made up of different flours & starches. Using just a rice flour will not produce a product similar to one made with a wheat flour.
Get yourself some good kitchen tools. I love my stand mixer, and knew it was going to be a good purchase for me. Since eating gluten-free is a life time change, I knew I was going to be doing a lot of baking for years to come. Good pans, rubber spatulas, measuring cups/spoons and a mixer are all great kitchen investments.
One other tip, spend a few dollars and get an oven thermometer. Many times things go wrong, and it has to do with the oven temperature not being right. Get a thermometer so that you know if your oven bakes too hot or too cool.
Gluten Free Spinner:
I had so many questions about recipes for gluten free cinnamon rolls and caramel rolls! (This one should be easy being your specialty!)
Cinnamon rolls, now there is a recipe I can supply you with! On my blog, the number one read recipe is "The Best Gluten-free Cinnamon Buns (or Rolls if you prefer)". Using that dough you can create many similar rolls, like the Paska Rolls, or even Monkey Bread
Gluten Free Spinner:
I had many requests for crusts – both pizza and pie – and several for a pastry topping instead of crumble
Jeanine:
I seldom make pie. I think it is because I was never a pie lover before going gluten-free, so I have never bothered to experiment with making pie crusts. I do have a great recipe on my blog that I have used occasionally, but it was developed by a reader and posted with her permission.
Pizza, on the other hand, I have been experimenting with for the past 4 years. After eating many, many horrible pizzas, I decided to start playing around with different dough recipes, and have two recipes on my blog that I am very happy with. My favorite right now is the Chewy Gluten-free Pizza Crust. It is a beautiful holdable, foldable pizza crust that will hold up to any toppings you put on it.
Gluten Free Spinner:
How about egg-free as it pertains to gluten free baking – hopefully without using an egg replacer.
Jeanine:
I do not have any experience with egg free baking, since I am able to eat eggs without a problem. Very often my readers will leave comments with the changes that they have made to a recipe, and whether or not it has worked for them, but I have not tried baking gluten-free cakes and breads without eggs.
** Gluten Free Spinner to Readers: I also am able to eat eggs without a problem, however there are many resources for you such as Kim at Cook it Allergy Free or Lexie at Lexie's Kitchen to name just two.
Gluten Free Spinner:
Why do gluten free baked goods turn out gummy inside? Especially bread. How about a double rise with bread, is it needed?
Jeanine:
Breads can have a gummy texture inside for a few reasons. It could be the recipe, never rule that out. It could also be that the dough has risen too much before baking, causing it to collapse when it is baking, and the inside to get gummy. Another cause could be that it was under baked slightly. When gluten-free bread is not baked completely, it can deflate after you take it out of the oven, and when it does that, it can leave a gummy middle.
With gluten-free breads, one rise time is enough. We do not have to do a double-rise the way wheat bread has to. However, if you want to, you can do a double rise. It actually enhances the flavour of the bread. To do this, just leave your dough in the bowl of your stand mixer, cover loosely with plastic wrap and place in a warm place until the dough has doubled in size. Then put the bowl back on the mixer, run on medium speed to knead the dough back down to its original size, scrape dough into your prepared baking pan, and let it rise again before baking.
Gluten Free Spinner:
Is there a difference in baking with Guar Gum or Xanthan Gum? Do you have a preference?
Jeanine:
I have both guar gum and xanthan gum in my cupboard, and in some recipes I have used both, but I mostly just use xanthan gum. I know it costs more than guar gum, but believe it works better, and nearly all the recipes I've seen us it.
Gluten Free Spinner:
Lastly, what is your favorite all purpose gluten free flour blend for baking?
Jeanine:
I have started to use individual flours in a lot of my baking, but I always keep a flour blend on hand. Cybele Pascal had this blend in her cookbook, and I found it works really well. It is 4 cups of superfine brown rice flour, 1 1/3 cup potato starch, and 2/3 cup tapioca starch. I add the xanthan gum separately, since cookies, cakes & breads all need different amounts of xanthan. I have never bought or tried any pre-blended flour blends, just because none of the stores in my area were carrying them when I started baking gluten-free.
Thank you, Jeanine, for taking the time to share your expertise and talents for baking gluten free!
Readers, if you haven't spent time on Jeanine's blog, head over and take a look…you'll want to start baking gluten free!
Mary