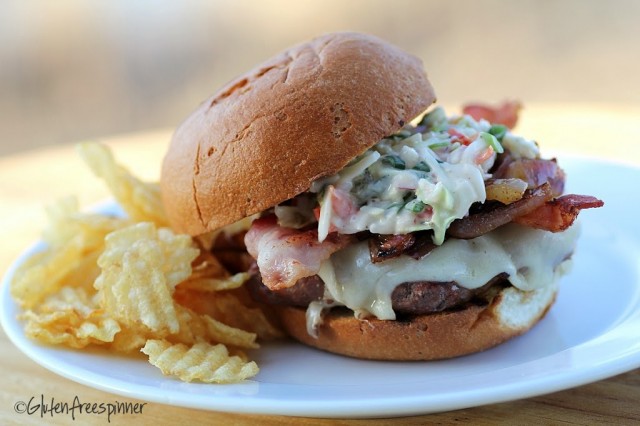 Diego Sirloin Burger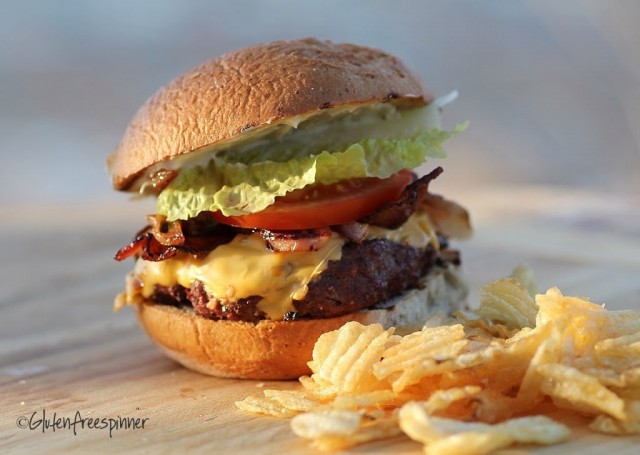 Classic Steakhouse Sirloin Burger
This is a very special Spring BBQ post for many reasons.
These burgers are made with 98% fat free USDA Choice Sirloin

'Spring has Sprung' in Minnesota!

This was the first ground beef burger I've eaten in 23 years…and it was 'boingerless'!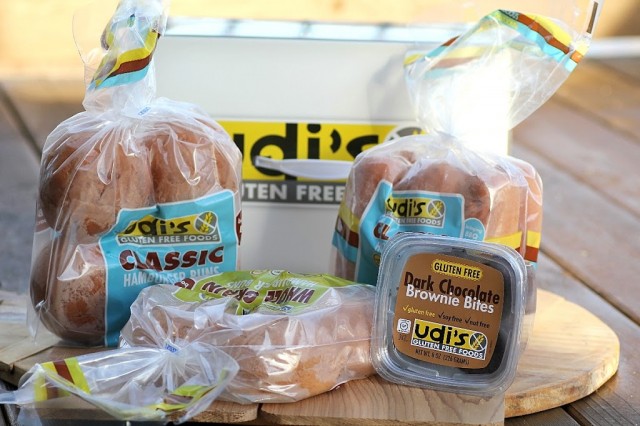 I've been missing a good sandwich bun for quite awhile…soft, fluffy, airy, multigrain, and of course…delicious. Well, Udi's has done it again!
As you know, I'm a huge Udi's fan…it's my #1 choice for GF bread, and now I can add burger buns to that list! I was so excited about these buns that I made all the 'sandwichy' things I've been missing just because I could! Haaa! I'll be posting another favorite sandwich next week on an Udi's Bun…and it was to-die-for!

It's always a celebration when I can take things off the "can't have" list, and most of the time Mr. Spinner is equally excited. The fact that I haven't eaten ground beef for over 23 years (nothing to do with my gluten intolerance) certainly added to the thrill factor when I shared with him this week that in honor of Udi's I was making REAL burgers for dinner! His exact words were, "Yes! Another thing added back on our menu!" Haaha, and he is absolutely correct…they'll definitely be in the rotation.
The matter of not having ground beef is actually pretty simple…I bit into a burger at a restaurant 23 years ago that put the final kabosh on ground beef. There was a lingering tendon in that final bite of burger that made my eyes water in disgust to the point of making me sick. That was the last time I would ever take a bite of ground beef (or ground pork). I had been on the edge anyway with the little bits of gristle and bone that often accompanied ground beef…and this time it put me over the edge. Done.
So, why now? Hmmm, I guess because there are so many things I can't have that when it was suggested I try USDA Choice Sirloin ground by someone I trust to make burgers (and promised it would be completely 'boingerless') I was up for the challenge. Nervous? You bet…at the very thought of it. But hey…I don't create and post recipes for Gluten Free Spinner without trying each one first! And honestly, I'm so glad I did…they were amazing.
Von Hanson's Meats in Champlin, MN was the trusted butcher I chose. Mr. Spinner goes there often but I had never been. As I explained to the Manager, Jesse, why I needed to make sure there wasn't an ounce of fat or gristle in the meat they ground, he gave me a polite smile and said I could pick it up the next day. He couldn't have been more accommodating and nice…especially since I knew the other butchers pretended not to listen yet peered at me through sideways glances wondering who was making this strange request at the end of the counter. But they also graciously greeted me with the same polite smile when I left.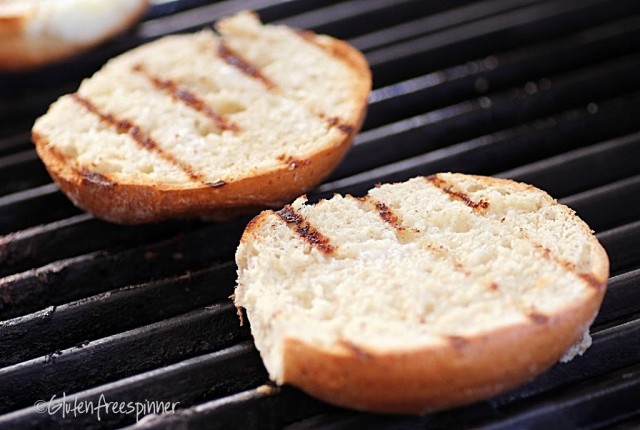 So let's talk about Udi's Buns (that almost sounds offensive). I love Udi's Buns…just look at them…light, airy, not a single hint of spongy texture, and everything you ever missed in a gluten-filled bun. And…they taste like bread!! They are so flavorful and delicious.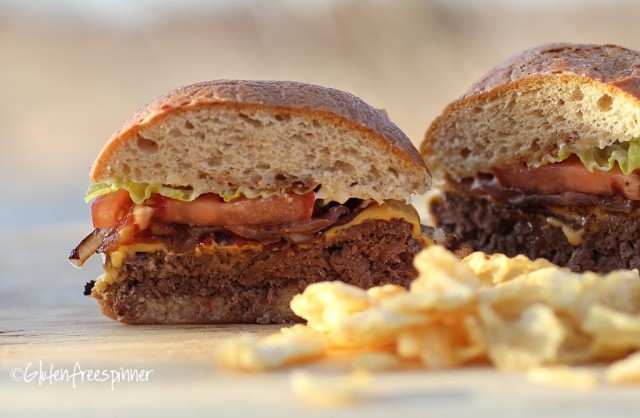 We toasted ours on the grill so they were a little crusty yet soft and tender when taking a bite.


I created two recipes for this post for two reasons. One, should one of the recipes fail I had another to hopefully fall back on. And two, Mr. Spinner wanted a classic burger…no fancy stuff for him, and afterall, he was doing the grilling. Luckily…both turned out amazing.
The first recipe, the Diego Burger was for me…of all the grilled burgers I have watched being made on food shows, the ones being topped off with coleslaw left me drooling. I have no idea why…but I wanted to try it. YUM! I will say, hopefully without sounding boastful, the coleslaw I made for my Diego Burger is hands down the best coleslaw I've ever had. I'll be making this slaw all summer for a side with everything grilled…and I got the thumbs up from everyone.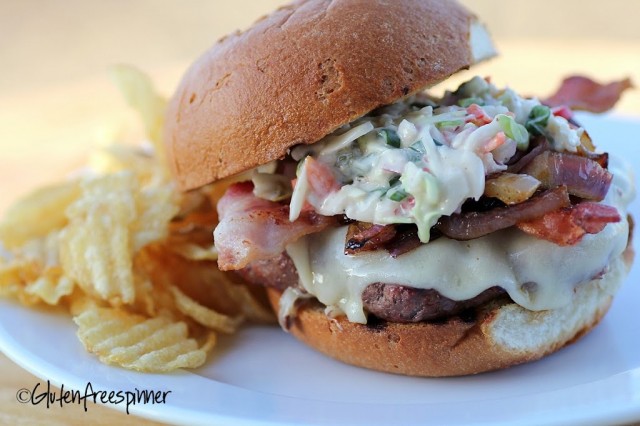 In creating the recipes, I had to keep in mind that my burgers could turn out very dry because there wasn't any fat to make them moist and juicy…or hold them together. I seasoned the meat as though a very lean steak in need of a little tenderizing.
For the Diego Burger I added both papaya and pineapple puree, which is a great tenderizer for flank steak or round steak, and don't worry, you don't taste the fruitiness once it's grilled.
The Diego Burger should be called the "Loaded" Diego Burger as there is bacon, Swiss Cheese, sauteed onions, and my ultimate coleslaw. Yet if that wasn't enough, my son suggested I make a Chipotle Mayo to top it all off. Ohhhhh yum…it was the final Taaaadaaa! Really good!
The second recipe, The Classic Steakhouse Burger, I added red wine vinegar and Worcestershire sauce. I also added a bit of bread crumbs to hold the burger together as I was unsure how it would hold-up on the grill. Both burgers held together just fine, they are definitely more tender than regular ground beef, so be gentle, but you can skip the bread crumbs if you choose.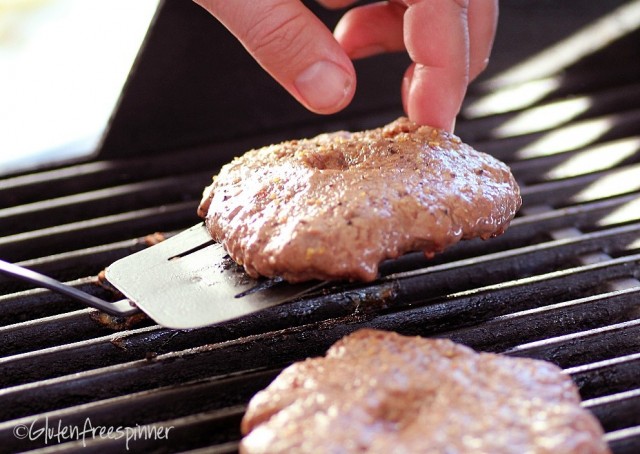 The Steakhouse Burger is classic in that it has American cheese, sauteed onions, bacon, tomato, lettuce, and a swipe of mayo. It was so pretty! And it was delicious.

I think I've found my way back to burger heaven…especially since we have Udi's buns to make a REAL burger! My only hope is that I don't gain 10 pounds because of my new-found burger love! Naaaah, I still love turkey burgers, this just gives another option…and now…both will have a bun.
I hope you enjoy a Spring BBQ this weekend….and I hope you'll try one of my Sirloin Burger Recipes (I push for the Diego Burger).
Happy Spring!




Diego Burger
1 ¼ lb fresh ground USDA Choice sirloin – trimmed of all fat

4 oz pureed papaya and pineapple (I used 4 oz Dole Tropical Fruit (100% fruit juice) papaya and pineapple blended fruit and pureed it )

2 Tbsp Worcestershire sauce

2 tsp McCormick's smokehouse maple seasoning (or grill seasoning if you can't find)

1 ½ tsp fine sea salt

Fresh ground black pepper
Mix all ingredients together just until combined, don't over-mix. Refrigerate for at least 1 hour.
Form into 4-6 patties – depending on your preference.
Lightly dust the tops with grill seasoning before grilling.
Heat Grill to 400 degrees.
Grill 3 ½ minutes, flip, grill the other side 3 ½ minutes, add the cheese and cook for another ½ minute. Serve on an Udi's bun with toppings listed below.
Toppings:
Swiss Cheese
Center Cut Bacon fried crisp
Sauted Onions
Coleslaw:
2 ½ – 3 cups Angel hair coleslaw

¼ cup diced Red onion

2 green onions diced

1/3 cup diced Red bell pepper

2 Tbsp chopped pickled jalapenos

½ cup mayo – less fat made with olive oil

2 Tbsp fresh squeezed lime juice

2 tsp honey (or more to taste)

1 tsp minced garlic

Sea salt and fresh black pepper to taste
Mix the first five ingredients together in a large glass bowl. In a small glass measuring cup combine the Mayo, lime juice, honey, garlic, salt and pepper and taste for seasoning. Pour half over the coleslaw mixture and toss to cover all, adding more to your taste. Chill at least 1 hour before serving.
Chipotle Mayo
Start with 1/4 cup mayo and season to taste.
Classic Steakhouse Burger
Mix ingredients together and refrigerate for at least 1 hour. Form into 4 patties and lightly dust with grill seasoning.
Preheat grill to 400 degrees. Grill 3 ½ minutes one side, flip, grill 3 ½ minutes the other side then add the cheese and cook for ½ minute. Serve on an Udi's bun with listed toppings.
Toppings:

American Cheese (or your choice)

Sauteed Onions

Bacon

Lettuce

Tomato

Mayo