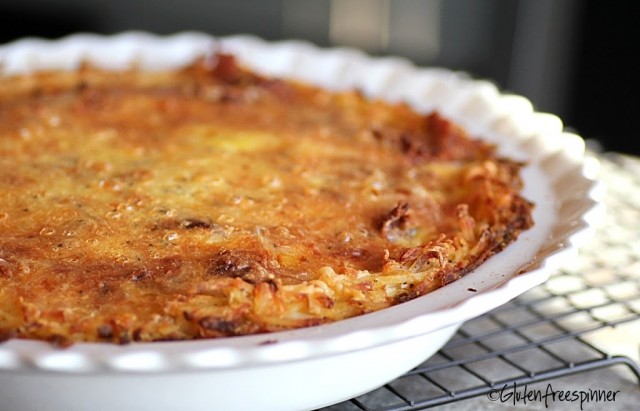 Hashbrown Crusted Egg Pie
This is our all-time favorite breakfast pie and it's a winner every time.
The bones of my recipe came from Emeril Lagasse's Manly Quiche ,which I made for the first time in 2002 for Mr. Spinner's Birthday. When I saw the episode of Emeril making his quiche with a hashbrown crust then filling it with sausage, chili's, and smoked gouda…I knew I had to make if for my 'man'. Quiche is definitely not on Mr. Spinner's list of favorites, in fact his nose curls up at the very thought. But what better way to re-introduce him to one of my favorite breakfast dishes than one with a hashbrown crust!
He absolutely loved it.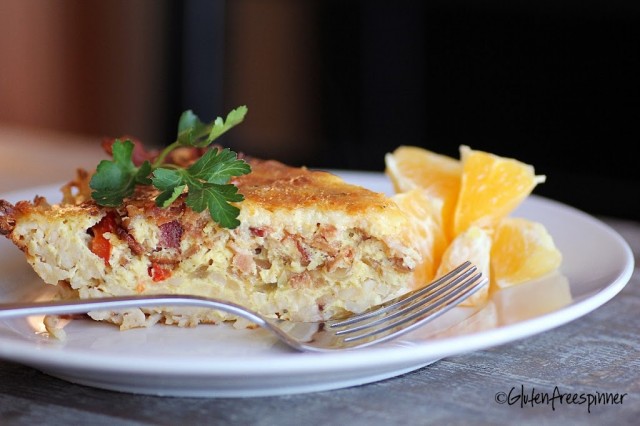 Over the years I've put my own spin on the original whereas it really isn't the same recipe anymore.
The original ingredients are a bit heavy and add to the "manly" part of the quiche, but I simplified and lightened it up a bit, making it a favorite for both of us. You can easily switch-out the ingredients using ham or sausages, or make it meatless and add spinach and mushrooms. Use different cheeses like Swiss or Gruyere and add fresh herbs or spices for a new twist all together…it's the crust that makes this quiche so delicious.
Whether you try the original or make my Hashbrown Crusted Egg Pie, it's one you'll go back to again and again. It's perfect for entertaining to 'wow' your guests and comes together quickly by baking the crust and mixing the eggs a day ahead. But usually it's just the two of us and it stores in the frig for days, reheating beautifully.
3 cups frozen shredded GF hashbrowns, thawed (Mr. Dell's are a great option – just potatoes. Be sure to check ingredients before you purchase your hashbrowns as many contain flour)

3 Tbsp butter

1 Tbsp Emeril Essence Original (or other cajun or southwest blend)

¼ cup grated Parmesan
½ lb center cut Bacon cut into 1/2'" pieces, fried, drained on paper towel

½ cup diced Onions

¾ cup diced combination of green and red bell peppers

5 eggs

3 green onions, chopped

¼ cup lowfat half and half or milk

¼ cup Daisy light sour cream

¼ cup grated parmesan

1 tsp Emeril Essence

½ cup shredded Italian blend or Mexican blend cheese
Preheat oven 350 degrees. Spray the bottom of quiche or pie pan with non-stick spray.
In a medium glass bowl add the hasbrowns, butter, Essence, salt, and ¼ cup Parmesan cheese and mix well. Put in microwave for 4-5 minutes on high, stirring a few times in-between. Stir again ensuring all ingredients are blended and pour into the prepared pan and mold into a crust – up the sides too.
Bake crust for 18-20 minutes until edges start to lightly brown (it will cook more later).
In a medium sauté pan fry the bacon pieces until crisp. Drain on paper towels. Remove drippings leaving 1 Tbsp in the pan to saute the onions and bell peppers just until they are tender and lightly browned.
In a medium glass bowl, whisk the eggs, green onions, half and half, sour cream, Parmesan, and Essence until blended.
Arrange the bacon, peppers and onions on the bottom of baked crust. Pour the quiche mixture over top. Sprinkle the shredded cheese on top and lightly dust with a little Emeril Essence.
Bake 350 for 40-45 minutes or until center is set. Allow to sit for 5 minutes before serving. Serve with a side of fruit.