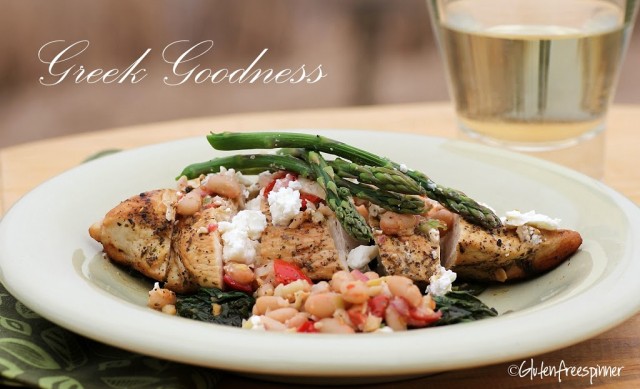 Greek Chicken with Artichoke Salsa and Asparagus
This dish was inspired by a menu item I use to order at the Green Mill Restaurant in Bemidji, MN while traveling for work. As we all know, eating out Gluten Free can be a challenge and a stress, especially when dining at a work function. Options are usually
limited and I'm not one to call attention to the difficulty I was having just finding something to order.
But this time I found one of my favorite dishes, and those boring meetings didn't seem so dreadful.
(Did I just say that?) Sorry in advance to my work buddies…you know how I feel about those meetings. :/
I changed my recipe quite a bit from the restaurant version, but the flavor components are the same.
Simply prepared boneless chicken breasts sauteed or grilled then placed over a bed of sauteed spinach and topped with artichoke salsa, roasted asparagus, and crumbled French Feta.
I added white beans for more protein and sauteed the baby spinach instead of serving as a salad green like the restaurant. I also added a little heat with the red pepper flakes…they add a nice punch to the tangy Greek flavors. One of the finishing touches to my dish and the ingredient I'm adamant about not substituting…The French Feta Cheese.
French Feta is creamy and mild…the tang is subtle and welcoming. Make sure you get the one made with 100% Sheep's Milk…it's heaven.
This is the one I bought.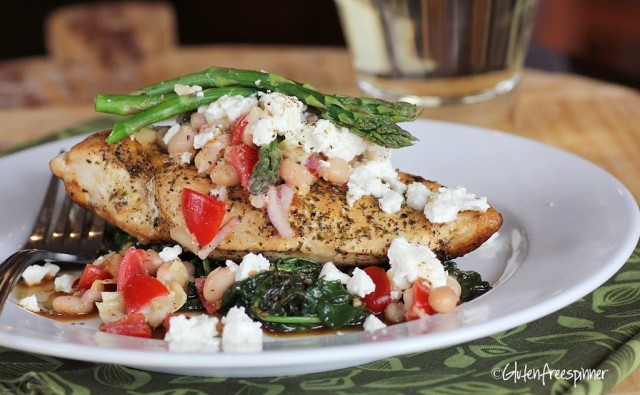 So, you know I have all my recipes taste-tested before I post, right? Well this time I brought the dish to my neighbor – without saying I was 'testing' my recipe. We had been visiting outside that evening over a glass of wine with our hubbies and it was so nice to be enjoying a little sunshine after the Winter hibernation mode. We share our creations and often bring samples over for each other to taste. When returning the plate, the rule is to return with another creation. It's so much fun having a foodie next door! And she is an incredible cook/baker…you've probably heard me talk about her before.
Well, I didn't hear back from her that evening and wondered her thoughts. Mr. Spinner isn't an artichoke or feta guy afterall, so he wasn't my go-to for opinion. Well….the next morning as I opened my laptop, I had an email from my neighbor that said:
"Oh my gosh, that chicken dish was fabulous! I need to know the recipe as soon as you get a chance. I might make it for the kids this weekend. What kind of cheese was that? How am I ever going to think of something to return on your dish?"
Yay!! Thank you! I value her opinion and was thrilled she found it as tasty as I did. I promised I would post the recipe today. So here it is. Enjoy!
Ingredients
4 boneless skinless chicken breasts

McCormick's Perfect Pinch Lemon Herb Seasoning or lemon pepper (gluten free)

Olive oil

1 bunch asparagus, rinsed and ends trimmed

1/2 tsp garlic powder

1 Tbsp grated parmesan

salt & pepper

4 cups fresh baby spinach

1-2 Tbsp minced garlic

FRENCH 100% pure sheeps milk Feta cheese (Valbreso Feta)
1 ( 7.5 oz) jar quartered marinate artichoke hearts, diced

1/3 cup diced red onion

½ cup diced grape or roma tomatoes

1 can small white beans, rinsed and drained

Cardini's Italian dressing (or your fav GF Italian Dressing)

2 Tbsp grated parmesan cheese

2 scallions, diced

Dash of red pepper flakes to taste

salt & pepper to taste
Preheat the oven to 400 degrees for the asparagus.
Prepare the artichoke salsa by combining all ingredients in a small saucepan and heat on low. This is just to heat the salsa…don't cook too long or have heat on high as it will be mushy and lose the texture of the beans and tomatoes.
Trim the chicken breasts of any fat and season both sides with the seasoning…season well as this is the only seasoning on the chicken. I didn't need extra salt or pepper using the McCormicks Lemon Herb, but if you use something else, check the ingredients for salt content. Drizzle chicken with olive oil. Heat 1 Tbsp olive oil in a non-stick skillet over medium-high heat until very hot. Add the chicken, sautéing for 3 min before flipping. Once flipped, reduce heat to med-low and cover. Cook for 8 minutes or until juices run clear or no longer pink in the middle. You can also grill the chicken, which adds a nice flavor too. While the chicken is cooking, make the asparagus:
Toss the asparagus with olive oil, garlic powder, Parmesan, salt and pepper then roast on a baking sheet for 8-10 minutes…no longer. You want the asparagus crisp.
When the chicken is done, transfer to a plate and cover with foil to keep warm. In the same pan, add 1 Tbsp minced garlic over medium heat for 30 seconds then add the spinach…don't toss or stir, just lay it on top. Cover and reduce heat to low for 1-2 minutes…just until wilted. You want it wilted not cooked.
Divide the wilted spinach evenly in the middle of four plates. Top with a chicken breast, then top with artichoke salsa, then the asparagus, then crumble the feta over all. Serve with a glass of chilled white wine.