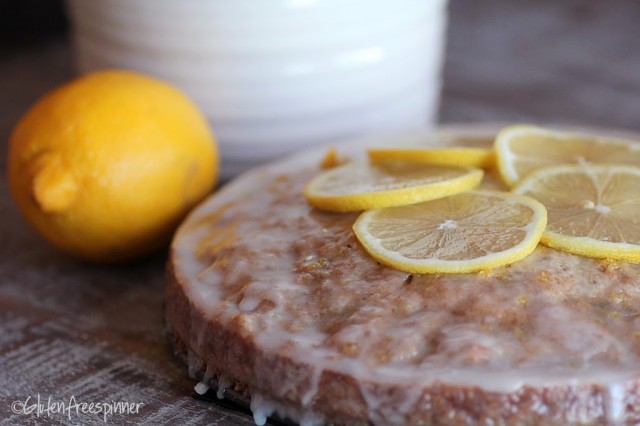 Zucchini Cake with Lemon Glaze
Last weekend I brought zucchini to the cabin with plans to prepare a veggie medley with one of our dinner
s. But visiting with friends and unplanned excursions made the weekend fly by and before I knew…it was time to head home. Time always seems to fly at the cabin…it's our favorite place to be.
So Sunday I had these baby zucchini and decided a brunch cake was a much better use of

them. I wanted cake…not bread…but I didn't have time for experimenting so I visited Dr. Google. Do you know I couldn't find one GF Zucchini cake that wasn't chocolate? Really. But one particular cake kept appearing, Zucchini Cake with Crunchy Lemon Glaze by Gina DePalma. It seems her recipe is everywhere and has been posted and re-posted by many bloggers including David Lebovitz who did a great job as always.
Her cake is a beautifully simple Bundt cake and the feature is her use of olive oil along with the special "Crunchy Lemon Glaze" which uses granular sugar for a little 'crunch' in the glaze. It must be something special because it's been replicated and mentioned so many times. But I needed to make a smaller version of this cake because I only had two baby zucchini and didn't have a Bundt pan at the cabin. It also needed to be gluten free. Whelp…here goes.
It turned out beautifully. What a great recipe she created with the right amount of sweet combined with a special zip from the lemon glaze. My measurements worked perfectly and the spring form pan had great results. Here is my gluten free version, although smaller with a few adaptations.
Makes one 8" springform cake – approximately 6-8 servings).
½ cup pecan pieces, finely ground in food processor

1 cup GF all purpose flour (I used Gluten Free Pantry or use my blend on link)

½ teaspoon baking powder

¼ teaspoon baking soda

½ teaspoon salt

1 teaspoon ground cinnamon

½ teaspoon ground ginger

¼ teaspoon ground nutmeg

2 large eggs

¾ cup + 2 tablespoon sugar

¼ cup olive oil

¼ cup canola oil

1 teaspoon pure vanilla extract

1 ¼ cup grated zucchini – finely grated (I used baby zucchini)
1/4 cup light lemonade or freshly squeezed lemon juice( about 1 large lemon)

Zest of one lemon

2 Tbsp granulated sugar

1 cup confectioner's sugar
Preheat the oven to 350F. Spray an 8" springform pan with nonstick cooking spray.
In a medium glass bowl add the flour, baking powder, baking soda, salt and all the spices and whisk to combine. Set aside.
In a large glass mixing bowl beat the eggs, sugar, olive oil, and canola oil on medium speed until light and fluffy about 3 minutes. Beat in the vanilla extract. On low speed, beat in the dry ingredients all at once on until they are thoroughly combined. Switch the mixer to medium speed and mix for 30 seconds. Beat in the zucchini and walnuts on low speed until they are completely incorporated, scraping the sides of the bowl.
Pour the batter onto the prepared pan and bake for 28-32 minutes. The cake is done when toothpick comes out clean (check two areas) and the cake pulls away from the sides of the pan.
While the cake is baking, prepare the glaze. In a small glass bowl, whisk the glaze ingredients together until completely smooth.
Allow the cake to cool for 10 minutes then remove outer ring of pan. Place the cake on a cooling rack over a baking sheet and with a pastry brush distribute the glaze over the entire surface of the warm cake. Allow the cake to cool completely and the glaze to dry completely. Decorate with lemon rings.