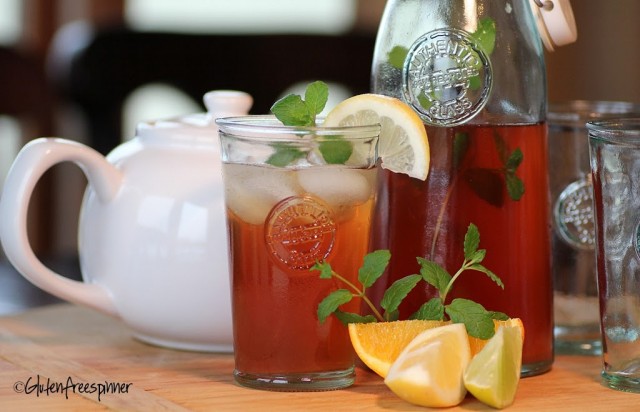 The name of my tea sum's up the source…waking Friday morning with a head-cold.
I'm a morning coffee drinker, french roast with a touch of hazelnut to which I add cream and a dash of sugar. Yumm….my eyes don't fully open until I feel the steam of the coffee gently warm my nose and smell the sweet aroma of my preferred brew tempting the first sip. It…makes…me…happy. And the best part…Mr. Spinner brings me a cup each morning before heading out the door.
And yes, I return the coffee delivery love to him on weekends.
But waking with a head cold and scratchy throat last week had me searching for a cup of tea. Not just any tea, mind you, it must have honey and citrus. Behold, my Pick-Me-Up Citrus Tea.
I could feel the warming goodness with my first cup of hot tea while the second cup had me up and tackling my morning routine. There's something about Tea vs. Coffee when you're not feeling well…it has healing properties. I put the remaining tea in the frig for later and enjoyed it over ice all afternoon. Reeeeeallly good. Use your favorite tea, I like the combination of sweet and spicy with ginger, but many other blends will work.
As we near the end of winter (yippeee!!) stay warm and healthy…
And if you need a little 'pick-me-up'
Enjoy a little Tea Break.
Ingredients:
3 cups brewed tea (Good Earth brand sweet and spicy and Yogi brand ginger was my preference)

1 cup cranberry juice

½ lemon squeezed

½ lime squeezed

½ orange squeezed

3 mint sprigs

1 Tbsp honey (or to taste)
Add all ingredients and serve hot or chill and serve over ice. Best if you use a citrus press to get every ounce of juice from the citrus.