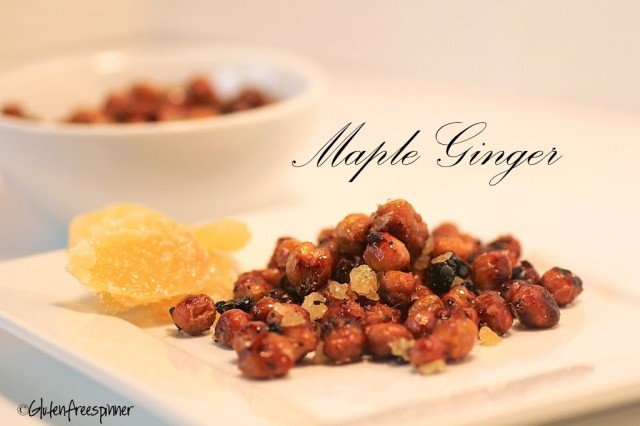 We've all made roasted chick peas, right? Ymmm…we know how good they are and how good they are for us. But I've always made savory chick peas, changing up the spice or herb depending on the mood I was in, and they are always delicious. The key to making them crunchy is roasting long enough as well as allowing them time to cool so they stay crisp. The fiber and protein count makes roasted chick peas one of the best snacks you can have. This is the basic recipe I've always used as a guide and it lists the nutritional value as well. I find the temperature too high so I lower mine and this time I used canola oil instead of olive oil

as it allows for a lighter crisp…especially since these aren't savory. Either oil will work.
Today I experimented with Maple Ginger Chick Peas inspired by these honey-salt ones I saw on Pinterest…what a wise cookie she is to try a sweetened variety. Last week I bought a large bag of crystallized ginger and I've been looking for different ways to use it…why not on chick peas? Ohhhhh my…this is a keeper…they are good! I gently sweetened the chick peas with maple syrup, added the spicy/sweet punch of crystallized ginger, then rounded out the flavors with just a hint of sea salt. Did I mention addicting? Next time I'll add a little more ginger, I was careful not to overpower these little morsels, but a touch more would be good. And next time… I'll double the batch.
XO Mary
Ingredients:
1 (15 oz) can chick peas

1 tbsp canola oil

2 tbsp pure maple syrup – divided

2 Tbsp chopped crystallized ginger – divided

¼ tsp Sea salt
Directions:
Preheat oven to 400 degrees. Spray a large baking sheet with non-stick spray.
Rinse the chickpeas and drain well. Pour onto paper towels, gently pat dry and allow to set and dry for 15 minutes.
In a medium glass bowl add 1 tbsp canola oil, 1 Tbsp maple syrup, and 1 Tbsp ginger mixing together to combine. Add the dry chickpeas to the bowl and toss to coat with the oil mixture. With a slotted spoon transfer to the prepared baking sheet and roast for 30 minutes in preheated 400 degree oven (Shimmy shake the pan a few times during the 30).
Remove from oven and with a spoon pull the chick peas to one end gathering into a pile. Lightly sprinkle the other 1 Tbsp maple syrup and ¼ tsp sea salt and toss to coat all. Shimmy the pan again to spread the chick peas out and return to oven for 5-8 minutes, shaking pan every few minutes.
Remove from oven and sprinkle the remaining 1 Tbsp ginger and another light sprinkle of sea salt over all and toss. Allow to cool completely, shaking pan again to keep from sticking.