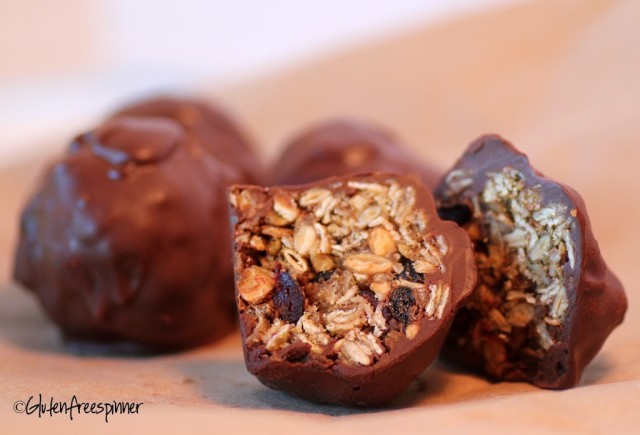 Hemp Protein Bars (dipped in dark Chocolate)
I've been reading about Hemp Powder and the benefits of adding it to just about everything you make. I occasionally add Whey Powder into my smoothie but Hemp intrigues me.
"It's one of the most digestible proteins available and specifically contains two blood building proteins–edistin and albumin. Approximately 65 percent of the protein in hemp seeds is from edistin." Livestrong.com
One of my challenges during the day is making sure I have something to eat once I leave the house. If I plan ahead, which I usually do, I have a nicely packed lunch to get me through. But many days I am on a constant run and since I don't trust or care for fast food (never have) I usually don't eat until dinner. One of the keys to maintaining a strong metabolism is to feed your body ever couple of hours so I'm trying to make sure I have protein bars in my purse or car for those busy days. Pre-packaged protein bars are just 'ok' …I find myself hurrying to get it over with just to make sure I'm eating something. Good grief, not exactly something I look forward to.
So I made these Hemp Protein Bars…yes, dipped in dark chocolate…and now I can hardly wait to devour one of them during the day.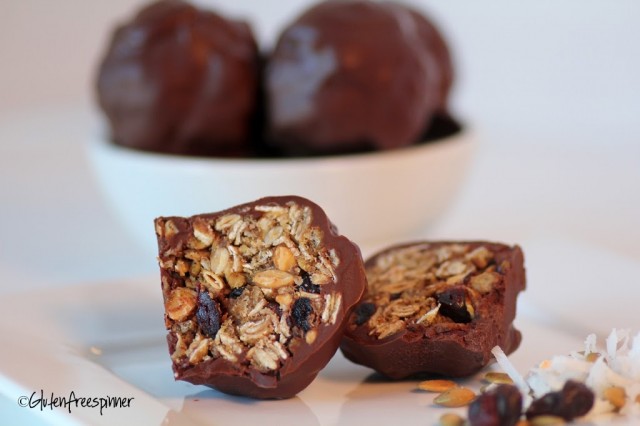 Now, these protein bars aren't calorie free or sugar free..they have calories and are almost like a cookie so they won't be the choice for everyone, but they are full of protein, grains, nuts, and fruit….and most importantly…..they are DELICIOUS and sustain me until dinner. They are exactly what I was looking for.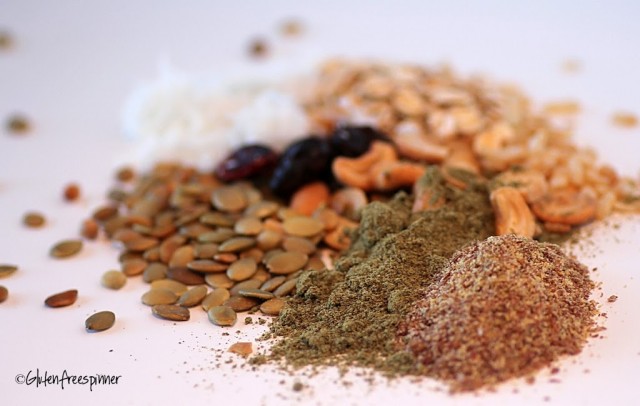 When Mr. Spinner takes one to work each morning with his coffee, I know I've got a winning recipe…he's not exactly a granola or protein bar kinda guy (more like an egg-white subway breakfast muffin guy).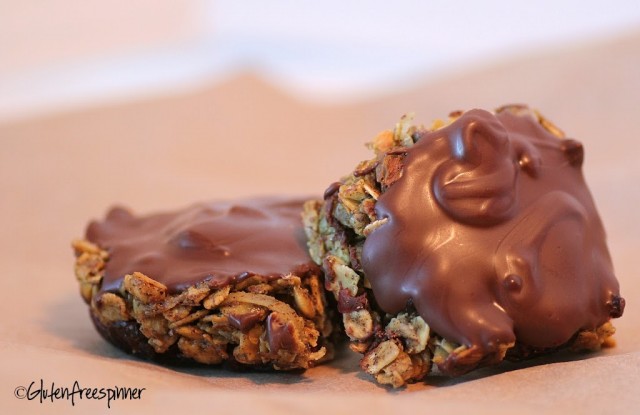 I experimented with my Hemp Bars using some of the basic ingredients from my Maple Almond Granola recipe while adding more grains, peanut butter, Pepita's and yes…Hemp Protein Powder. I made them into 'bars' as well as formed them into 'balls'. Both taste exactly the same since they are from the same recipe, but the balls are wrapped in chocolate and look like a truffle. Yum….a protein truffle? OK!
I also made another batch and baked it like my granola recipe leaving it loose…..really good with a bowl of vanilla Greek yogurt.
Ingredients:
2 cups GF old fashioned oats

¼ cup Hemp Vanilla Protein powder (Trader Joe's brand is good)

½ cup Pepita's (pumpkin seeds)

½ cup chopped raw almonds/cashews

¼ cup Flax Seed

½ cup shredded coconut

1/3 cup GF whole grain brown rice Krispies

½ cup 100% maple syrup

¼ cup packed brown sugar

1/3 cup peanut butter

1 Tbsp butter

1 tsp vanilla extract

½ tsp almond extract

½ tsp kosher salt

1 cup assorted dried fruit (cranberries, blueberries, cherries, golden raisins) chop if large pieces

½ cup mini chocolate chips
Chocolate Coating:
1 bag Dark Chocolate chips
Preheat oven to 300 degrees. Spray a 9×9 pan with non-stick spray.
In a medium bowl combine the oats, Hemp powder, Pepita's, almonds, flax seed, and coconut and toss together until combined. Set aside.
In a medium saucepan combine the syrup, brown sugar, peanut butter, and butter and heat over medium low heat until all ingredients are liquid and melted together.
Remove from heat and add the vanilla and almond and salt. Pour over the dry ingredients and combine quickly. Add the fruit and mini chocolate chips and blend with mixture.
Press into the prepared pan, if it's too sticky wet your fingers or put a little butter on them. Bake for 25-30 minute at 300. Remove and allow to set for 15 minutes. Spray knife with non-stick spray and cut into squares. Don't remove from the pan yet…regardless of how tempted! ** Allow to cool completely as they will harden and keep their form when cool.
** Alternate prep: When cutting the bars I noticed they fell apart easily while they were still still warm so I took half of the mixture out of the pan and rolled it into balls – packing them tightly to hold the ingredients together then allowed them to finish cooling on a rack. Both the bars and balls held their shape when completely cool (which is when you dip in chocolate….oh yah)
Chocolate coating:
Add the package of dark chocolate chips and 1 Tbsp shortening to a glass measuring cup and microwave 30 seconds, stir, another 15 seconds, stir, etc. stopping when the chocolate is just melted…not hot. Be careful not to overheat or you will ruin the chocolate (I've done it a few times when not paying attention). If it becomes clumpy, it's over heated.
Dip the protein balls into the chocolate and place on parchment paper to set for about 20 minutes. Can speed up hardening the chocolate by putting in refrigerator for a few minutes.

If you made bars, drizzle the chocolate over the top of bars and allow to set.