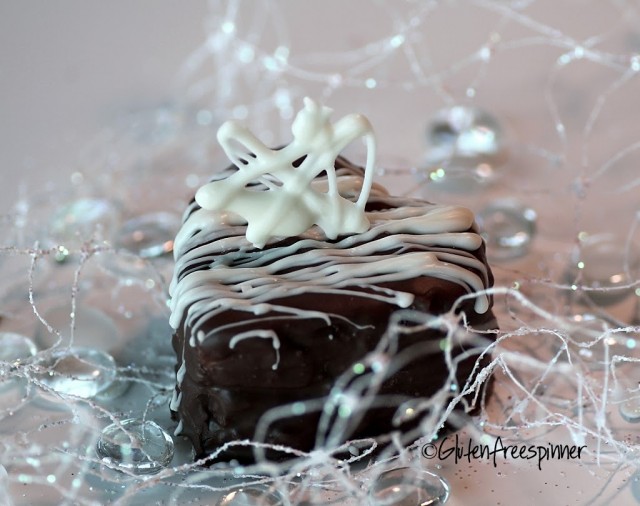 Heart Shaped Vanilla-Bean Cakes
w/Chocolate Raspberry Ganache Filling
Valentines Day. It's a special day…regardless if you feel it's over-rated, it's a great reason to put extra effort into showing those you love just how much. And I'm not just talking about Mr. Spinner. Most of my inspiration and motivation for creating new recipes comes from

you…the continued quest for exciting, flavorful, easy, beautiful gluten free recipes that remove the challenging limitations we often experience. Valentine Love to You too.
So I set out to create an amazing Valentine's Day Dessert to post and I had no idea how involved it would actually get. I was going to make a two layer yellow cake with vanilla filling and raspberry cream cheese frosting. I wanted it to be "pink"…Sweet Pink Valentines Day. As I contemplated the flour blend I would use, I decided on a self rising flour blend. I read recipe after recipe for yellow cakes (full gluten) to see the basic ingredients and many of them called for self rising flour. Hmmm, I don't recall seeing GF Self Rising Flour…how would I create one that's gluten free? I found a post from Living Without on substitutions and I liked their suggestion for GF Self Rising Flour as it included Sweet Sorghum Flour which is nice in baked goods. Since I had good luck with chocolate cake from scratch last Valentine's Day with my Very Naughty Valentine Cupcakes , I'm out to make my Vanilla cake just as good…and there couldn't be a day more worthy to try my hand at Vanilla Cake, my favorite.
Vanilla bean and pure vanilla extract were a must for this cake along with folded-in whipped egg whites to give maximum volume. As I tasted the completed batter, it was perfectly fluffy and flavorful (you have to try your batter before you bake it…how else do you know?) The batter looked beautifully thick and full of volume.
I used two 9″ round cake pans and once I divided the batter between them it didn't allow for much batter in each pan. In the oven they went, and when finished baking the result was thinner cakes than I had hoped for. Hmmm, I guess 8″ round would have been a much better choice for a two layer cake. Now what? I decided on individual cut out heart shaped cakes layered with filling….my new plan…and I'm so glad for unexpected surprises. As I mentioned earlier this week, the other unexpected surprise was using the cake scraps for my Cake Pops with Bling. Two desserts developed from wonderful surprises…Nice.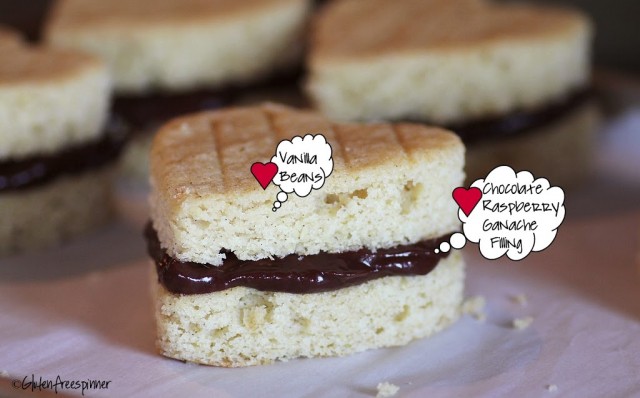 These little Love-Cakes turned out better than I could have hoped. Your first bite into the crisp yet creamy outer layer of chocolate introduces the explosion of moist vanilla cake beaming with the decadent combination of chocolate and raspberry…so many layers of dreamy goodness all in one little package.
My Chocolate Raspberry Ganache Filling was inspired by this 'blackout filling' to which I added raspberry filling. Absolutely yummilicious. I topped one of the heart shapes with the ganache filling then placed another heart shape on top. Beeeeautiful! Once they were all assembled I covered them with plastic wrap until I decided what to frost them with.


As I mentioned, my original plan was for a two layer PINK cake, so I had already made a raspberry cream cheese frosting…which was delicious by the way. But that all changed once I made the cut-outs….they were begging for a chocolate coating. Into the freezer the pink frosting went…which will be perfect for my next creation.
Ghirardelli Semi-Sweet Chocolate chips was my choice for the chocolate coating. I added one Tbsp of Crisco butter flavored shortening to keep it a bit creamier for 'frosting' the heart cakes. It was tedious, I won't lie……but it was rewarding when done. Take your time…put a heaping spoonful of chocolate on top of the heart cake and allow it to drizzle down the sides of the heart cakes. With a knife, smooth it into place until the cakes are coated.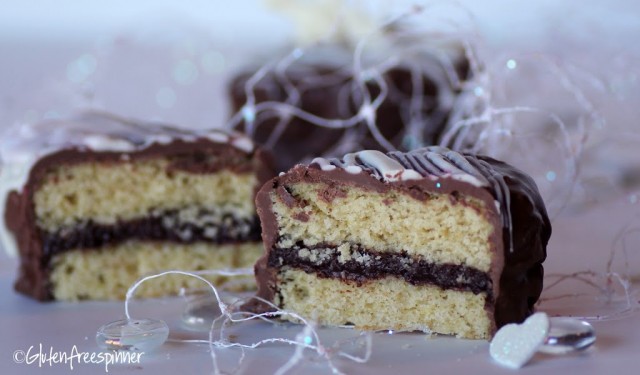 Have fun decorating your cakes as you like…colored frosting, sprinkles, or white chocolate drizzles (this is what I chose) and each one can be different. Personalize them…make it fun.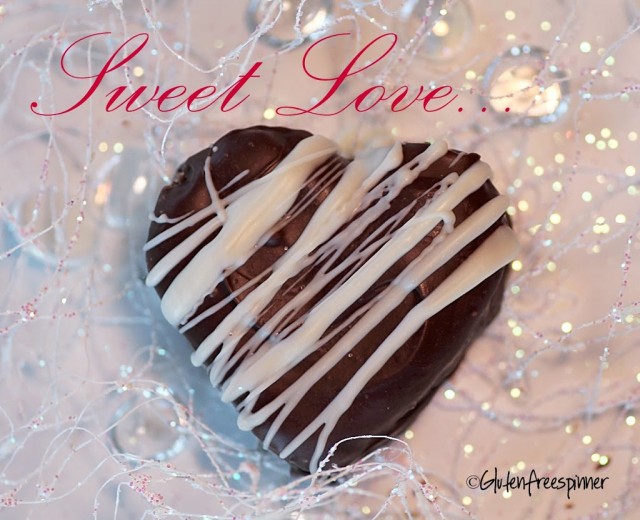 Happy Valentine's Day…….with Love.
XO Mary



Ingredients: (filling and top coating to follow)
Self Rising Four Blend
1 1/4 cups white sorghum flour

1 1/4 cups white rice flour

1/2 cup tapioca starch/flour

2 teaspoons xanthan or guar gum

4 teaspoons baking powder

1/2 teaspoon salt
Vanilla Bean Cake:
1 ¾ cups self rising flour blend

2 egg yolks

2 egg whites

½ cup butter room temp

½ vanilla bean, seeds removed

1 cup white sugar – divided

1 ½ tsp pure vanilla extract

½ cup milk

1/8 tsp cream of tartar
Preheat oven to 325 degrees. Spray two 9" cake pans and line the bottoms with parchment paper.
Combine the self rising flour mixture and be sure to combine all the ingredients. Remove 1 ¾ cups of the flour mixture and place in a medium glass bowl. Set aside. Store the remaining flour in an air-tight container for another time.
Cream the butter for one minute until fluffy and add ¾ cup of sugar and beat until fluffy. Add the 2 egg yolks, one at a time, blending after each addition. Lastly, add the vanilla bean and extract and blend in.
With mixer on low, starting with the flour, alternately add the flour and milk to the batter, ending with flour.
Clean the beaters. In a separate clean bowl beat the egg whites until foamy. Add the cream of tartar and continue beating until soft peaks form. Add the remaining ¼ cup sugar and continue beating until stiff peaks form. Gently fold some of the egg white into the batter then add the rest, just folding to blend…don't over mix or you will lose the volume.
Divide the batter evenly between the two prepared pans and spread out with back of spatula. Bake in the preheated 325 degree oven for 20-22 minutes or until cake is done to touch and tooth pick comes out clean. Remove from o ven and allow to cool 10 minutes before inverting onto cooling racks. Cool completely.
1/2 cup plus 1 tablespoon granulated sugar

1 teaspoon corn syrup

2/3 cup cocoa powder , sifted

½ cup water plus, 2 Tbsp

3 tablespoons cornstarch

2 tablespoons butter , softened

1/4 teaspoon vanilla extract

1/3 – 1/2 cup Solo Brand Raspberry cake and pastry filling or favorite Raspberry preserves (to taste)
Directions:
To make filling: In a small saucepan, combine sugar, corn syrup, cocoa powder, and 1/2 cup water. Bring to a boil over medium-high heat, whisking occasionally to prevent scorching. Meanwhile, in a separate small bowl, combine cornstarch and 2 tablespoons water. Remove boiling cocoa mixture from heat; whisk in cornstarch mixture.

Return saucepan to heat, and bring to a boil over medium heat, whisking constantly. Boil about 1 minute, until cornstarch is cooked and mixture is very thick.

Remove from heat. Stir in butter and vanilla. Pour into a shallow, heat-resistant bowl; immediately cover surface with plastic wrap to prevent film from forming. Cool completely, and refrigerate until firm. Can be made the night before. Once firm and set, with a spoon gently loosen the ganache and stir to make spreadable. Add the raspberry filling (preserves) and blend with the chocolate. Set aside.
To make the heart cakes and assemble
Once the cakes are cooled, using a heart shaped cookie cutter (3″) cut the heart cakes out of the two cakes. You should have 10-12 separate heart cakes. Use the leftover cake scraps for cake pops. Top half of the heart shapes with 3 Tbsp of Chocolate Raspberry Ganache filling then place another heart cake on top. You should have 5-6 complete two layer heart cakes.
Frosting your heart cakes:
1 Tbsp Crisco Butter flavored shortening
Place the filled heart cakes on a baking sheet that has been lined with parchment paper.
In a double boiler, melt the chocolate chips and Crisco. When just melted start to 'frost' the heart cakes. Laddle a heaping Tbsp of the melted chocolate over the top of the heart cake and use a knife to spread evenly over the sides and top. This is tedious, just be patient and have fun. Allow to set for at least an hour. Then decorate as you like.