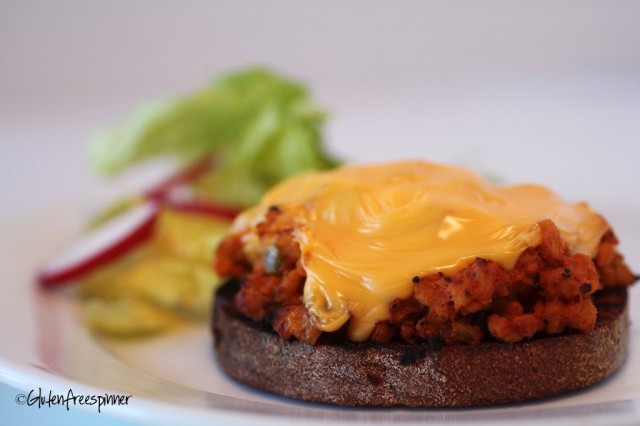 Melty Sloppy Joes
Mr. Spinner and I have been eating a little healthier this past month by limiting our potatoes, breads, sweets, and comfort foods (yes, I did say limiting…not eliminating). While snuggled in at the cabin last weekend we saw an episode of Guy Fieri's Diners-Drive-in's-and Dives (Mr. Spinner's dream job) and they were serving Sloppy Joe's. I saw the yearning
(almost painful) in my hubby's eyes to sink his teeth into that pillowy soft bun filled with saucy meaty goodness. He even moaned a bit. This man who has been sharing my limited diet with me…always by my side…never complaining (ok, sometimes), happily serving as my taste tester and critic…has been deprived of a simple Sloppy Joe for all these years! How could I have been so out of touch? Unforgivable.
Well, I redeemed myself on Monday night. I made Melty Sloppy Joe's for dinner and I knew I'd been forgiven by the very sound of his voice when I told him that afternoon. I love how much he loves food…we both do. It's fun to cook for someone who enjoys trying new things and appreciates the ingredients and effort it takes to create and develop recipes. It's also a delicious passion to share…together.
About those Melty Sloppy Joe's. As you may know, I always use ground turkey breast in place of ground beef…it's just my preference. I favor Jennie-o brand as I've always had good luck with their quality, but you can certainly sub-out your favorite brand or ground beef if you prefer. This recipe came together quickly by relying on my stand-by sloppy joe recipe I made when the kids were little. But I wanted to add a cheesy creaminess to the meat sauce while keeping them as light as possible. The Laughing Cow Light Queso Fresco & Chipotle cheese wedges were my solution as they melt beautifully when added to sauces or meats.
Now the bread…for Mr. Spinner it was a package of bakery fresh light and airy full-gluten buns for a change and he was in heaven. For me, I toasted Udi's multigrain bread which is my bread of choice, and I couldn't have been happier (ok, maaaaaaaybe I had a quick yearning for one of his buns…(that sounds horrible) but I certainly didn't dwell!)
To finish with my 'melty' theme, I topped off the loaded meat sandwich with a very thin slice of cheese and let it melt under the broiler. YUMMMMMM!
These Melty Sloppy Joe's are just as worthy of mouth-drooling deliciousness as the ones we saw on the food channel. And isn't it satisfying to create something wonderful you can enjoy instead of wishing for one you can't? Yesssirrreee….gluten free…teeheeheee.
2 Tbsp olive oil

1 (1.25 lb) pkg Jennie-o brand ground turkey breast (or ground beef)

1 Tbsp grill seasoning

2 tsp garlic powder

1 tsp onion powder

1 tsp fresh black pepper

1 cup chopped onion

3/4 cup chopped green pepper

1 Tbsp minced garlic

1/2 cup ketchup

2 Tbsp prepared yellow mustard

2 tsp Worcestershire sauce

8-10 slices of gluten free bread

8-10 very thin slices of cheese (or your choice)
In a large saute pan heat the olive oil over medium high heat and add the ground turkey. Sprinkle the grill seasoning, garlic powder, onion powder and pepper over the turkey and begin to break up the meat as it browns. Once the meat starts to brown add the onions and green pepper and saute for 3-4 minutes. As the onions start to soften, add the garlic and stir to combine with the meat. Add the Ketchup, mustard, and Worcestershire sauce and stir to combine all the ingredients together. Heat for about 3 minutes. Add the cheese wedges and melt into the meat mixture.
Line a large baking sheet with parchment paper (easy clean up)
Toast the bread to your desired doneness and lay the individual toasts on prepared baking sheet

Place about 3-4 Tbsp of the meat mixture on top of toast and spread out evenly

Top with the slice of cheese

Broil for 1-1/2 minutes (watch closely) until cheese melts.
Serve open-faced with a simple side salad for a delicious satisfying dinner.