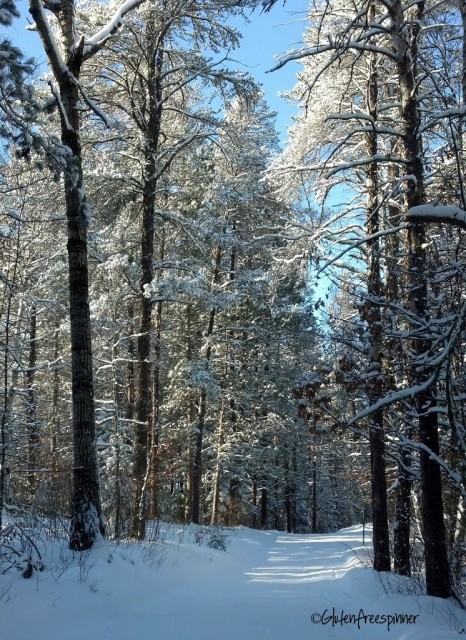 I'm sharing the beautiful snow we received Friday at our cabin. The flakes fell ever so gently without a breath of wind while layers of snow piled high on the limbs of towering pines. It was truly breathtaking as we made the first tracks down the winding road.
I just couldn't write a post without adding a picture.
It would have left me
with a…feeling of loss.
~ ~ ~
Feeling of Loss?
This past week I received two separate messages from new followers who are both struggling with their gluten free lifestyle. One in particular was so heartfelt I asked if I could share.
Kelly, this is for you…thanks for writing.
I promise, it gets easier…and better…hang in there!
~ She's only known of her gluten intolerance since November of 2011. The first question she asked me was: ~
"How do you get over the feeling of "loss" with such a big change?"
Oh my, if that isn't the perfect description of how you feel while learning to adjust, I certainly felt like that many times and even now that feeling creeps in once in a while. I miss days of old when Mr. Spinner and I would enjoy happy hour on Sunday afternoons at our favorite pub with a few beers and onion rings. And much of what I miss is the sheer simplicity of the outing…not so much the food or beverage. Sometimes I think he misses that more than I, but he doesn't elaborate. Or there's the ease of ordering a pizza on a Friday night after a busy week…although…it wasn't that often anyway so its all in perspective.
What about the feeling of loss for a certain food? The only one I can even think of is a beautiful loaf of fluffy, airy, crusty, golden, bakery fresh french bread…I don't care what anyone says, there isn't a gluten free loaf of bread anywhere that compares to regular bakery fresh bread. And when I do purchase a loaf of regular bakery bread for my family, I cut through the first piece and take in the delicate aroma of glutenous yeasty deliciousness that only fresh bread has. That is a treat in itself and sustains my craving. Really.
But! No soggy tears here…I confirmed Kelly's feelings that we've all felt at times…and sometimes still do. But in all honesty, I don't miss gluten…my body has thanked me with my overall health…and that's a true testament.
I've learned to re-create almost every favorite recipe to gluten free and enjoyed the challenge while doing it.
The few times I am 'glutened' by a hidden ingredient reminds me how sick I can get and how much better I feel since living gluten free. Gluten is now poison to me…why would I want to eat anything containing it?
There are so many new products and options replacing gluten products, the choices make cooking and baking so much easier.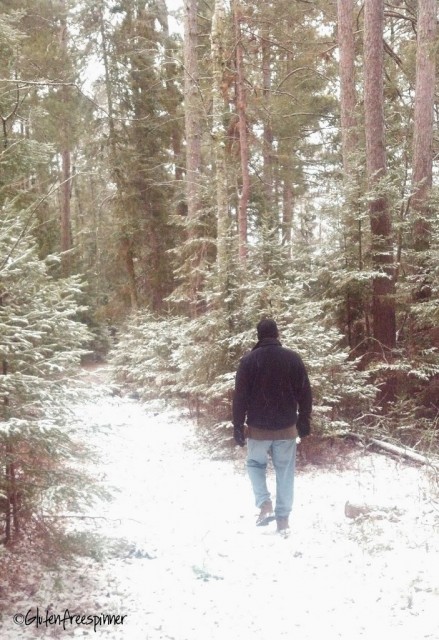 Since first learning of my gluten intolerance this has been my perspective on living gluten free:
There is no cure, the only way to live with celiac disease/a gluten allergy/gluten intolerance is to adopt a gluten free diet for the rest of your life…to avoid gluten all together. And to me…that is SO much better than having to be on drugs, prescriptions, medications, or treatments!! My goodness, to rid your body of the one thing that makes you sick and basically be cured is amazing to me. Think of all the diseases people deal with that require ongoing treatments and medications, my heart goes out to them…we just need to remove gluten entirely from our system. I'm In!! Sign me up! Good Bye Gluten…forever.
~ The next question Kelly had was in regard to family and friends… ~
"how do you get them to understand?"
She was struggling with what to do when friends went out to lunch or when you are invited to gatherings. Many times she opted not to go to avoid the pressure and uncertainty of what to order. And she really misses Jimmy Johns. (That made me smile.)
Well, first things first (teehee) I addressed her Jimmy John's loss. Although I have never eaten at Jimmy John's myself, I knew she could still enjoy dining there by ordering her sandwich in a lettuce wrap instead of bread. I also found which meats at Jimmy John's were gluten free…
Bacon, Ham, Capicola, Salami, and Turkey are all gluten free. The Beef and Cheese's are not.
Next, how to get family and friends to understand. My advice was to introduce them to CD/gluten intolerance…through her experience. Many times people shy away from or react negatively to a gluten free lifestyle simply because they don't understand it. Understanding also comes with being comfortable yourself in living gluten free.
Share a little about how good you feel since learning of your intolerance. Tell them that the only cure for gluten intolerance is to avoid gluten all together. Keep it light but informational…no one wants a speech or to hear the gory details of how sick you get, just help them 'get it'.
I remember traveling with friends and one of them was eating a slice of pizza (to die for) and she said, "come-on, just take a bite…a little bite won't hurt you." and the only reason she said that was because she didn't know. Yes!! One little bite will hurt me! She had no idea. For 7 days she watched me avoid anything with gluten or that could possibly have a trace…all the while dining with them as they ordered wonderful meals and snacks. And I didn't dwell, I just chose other options. She got it…she totally got it after that.
Here's another…I read a post on someone's blog where they said, "sometimes I cheat". What??? Cheat? What in the world was she cheating except for herself and her system. I really didn't get that one. It's not cheating…it's poisoning your body with something you cannot tolerate…you just can't have it or you get sick. Period.
Invite family and friends to dinner or a casual gathering where you have all gluten free foods. They will learn first hand that it's delicious, flavorful, just like the foods they are use to….sometimes even better! Often it's the unknown that has them stumped.
Bring a gluten free dish to share at the next gathering. Not only will you know there's something you can eat, but others will get the pleasure of tasting how good it is!
When you are out with friends who normally share appetizers together, tell them to go ahead and order that flatbread pizza! Let them know it's not a problem and simply suggest the cheese plate or broiled shrimp platter (whatever you see that's gluten free). They will be relieved to know it's ok if they still order an item with gluten and will be glad to see you enjoying the time with them as well. It will no longer be an issue.
Accept all those invites for dinner or lunch! Simply ask where you will be dining, then spend a little time before you go out finding what the restaurant offers… give them a call and ask if they offer gluten free items…most now do. If they don't, order a baked potato with steamed broccoli, shredded cheese, and sour cream. Yum! Or check the salad menu for options (omit croutons and order a side of lemons if not sure about the dressing…fresh squeezed lemons, salt and pepper can be amazing). Many restaurants have online menu's so you can plan ahead. Much of living gluten free is planning ahead. It will get easier as you learn what to avoid.
~ And her Last question: ~
"I've always been more of a baker and I find the cooking to be overwhelming…now the baking too."
Everyone feels this way at first, whether it's baking or cooking, learning the gluten free way seems daunting in the beginning. I've always preferred cooking to baking and dreaded learning the tedious ways of gluten free baking. But…I have to admit…I'm a converted baker! I love to bake now. Much of it is trial and error, which can be frustrating at times, but when you successfully create a beautiful baked dessert, pastry, or bread, its truly exhilarating. (Yes, I'm a food geek.)
The first thing you need to do is clean out your pantry, cupboards, and frig. Remove all gluten containing items and replace with gluten free. You will find an entirely gluten free kitchen encourages inspiration, ease, and enjoyment of cooking and baking again, and you won't feel deprived or frustrated when you have the items needed to be successful. I found this step to be quite expensive, but you can start with one section at a time. Begin with your most-used staples.
I've listed several helpful links on my guide tab that includes stocking your pantry, which grocery items are available, understanding GF flour, and many more.

Start with an all purpose gluten free flour instead of investing in the many varieties. In time you will learn which ones you want to keep on hand, but in the beginning an all purpose will serve you well. I've had good luck with these brands:
Change out your soy sauce, steak sauce, salad dressings, marinades, special sauces, soups, flavor packets, rice packets, pasta, Asian sauces and seasonings, etc.
Gluten Free Breads – In my experience with Gluten Free Bread, I've determined there isn't a very good comparable to REAL bread, as much as I hate to admit it. When I first learned of my gluten intolerance I invested in a Zojirushi BB-CEC20 bread maker as I read you need one if you are gluten free. Don't bother…I have one if you'd like to borrow it. : > I went through more expensive flours and leavening ingredients trying over and over to get a good loaf of bread. I came close a few times, but even the very best loaf is still mediocre…regardless of the many recipes you will find for "the best loaf of gluten free bread", it's just not going to happen.
Udi's gluten free bread – My vote for the best gluten free bread is Udis's – hands down…both the multigrain or white….taste is most like regular and it holds up well without being gummy. They also have bagels, muffins, and buns. But it's the bread that I brag about. Their gluten free granola is very good too when you don't have time to make your own.
The Gluten Free Blogging Community
You'll find incredible support and help through all the amazing GF bloggers out there who are dedicated to helping you learn, live, and love your gluten free lifestyle. You'll find tips, recipes, reviews, experiences, stories, and other guides to be successful.
To Kelly and all others learning to live gluten free….
May you find comfort and confidence in your new lifestyle with your health and happiness the reward.
The only "loss" will be the negative effects of gluten.