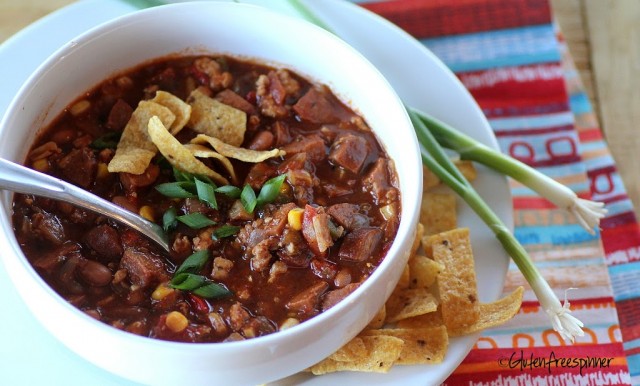 Dynamite Chili
Chili is a must when it comes to the guys winter fishing and hunting trips…and the hotter the better. In their eyes, it's not chili if their nose doesn't run and eyes don't water. For me, I like spice but not to the point where it's painful…like they do. If I'm not sharing their pot of chili, I add red pepper flakes, chopped jalapeno's, and a little cayenne pepper directly to

the recipe…otherwise a shaker of red pepper flakes and bottle of Habanero Sauce is available for their personal burn factor.
My chili is different every time I make it, but this is my go-to recipe that's consistently good regardless of new additions or substitutions. And it's so easy!
I use ground turkey breast, but you can easily substitute ground beef if you prefer. The Chorizo sausage is a must for flavor and there are many varieties to choose from. I prefer the Mexican Chorizo which is fresh and adds so much flavor, but I couldn't find it this time so I used link Chorizo. You can also use Andouille sausage which is a spicy Cajun sausage and also has good flavor (although Cajun instead of Mexican). Either work well.
The list of ingredients seems lengthy, but don't hesitate because of it…this recipe comes together quickly (see how short the directions are?). The combination of ingredients makes for a hearty and full flavored chili every time. Your choice of toppings may include sour cream, cheddar cheese, chopped green onions, red pepper flakes, habanero sauce, Jalapeno's, and of course, Frito's are a must.
Simply….Dynamite.
XO
** Be sure to read the comment from Andrea L. on how to save time when making this chili during the work-week. She offers great time-saving tips!


Ingredients:
2 Tbsp olive oil

1 large onion chopped

1 ¼ lb ground turkey breast (or ground beef if you prefer)

2 Tbsp grill seasoning

½ cup chopped red bell pepper and ½ cup chopped green bell pepper

1 lb Chorizo Mexican sausage (or any Chorizo of choice – Andouille Sausage works if you cannot find)

1 Tbsp Mesa Rosa chipotle

1 Tbsp cumin seeds

2 tsp dried oregano

1 tsp coriander

3 cloves garlic, minced

1 (10 oz) can RoTel diced tomatoes with chilis

1 (14.5 oz) can Muir Glen Fire Roasted Crushed tomatoes

1 (4 oz) can fire roasted diced green chilis (like hotter? Add chopped Jalapeno's too)

2 Tbsp tomato paste

½ cup ketchup

1 cup beef broth

8 oz gluten free beer (1 cup)

1 Tbsp unsweetened cocoa powder

¼ cup packed brown sugar

1 (15 oz) can pinto beans, rinsed and drained

1 cup frozen corn

Chopped green onions

Fritos for serving

Optional for heat factor: Add chopped Jalapeno's, red pepper flakes, cayenne pepper, habanero sauce.
Directions:
In a large heavy Dutch oven heat 2 Tbsp olive oil over medium heat and add the ground turkey. Break up turkey and add the grill seasoning, cooking until the turkey starts to lightly brown. Next add the Chorizo sausage, breaking it up into the turkey and cooking until no longer pink. Add the onions, bell peppers, all seasonings, and garlic and allow to cook for 3-4 minutes, stirring to prevent sticking to bottom of pan. Add the remaining ingredients and combine well. Cover and simmer on low for 20-30 minutes, stirring occasionally.
Top with chopped green onions and Frito's. Optional toppings: chopped cilantro, sour cream, cheddar cheese, Habanero sauce, red pepper flakes.