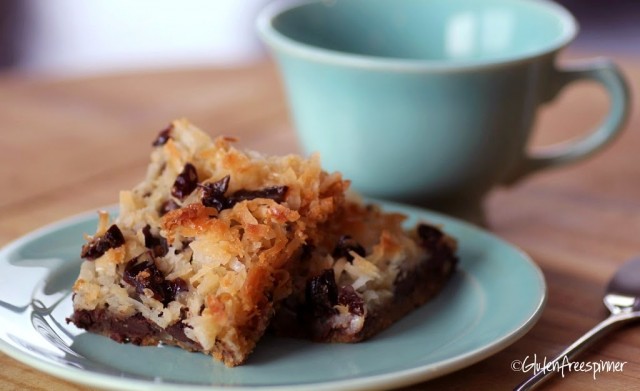 Cherry Chocolate Coconut Macaroon Bars
Missing some of my old favorite bars and cookies has lead me to many recipe re-do's, and often they turn out better than the original…which happens to be the case with my macaroon bars. The original recipe is a "7 Layer Magic Cookie Bar" by Eagle Brand Sweetened Condensed Milk where a graham cracker crust serves as the bottom layer. The original also has butterscotch chips which were yummy, but often a bit too sweet.
I used ground Arrowroot Cookies from Midel as I've had great results using them as a substitute for graham crackers. Not too sweet and a good cookie-cracker crumb.
I also used pecans instead of walnuts as I prefer the flavor they add, although walnuts have a better nutritional value, either one works. I also layer my ingredients, including the ease of starting with melted butter on the bottom of pan and simply sprinkling the Arrowroot crumbs over the top. This is one of the easiest and quickest bars you will make and the cherries I added are a nice tart-sweet addition. Really good.
½ cup butter, melted

1 ½ cups ground Midel Arrowroot Cookies

½ cup finely chopped pecans

1 ¼ cup semi sweet chocolate chips

1 ½ cups flaked coconut

½ cup chopped dried cherries

1 can sweetened condensed milk
Directions:
Pour melted butter in the bottom of 13×9 pan. Sprinkle the ground midel cookie crumbs evenly over top of the butter. Next top with the pecans, then the chocolate chips, then the coconut, then cherries. Drizzle the sweetened condensed milk evenly over top of all. Bake in preheated 325 degree oven for 35 – 38 minutes. Cool completely before cutting.
Cut into small squares as these are rich….much like a candy bar. Yummmmy.