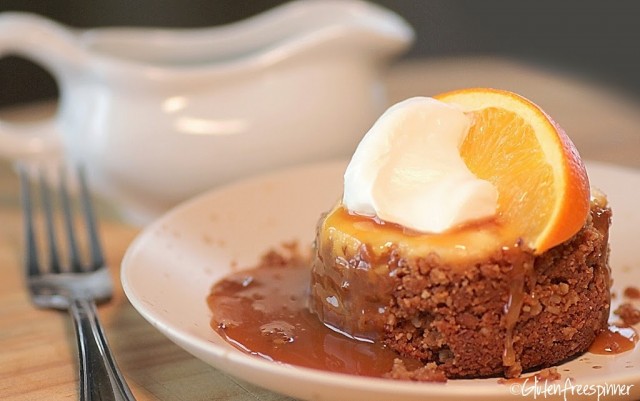 I was looking for an easy Saturday night dessert for my hubby and me and decided on my old standby, mini cheesecakes. This time I put a 'spinn' on them using ginger cookies for the crust, adding caramel sauce to the batter, and a final drizzle of caramel over the whipped cream. Yum. Just what I was looking for. Deeeeelicious.
Ingredients:
Crust: Preheat oven to 350 degrees
Mix all ingredients together until well combined and holds together when packed. Spray the bottom and sides of 5 small ramekins with non-stick spray. Evenly distribute the mixture into each ramekin and press the bottom to form crust while pressing up the sides of each about 1 inch.

Bake in 350 degree oven for 8-10 minutes. Remove and set aside to cool
Filling:
1 – 8 oz package 1/3 less fat cream cheese, room temp

1/4 cup white sugar

1/4 cup Mrs. Richardson's Caramel topping (fat-free and gluten free)

2 Tbsp Daisy light sour cream

1 Tbsp Pamela's baking mix

½ tsp vanilla extract

1 large egg
Directions:
Beat together the cream cheese, sugar, caramel topping, sour cream, baking mix, and vanilla until well combined. Beat in the egg until fluffy, about another 1-2 minutes.

Pour the filling into the cooled ramekins, filling about ¾ full evenly distributing. Bake in 350 degree oven for 23 minutes. They will appear puffed and very lightly golden. Remove from oven and set aside to cool for 10-12 minutes. Invert from the ramekin onto a serving platter and allow to cool completely. Store in the refrigerator, covered with plastic wrap.
(Do not store in ramekin in the refrigerator or they will be too hard to remove.)
Remove 15 minutes before serving. Top with whipped topping and drizzle with caramel sauce or serve the caramel in a pitcher for self-serve. Makes 5 servings.