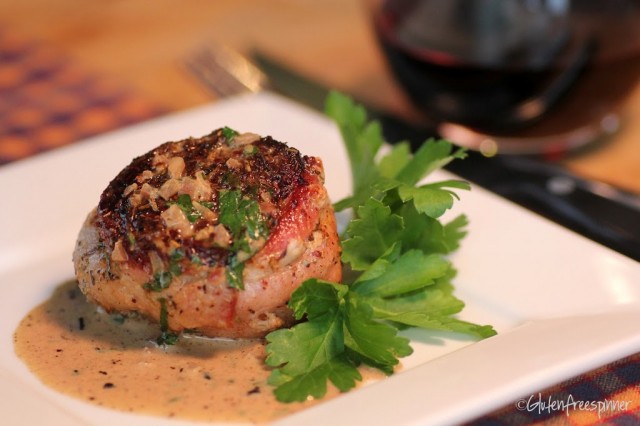 Bacon Wrapped Pork Tenderloin Medallions
Savory, delicious, tender, flavorful pork medallions with a silky wine and Dijon pan sauce. Need I say more? Oh…did I mention easy too? There's about 6 minutes of prep, 5 minutes to sear, then in the oven it goes. This elegant meal is sure to impress, whether it's wowing your family for a weeknight meal or impressing your guests on a weekend of entertaining. Serve with make-ahead mashed potatoes and vegetable of choice for a very satisfying meal.
We enjoyed a glass of 2008 Santa Helena Vernus Cabernet with our meal, which is a light

bodied inexpensive cab that helped turn a busy hectic Monday into a wonderful evening together. Enjoy.
Ingredients:

1 small pork tenderloin – make sure it's not pre-seasoned (cut into tenderloin medallions)
4 slices thin bacon – don't use thick cut
1 tsp garlic powder (not salt)
¼ cup chopped shallots (or red onion)
2 Tbsp chopped Italian parsley
Prepare the tenderloin by removing all the silver skin and trimming the fat. Cut the tenderloin into 4 even medallions. Wrap each medallion (cut side up) with a slice of bacon and secure with toothpicks. My bacon was very thin so one piece wrapped around nicely for each. If your bacon seems a little thicker, cut the bacon slice so it doesn't overlap. The idea is to crisp-up the bacon and if it's too thick it will not get crispy. Set aside.
Combine all seasoning ingredients and crush with a mortar and pestle until ground together (or use the back of a spoon in a small ramekin). Gently sprinkle the seasoning mixture over the top of the wrapped medallions then flip and season the other side. Don't over-season, but sprinkle enough to get the flavors. You will have leftover seasoning; reserve for another use – it would be great on pork chops.
Drizzle the tops with olive oil and rub into the meat.
Preheat oven to 400 degrees
In a cast iron skillet (or oven proof skillet), heat 1 Tbsp canola oil and 1 Tbsp butter until very hot. Sear the pork medallions 2-3 minutes on each side, gaining a nice crust. Transfer pan to preheated 400 degree oven and roast for 15-18 minutes. Remove pork from the oven and transfer to a plate and tent with foil.
Place the pan back on the stove over medium heat – use a hot pad at all times as it's easy to forget it just came from the oven. Add the ¼ cup chopped shallots (or red onion) and sauté for 1-2 minutes. They will cook quickly as the pan is already very hot. Add ½ cup white wine (carefully) and allow to bubble while scraping bits from bottom for about 3 minutes, it will slightly reduce. Add ¼ cup heavy cream and continue to bubble for another 2-3 minutes. Remove from heat and whisk in 1 Tbsp Dijon mustard, 1 Tbsp butter, and 2 Tbsp chopped parsley. The sauce will come together nicely…it won't be thick as it's a pan sauce, but it will be nice and silky.
Plate the medallions and drizzle the pan sauce over each or serve the sauce in a small pitcher. Serve with mashed potatoes and vegetable of choice.