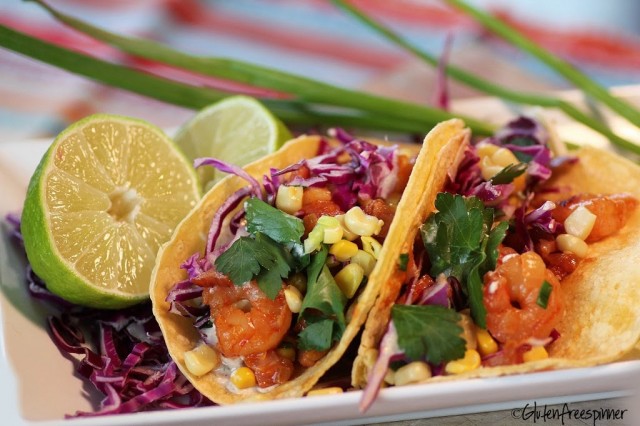 "Absolutely Amazing" were the words Mr. Spinner used….enough said.
And they couldn't be any easier. Enjoy!
1 lb – 61-70 ct deveined cooked shrimp, thawed, tails removed

2 tsp Urban Accents Mesa Rosa

Seasoning

1 tsp Emeril Southwest seasoning

1 tsp sea Salt

2 Tbsp olive oil – divided

¼ cup small dice Canadian bacon or ham

½ cup diced onions

1-2 chopped chipotle Peppers in adobo sauce (in 7oz can) and 1 Tbsp of the sauce (add as many peppers per your desired heat level – they are hot!)

(**store remaining peppers and sauce in a resealable baggie in freezer until needed)

½ cup Chopped Cilantro

2 Lime Wedges

10 Yellow Corn tortillas – (I like the extra thin by Mission)

Shredded Red cabbage

2 cups frozen corn, microwaved just until tender but not hot, combined with 3 chopped green onions
Creamy Sauce for Shrimp taco's – combine all ingredients (can be made ahead)
½ cup Daisy light sour cream

2 Tbsp Cardini's Parmesan Ranch dressing

½ tsp Emeril's southwest seasoning

1 ½ Tbsp fresh chopped Cilantro leaves

Squeeze of lime wedge
Combine the prepared shrimp in a medium bowl with the Mesa Rosa, Emeril Southwest, sea salt, and 1 Tbsp of the olive oil. Toss to coat all shrimp. Set aside.
For the Tortilla's: Place a clean flour-sack kitchen towel or several paper towels in the bottom of a heavy casserole dish and sprinkle with water just to moisten – not wet. Heat in microwave until the towel is warm and cover the top of dish with another towel. Spray a large skillet with non-stick spray and heat on med-high. Warm the tortilla's in the pan about 1 minute each side and transfer to the casserole dish to keep warm, covering dish with towel. (If your microwave has a "warming" setting you can keep them in there until ready to eat).
In the same skillet as you used to warm the tortilla's heat the remaining Tbsp olive oil and sauté the onions and Canadian bacon until onions become tender. Add the seasoned shrimp, diced chipotle pepper(s) and sauce and toss around in the pan to coat with the onion mixture, sautéing about 4-5 minutes. Turn heat off and add the cilantro and squeeze of lime.
Spread some of the creamy sauce on a warmed tortilla then add the shrimp mixture, corn & green onion, cabbage, and a squeeze of lime.