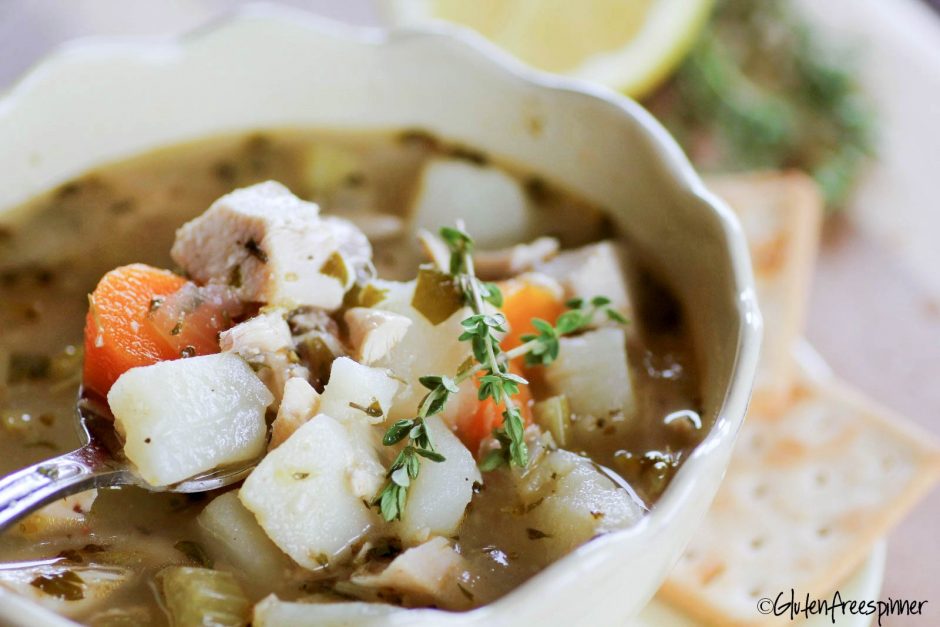 Lemony Thyme Chicken Soup
Is there anything more comforting than a bowl of homemade chicken soup?  And better yet, sharing it with a friend or neighbor during these crazy-busy days.  I made this soup for a good friend who was in the middle of a complete kitchen remodel.  It took 9 weeks of living out of her basement closet turned makeshift kitchen, and meals were limited to anything microwaveable.  I never heard a complaint or whine…just make-do and count the weeks to completion.  But that's how she rolls…my friend of 40+ years, and to me…Food-Love is one of the warmest ways to show you care.
  My lemony thyme chicken soup is a combination of zesty lemon, herby thyme, turmeric, honey, vegetables and tender chicken.  The flavors are bright and fresh, and I was sure to make enough so they had lunch the following day.  My gift of comfort proved a welcomed meal in a hectic time.  Share some food-love this holiday season…
Chicken soup for a friend….a bowl of comforting yumminess.
Ingredients 
2 Tbsp olive oil

 

2 Tbsp butter

 

1 medium onion chopped

 

1 ½  cups coarsely chopped celery with leaves ( about 3-4 )

 

1 cup carrots cut into wheels or julienned slices

 

2 medium russet potatoes, peeled and cut into 1" cubes

 

1 Tbsp minced garlic

 

Zest of ½ lemon

 

2 tsp fresh thyme leaves, chopped or 1 tsp dried thyme

 

2 Tsp herbed poultry seasoning

 

2 tsp sea salt (if your chicken is highly seasoned, start with one and add as needed)

 

1 tsp fresh black pepper

 

1 tsp garlic powder

 

1 tsp onion powder

 

½ tsp turmeric powder

 

5 cups all natural GF chicken broth

 

2 cups cooked chicken (deboned broasted chicken)

 

¼ cup fresh chopped Italian parsley

or cilantro

Juice from ½ lemon (2 Tbsp)

 

2 tsp honey
Directions:
In a large soup pot, add the olive oil and butter and turn heat to medium.  When butter starts to melt, add the onions, celery, carrots, and potatoes.  Toss to coat with the oil and cook for about 5 minutes, stirring occasionally.  Add the garlic, lemon zest, and seasonings ( thyme, poultry seasoning, sea salt, pepper, garlic powder, onion powder, and turmeric).  Toss together to combine all ingredients.   Cook for about 3-4 minutes.  Add the remaining ingredients and bring to a simmer.  Reduce heat to low and cover.  Simmer for 15-20 minutes, checking potatoes for tenderness.  The vegetables should still be crisp.
Serve with fresh sprig of thyme, lemon wedge, and GF table crackers.