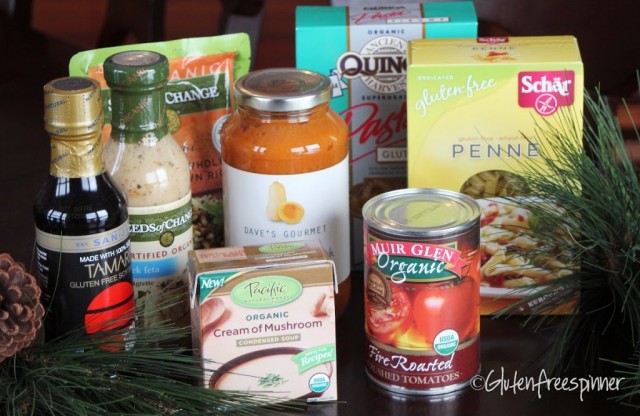 "Came across your site when I was researching gluten free living after being diagnosed with a gluten allergy. Love your different recipes that you post! Thanks for sharing them! ~ Carolyn ~
Congratulations on winning my Holiday Giveaway!
Thanks to all of you who entered!
Here's

another opportunity

to win!
Watch for my next giveaway later today!
My Favorite Gluten Free Spices!
Holiday Giveaway!
Over $40 value in some of my favorite GF Products!
Happy Holiday's Giveaway!
"These are a few of my favorite things……"
And I've put them in a holiday package for one lucky winner!
I love to give presents and usually give a few before Christmas because I just can't wait!! So I'm doing the same with you…I'm so excited to share a few of my favorite GF products in this giveaway.
Schar Penne Pasta (Mr. Spinner's favorite)
Muir Glen Organic Fire Roasted Crushed Tomatoes
And it's so easy to win!

All you have to do is "like" this post below and write a short comment
. That's it! The drawing is random so everyone has an equal chance. This is a great opportunity to try some of my favorite products for FREE!
So whether you are living gluten free or just love great food, everyone will enjoy these products…maybe even make it a special gift for someone!
The winner will be drawn at random through a number generator on
Tuesday, December 13th
so enter now
…entries will be accepted through midnight December 12th.
** Next giveaway will be just before Christmas ( a few of my favorite spices!)

How to Enter:
Click on the "Like" button below this post

Write a comment – Be sure to scroll down and enter the code word, then press publish

Entries accepted through midnight December 12th, 2011