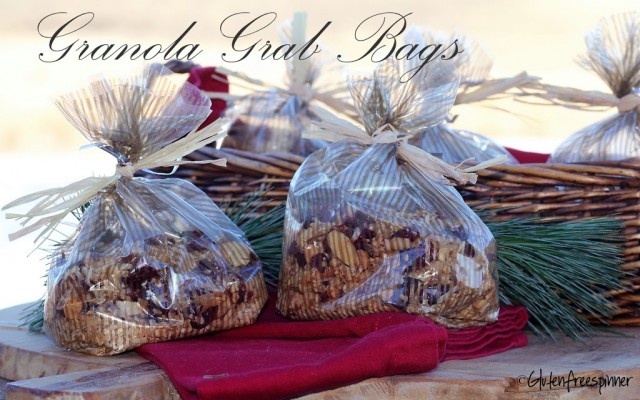 Granola Grab Bags
Guest/Hostess Gift
Looking for a last minute guest or hostess gift?
A good friend of mine called yesterday to tell me she's been making my Maple Almond Granola to give to guests as they leave her home. She puts them in little gingerbread men zipper bags and keeps them in a basket by the front door. When her guests leave she sends
them off with well wishes and a bag of homemade granola. What a great idea!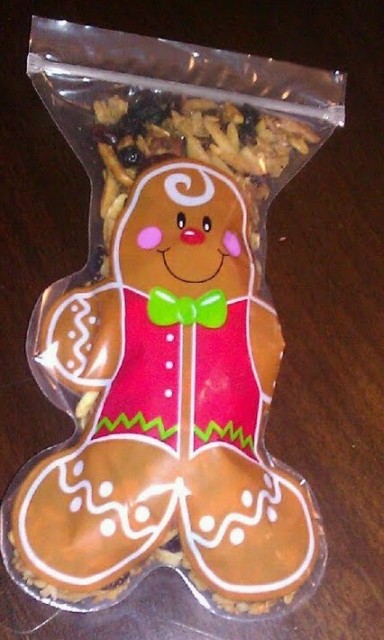 She sent me a picture…aren't they adorable?
And she's been adding coconut to my recipe which is a great addition.
So this morning I've been making little holiday bags of my granola (with coconut this time) wrapped with raffia.
I can't wait to give them away tomorrow.
Merry Christmas and Happy Holidays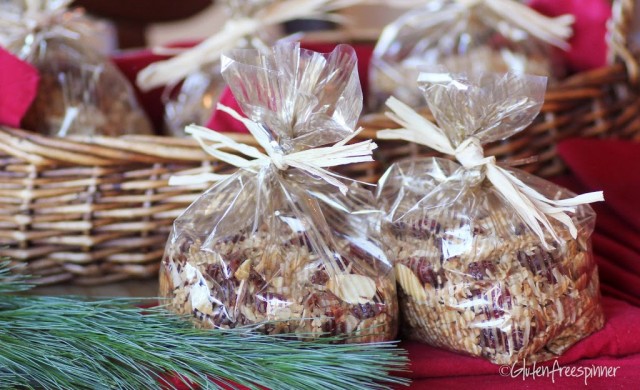 Ingredients:
4 cups gluten free rolled oats (like Bob's Red Mill)

1 tsp cinnamon

1 1/2 cup unsalted extra fancy sliced almonds

1/2 tsp fine sea salt

1/4 cup olive oil

1 cup 100% pure maple syrup (Trader Joe's)

1/2 tsp almond extract

1/2 tsp vanilla extract

1/2 cup cranberries

1/2 cup raisins

1 cup Shredded coconut
Directions:
Preheat oven to 325 degrees
Spray cooking spray on a large baking sheet with edges. In a large glass bowl, combine the oats, salt, cinnamon, almonds, and coconut and set aside. In a two-cup glass measure, combine the olive oil, syrup, vanilla and almond extract. Pour over the dry ingredients and stir until all oats are coated. Pour onto prepared baking sheet and bake for a total of 45 minutes, checking after 20 and every 10 thereafter. Bake until either a light golden brown or to a darker toasted crunch, depending on your taste. Remove from oven and toss in the raisins and cranberries.
Allow to cool and store in sealed container or individual resealable bags. Terrific on yogurt, fruit, ice cream, or simply by itself for a snack. Yum.