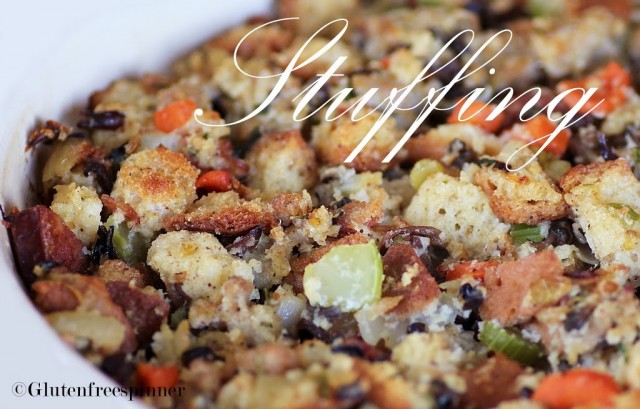 Sinfully, Stuffed, Stuffing
This Sinfully Stuffed Stuffing has three meats…yep, three, and by using both turkey and chicken sausage I kept it healthy. There is a bit of labor in browning each of the meats as I like to do them separately to ensure they are nicely browned and drained on paper towels.  The sausages, bacon, onions, carrots, celery, fresh rosemary, Parmesan, and wild rice are key components to the flavor, and of course, the multigrain bread gives this stuffing the perfect texture.  Don't skimp on the ingredients, it's what makes it so amazing.  This recipe makes a huge casserole of stuffing so if you're trying it without the holiday crowd, just make half and treat yourself to one more day on the menu…sinfully stuffed stuffing.
Ingredients:
2 Tblsp Butter
1 lb ground Italian turkey or chicken sausage
3 Italian chicken sausage links, cut into bite sized pieces (remove casing if tough) I prefer the Aidells brand Italian
1 pkg uncured natural smoked bacon cut into pieces
2 medium onions, chopped
2 carrots peeled and chopped
3 celery stalks chopped – with leafy greens
2 Tbsp chopped fresh rosemary leaves (less if dried)
3 cloves of garlic, minced
1 can Canoe Brand wild rice  – Drained (or 1 1/4 cups cooked wild rice)
1/4 cup chopped fresh Italian parsley leaves
10 cups cubed multigrain gluten free bread
1 cup freshly grated Parmesean cheese
1 1/2-2 cups organic low salt turkey or chicken broth – (your choice of moistness)
Salt and freshly ground black pepper
2 large eggs beaten together
Directions:
Preheat oven to 350 degrees.  Butter a large casserole dish.
In a heavy skillet over medium heat, brown the ground sausage until  no longer pink and break into small pieces.  Remove with slotted spoon and set aside on paper towels.  Brown the bacon pieces until crisp and add to the already browned sausage on paper towels.  Discard the bacon grease leaving 1 Tbsp and add the cut Italian sausage links to the same pan and saute until nicely browned.  Remove from pan with a slotted spoon and set aside with the other two meats.
In the same pan, saute the onions, carrots, celery, rosemary, and garlic.  Saute until the onions are tender, about 12 minutes.  Gently stir in the parsley.  Transfer the onion mixture to a very large bowl and add the three meats.  Add the Bread Cubes, Rice, and Parmesean to bowl and toss to coat.  Add enough broth to the stuffing mixture to moisten. You want the mixture moist, but not wet. Season the mixture to taste with salt and pepper and taste test for moistness and seasoning.  Mix in the beaten eggs.  Pour the stuffing mixture into buttered casserole dish.  Cover with buttered foil , butter side down, and bake until stuffing is heated through, about 30-40 minutes.  Uncover and continue baking until top is crisp and golden, about 15-20 minutes longer.