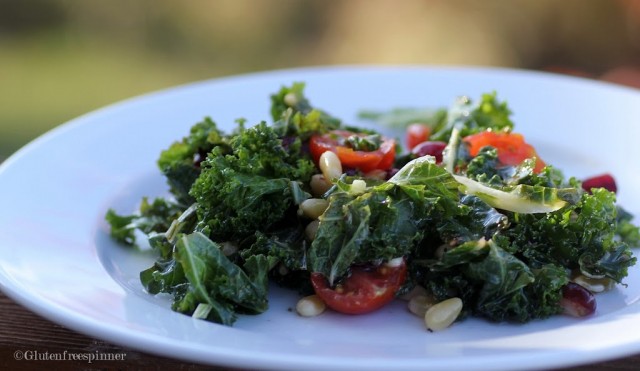 Mr. Spinner and I have been trying to eat a bit lighter these last two weeks and a visit to the new Whole Foods in our area inspired me. The beautiful fresh produce section has every fruit and vegetable imaginable, and everything is organic. It's a bit pricier than the Coop or local market, but it's a treat to shop there and you leave with a bag full of healthy inspiration.
The Deli Section of this market is my favorite part of the store. They have three rows of prepared foods, both hot and cold, salads and fruit, everything fresh, organic, and the ingredients are listed above each dish. It's a perfect setting for those of us living gluten free.
Here's my first inspiration, a Raw Kale Salad. The key to this salad is ensuring the kale is rinsed well and chopped small. Enjoy.
1 bunch of Kale, stems and tough ribs removed, rinsed and spun dry. Cut into 1" pieces (basically chopped)

10-15 Grape Tomatoes cut in half

Handful of Pignolias (Mediterranean Pine Nuts)

Handful of craisins

2 Tbsp olive oil

2 Tbsp fresh squeezed lemon juice

1 tsp honey (or to taste)

Salt and pepper
Directions:
Toss the kale, tomatoes, pignolias, and craisins in a salad bowl. Whisk the olive oil, lemon juice, honey, salt and pepper and drizzle the amount you prefer over the salad. Toss to coat all leaves. Add fresh black pepper and enjoy. You can almost hear your body thanking you.