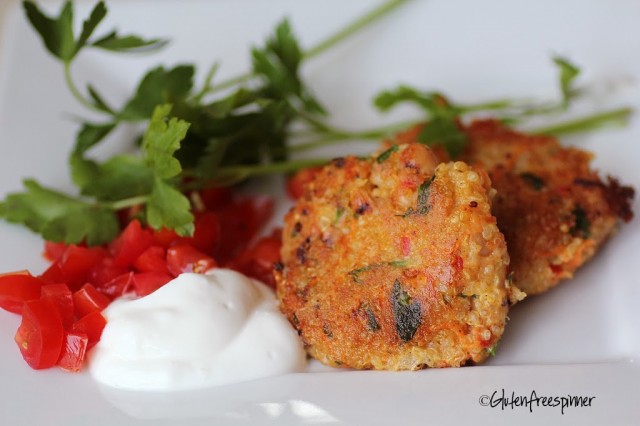 Power-up with my quinoa cakes…little disks of protein heaven.
1 1/2 cups cooked quinoa

1 cup black eyed peas, rinsed and drained

2/3 cup shredded cheddar cheese

1 egg slightly beaten

2 Tbsp Boursin garlic and herb cheese

¼ cup grated Parmesan

1 carrot finely grated (about a ½ cup)

¼ cup chopped red pepper

3 green onions, chopped

2 Tbsp finely minced onion

2 Tbsp fresh chopped cilantro

¼ cup gluten free flour

2 tsp McCormicks Perfect Pinch Cajun seasoning

1 Tbsp lemon juice

½ tsp each salt and pepper

Olive oil or Canola Oil for frying
Add all the ingredients in a medium bowl and gently mix to combine. Taste for seasoning adding salt and pepper to taste.
Heat 2 Tbsp oil in frying pan over medium heat until flecks of water sizzle. Form a heaping Tbsp of the quinoa mixture into a ball and pat to form a nice round disk. Slowly add the quinoa cake to the hot oil and continue adding additional cakes without crowding the pan. When the edges start to brown (about 3-4 minutes) flip the cake and brown the other side another 4 minutes. You want these crisp, so let them get nice and brown. Transfer to a plate lined with paper towel to remove excess oil and cover with foil to keep warm.
Serve with a dollop of Daisy light sour cream, chopped tomatoes, and fresh cilantro sprigs. Makes about 12 – 3″ quinoa cakes.