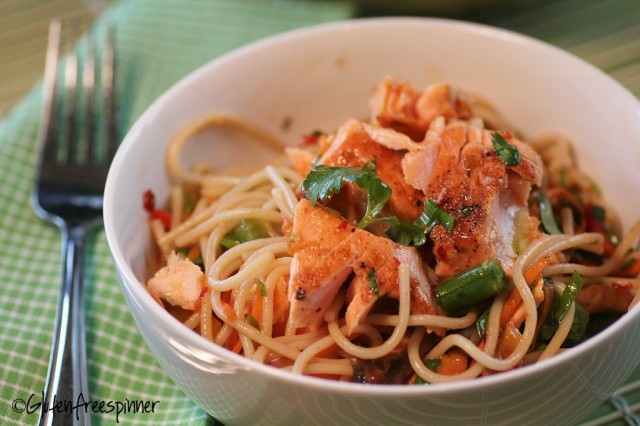 Pad Thai Salmon Pasta Toss
Over the weekend I saw a pin on Pinterest of a woman eating Tangled Pad Thai and I've been craving it ever since! This morning I couldn't wait to put my spin on the classic dish that's been listed as number 5 on World's 50 Most Delicious Foods. 'Pad Thai' basically means Thai-style stir fried noodles and the varied recipes range from vegetarian to chicken to shredded cabbage or tangled vegetables (as in the one I saw on Pinterest).
For my Pad Thai recipe, Salmon was going to be the star with the co-star being the sauce. My noodles are regular spaghetti noodles (Tinkyada Pasta Joy Gluten Free) and I skipped the egg. I blended a more typical sauce of lime juice, garlic chili sauce, sweet chili sauce, brown sugar, and the must have… fish sauce. If you're not familiar with fish sauce, be sure to buy the premium fish sauce – but don't smell it or you may be tempted not to use it. Really, it's hard to imagine something that has such an unpleasant 'aroma' will add the needed flavor for this dish, but it does. (Ok, give it a good sniff, you know you will.) But don't let that scare you…it's full of flavor and you will use it often in Asian dishes.
I've added links to all the sauces for easier reference when choosing gluten free.
Now I have to tell you about my new favorite gadget. For the sheer joy of making Pad Thai I bought myself a Julienne Peeler. Fun!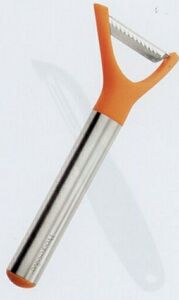 I'm loving this little tool and will start spinning amazing dishes into Julienned heaven. Seriously, this inexpensive ($ 5-$7) gadget makes the perfect sized carrot strips…just think of the vegetable sides I can make like zucchini and squash strips or how about gold and purple beets…pretty! Maybe potato shoestrings? Yum!
Ok, back to Pad Thai. Now don't let the list below deter you from making this…there really are few ingredients here and it comes together so quickly. I tried my Pad Thai Salmon Pasta Toss when it was just made and still warm as well as four hours later cold from the frig… I still can't decide which way is better…it was amazing each time. For the salmon I used Urban Accents Thai Garden Seasoning, which is a wonderful aromatic blend of sweet heat like cinnamon, cardamom, garlic and pepper flakes. The salmon cooked quickly and it took everything not to eat it all before adding to the noodles! If you are making this as a cold salad, you certainly can use salmon that has been previously cooked, but the extra 7 minutes it takes to make it as I've listed is well worth the flavor it adds.
The cooked salmon, mushrooms and noodles are glazed with the sauce then the vegetables and cilantro are tossed in to bring this beautiful dish together. For a final crunch you can add peanuts, which is traditional, then garnish with cilantro sprigs or lime wedges. Yummmy!
I hope you enjoy my unique spin on Pad Thai…
2-3 servings
Ingredients:
Additional Ingredients:
1/4 cup rough chopped mushrooms (I used white button)

2 Tbsp rough chopped red onion

1 Tbsp chili garlic sauce (Huy Fong Foods is gluten free and very good)
2 cups cooked until Al' Dente Tinkyada Rice Spaghetti Noodles (or brand of choice)

1 large carrot, julienned

3 scallions, chopped at an angle

1 large handful of fresh cilantro, rough chopped

1 cup bell peppers (choice of red, green, yellow – combination or just one, it all works)

1 cup sugar snap peas cut into 1/2″ pieces

Peanuts (optional)
Pad Thai Sauce:
Directions:
Prepare the spaghetti noodles until al dente, rinse and drain well. Drizzle 1-2 tsp olive oil over them and toss so they stay moist. Next, prepare and assemble the vegetable ingredients so they are ready as this recipe comes together quickly.

Combine the sauce ingredients and set aside.
Very lightly season the salmon fillets with salt and pepper. Dust both sides of each fillet with the Thai Garden Seasoning, probably using 2 tsp total. Heat the olive oil and butter in a skillet over medium heat and when butter is bubbly, add the prepared salmon fillets and cook about 2-3 minutes on each side, depending on thickness, until it flakes easily (don't overcook as it will rest under foil before adding to dish). When fish is done, transfer to a plate and tent with foil.
In the same pan, add the mushrooms and onions and saute for 3-4 minute until tender. Add the Tbsp of garlic chili sauce and stir around in pan to combine. Add the cooked noodles to the pan and toss to coat. Add the sauce you prepared ahead to the pan and toss with tongs coating the noodles.
Add the carrots, scallions, cilantro, bell peppers, and snap peas and toss to combine. (Add peanuts here if using.) Break the salmon fillets into large chunks and add to the noodle dish, using the tongs to gently fold into the noodles.
Serve in shallow bowls garnished with limes and cilantro. Sooo yummy!