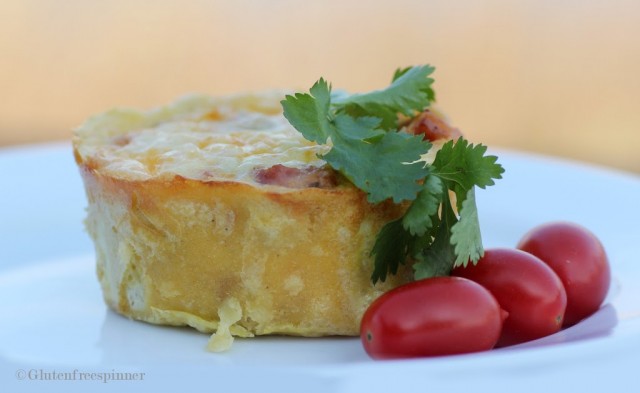 Corn Tortilla Mini Quiches
How about these individual quiches with a tortilla crust…Yummy, right? And so easy.
One of the best things about this recipe is customizing each one to each preference. Our favorite is made with ham, bell peppers, chili peppers, corn, and onions.

Add or change ingredients as you like, the results will still be delicious.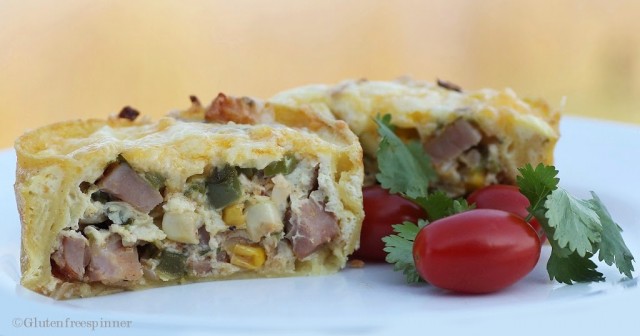 Top with salsa, chopped cilantro, or even sour cream if you choose. We at them just as you see…they didn't need a thing. Enjoy!
4 – Six inch corn tortilla's (prefer the extra thin)

1 Tbsp olive oil

1/2 cup diced ham (or cooked sausage if you choose)

1/4 cup bell peppers (red or green)

1/4 cup chopped red onion

1 chili pepper finely chopped (your choice mild or hot)

1/4 cup frozen corn – thawed

3 large eggs (or 4 regular)

1/2 cup sour cream

1/4 cup half & half

2 Tbsp Parmesan cheese

1 tsp Emeril Southwest seasoning

1/4 tsp salt and 1/4 tsp pepper

1/2 cup Mexican blend cheese
Preheat oven to 350 degrees. Spray sides and bottom of four ramekins (4″) with non-stick spray.
Add the olive oil to medium pan and saute the ham, peppers, onions, and chili's until tender. Turn off heat and add the corn tossing to combine all ingredients.
In a medium glass bowl, whisk together the eggs, sour cream, half and half, Parmesan, southwest seasoning, salt and pepper.
Warm the tortillas in the microwave for 20-30 seconds, just until soft enough to mold into the ramekins pressing the bottom and sides to form a crust. It's ok if they crack a little, the filling will mold into the cracks and be fine.
Pour the egg filling into each tortilla lined ramekin – distributing evenly. Top with the Mexican cheese. Place the four ramekins onto a baking sheet and bake in 350 oven for 25-30 minutes or until the tops are puffed and brown. Remove from oven and allow to set for 3-5 minutes. With a fork, loosen each quiche around the edges and transfer to plate.
Add toppings as you choose such as salsa, chopped cilantro, green onions, etc. or eat as is. Delicious!