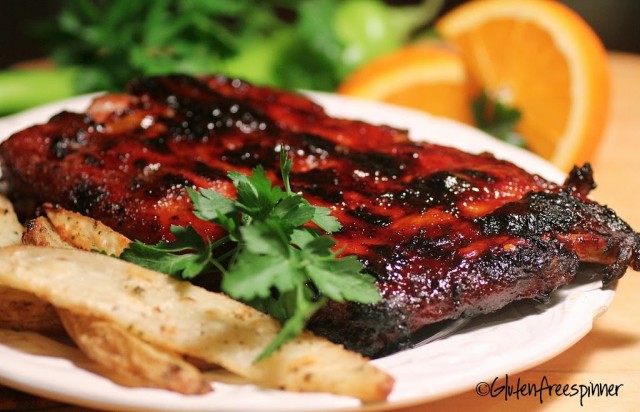 Asian Chili Ribs
We love ribs at our house, it's almost an event when we have them.  A few months ago I surprised Mr. Spinner with Asian Chili Ribs for dinner and he almost fell over with excitement.  First of all, he's the rib guy….he's the one who prepares them, season's them, bakes, bastes, and grills them.  I'm just the lucky one who gets to eat them.  Well, not this time…I prepared them from beginning to end…and they were reeeeeally good.  I chose Asian Chili Ribs rather than the traditional BBQ ribs just to be different since these were 'my ribs' .  So why did I wait so long to post my Asian Chili Ribs?  Because I didn't take pictures that day and we ate every single one!
So being we don't make ribs very often, this was the first chance to make and post them to share.  There's nothing quick and easy about ribs, it takes a lot of time to do them correctly.  But the labor of love and slow process is also what makes them so special.
My Asain Chili Ribs are first seasoned with a maple smokey seasoning, using a generous amount and rubbing it into the rib.  Then they are infused in a marinade of orange juice, hoisin, chili sauce, Sriracha sauce, and brown sugar (yep, sweeet-hot).   But the best part of these Ribs is the Asian BBQ sauce, in fact my son and Mr. Spinner said to double the recipe so there's sure to be enough.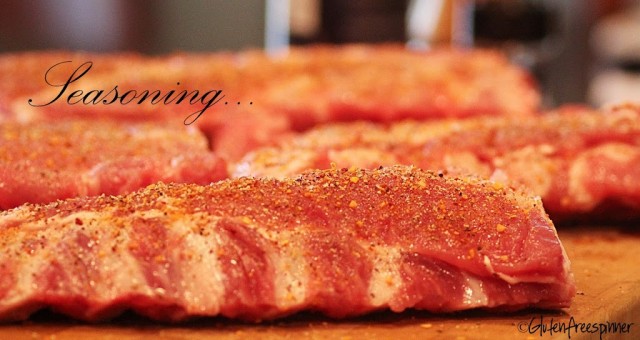 I think my least favorite part of making these was the prep-work before seasoning them.  Not everyone does this next step, but since we learned about the "secret" to amazing ribs, it makes all the difference in the world.  You have to take the membrane off the back of the ribs.  There's a silver-skin like membrane on the back and you peel it down the length of the rib.  We use a needle-nose pliers to take it off and it works well once you are able to get ahold of it.  I can only imagine the faces I was making as I pulled it off because I was pretty grossed out…I even made all the 'ewwww', 'uckkk', 'sick' sounds as I pulled.  And then I thought, heck, why not share a picture of this moment with everyone?  Tee-Hee…I'm always here to help ya know, and now you can see how it's done. That's how much I love you.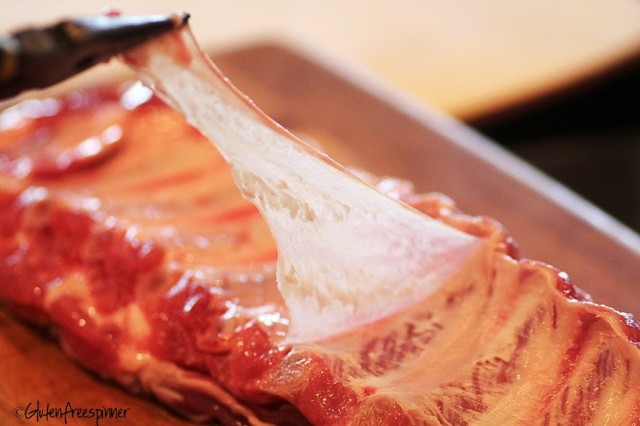 Another reason these ribs are so tender is the method of cooking.  They are tightly wrapped in foil and baked in the oven for two hours before transferring to the grill to finish.  Just keep remembering the final result…hot-sweet, spicy, smokey, tender, saucy, fall off the bone ribs packed with flavor.  And for sides, we served ours with my Parmesan Steak Fries and baked beans.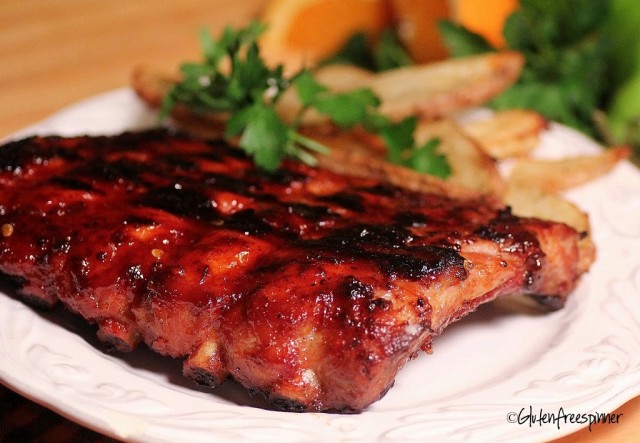 Oh, and that Asian BBQ sauce that's intoxicatingly delicious?  You'll be dipping your fries in it too.  Just be sure to use a hot spicy BBQ sauce for the base. I added a link to a really good gluten free brand called Roadhouse.  If you have a hard time finding one in your regular market, try a specialty market (Whole Foods, Byerly's), or order online…well worth the extra effort.
Enjoy a rack of ribs this weekend….Hot and Spicy!
Ingredients:
2 full racks baby back pork ribs,  remove the sliver skin from back, and cut the racks in half (yielding 4 racks of ribs)
Sea salt
Fresh black pepper
Marinade:
1 ½ cups orange juice
½ cup Huy Fong Foods, Inc. Chili garlic sauce (or other GF chili sauce – be sure to check)
2 heaping Tbsp Dynasty Hoisin sauce (or other GF Hoisin)
1 Tbsp San-J GF organic Tamari (gluten free soy sauce)
1 Tbsp GF hot sauce (Sriracha Hot Chili Sauce)
2 Tbsp brown sugar, firmly packed
Infused Asian Chili BBQ Sauce:
3/4 cup favorite GF Spicy BBQ sauce (Try the Roadhouse Brand – GF and 4 varieties…all good!)
¼ cup apricot or orange marmalade
¼ cup garlic chili sauce
1/2 cup orange juice
Combine all sauce ingredients, using microwave for a few minutes if your marmalade is too stiff.  Set aside.
Directions for Ribs:
Prepare the ribs as directed above.  Season both sides of the ribs with the Smokey Maple seasoning (using generously),  sea salt, and pepper.   Gather two resealable plastic bags and place two sections in each bag.
Combine all marinade ingredients and pour 1 cup of marinade over the ribs in each bag.  Marinate for at least 4 hours….over overnight.
Preheat oven to 325 degrees
Remove ribs from marinade and place on a foil lined baking sheet.  Completely cover with foil and seal edges.   Roast in 325 degree oven for 2 hours.  Remove from oven and preheat your grill on high.
Divide the BBQ sauce in half – part for serving and part for basting.  Once the grill is preheated, lower to medium and place the ribs on grates.  Baste the top with sauce and allow to cook for 5 minutes .  Turn the ribs over, baste again, and grill for another 5 minutes.  Remove from grill and baste with the BBQ sauce again before serving.
Serve with extra sauce and sides of Steak Fries and Beans.