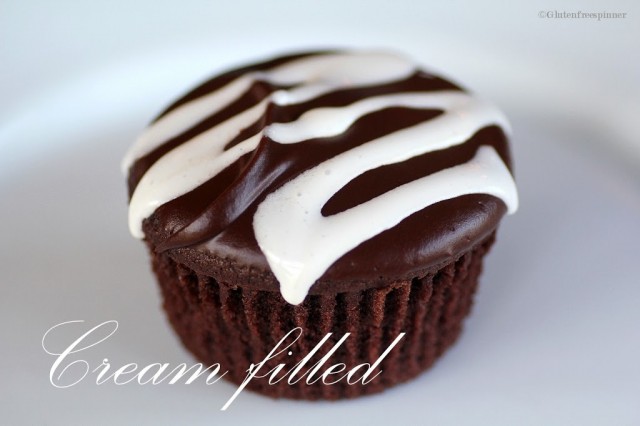 Cream Filled Devil's Food Chocolate Cupcakes
This posting is for my sister who loves my version of Devils Food Chocolate Cupcakes that I posted for my daughter's bridal shower. And now, I filled them with fluffy cream, much like a Hostess Cupcake or Ding Dong, and frosted them with a chocolate glaze. YUMMY!
My inspiration for these filled cupcakes came from the many postings by fellow bloggers who were making mock-Hostess Cupcakes…and did a beautiful job recreating them I might add! I've included the links to their sites below my recipe…be sure to take a look. Who

would have known so many people wanted to re-create the childhood treat many of us had in our lunch boxes.
But my cupcakes are not Mock Hostess Cupcakes, the bloggers I mentioned already did the job perfectly. I just wanted to fill my EASY cupcakes with cream, giving them a new spin, and they turned out fabulous.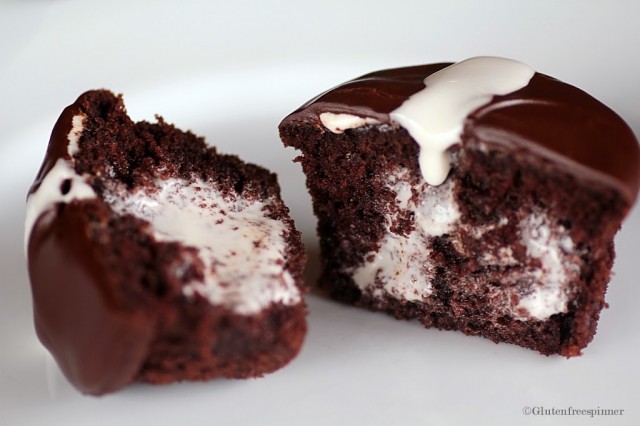 I made three of them like a Ding Dong (my childhood favorite), and they were reeeeeeally good…in fact, so good I don't have a picture! Haahaa, they were Mr. Spinner's favorite too. But all you need to do is coat a ramekin with non-stick spray, fill 2/3 full and bake 15-18 minutes until toothpick comes clean. Once baked, allow to cool for 8 minutes before inverting onto cooling rack. When cool, cut the puffed top with a serrated knife to create a disk (looks just like a hockey puck). Fill, frost all sides, allow frosting to harden, done. Yum.
Again, these cupcakes are so easy thanks to the Betty Crocker Gluten Free Devils Food Cake Mix. No need for the many different flours and leavening agents, just five ingredients and your done. The filling and frosting are both easy too…and so delicious. Have fun!
Cupcakes
1 pkg Betty Crocker Devil's Food Cake Mix

2/3 cup Real Mayonnaise (I used Hellmann's with olive oil) its half the fat!)

¾ cup water

1 stick butter, softened (1/2 cup)

3 eggs
Directions:
Preheat the oven to 350 degrees.
Line cupcake pan with paper baking cups.
Beat the cake mix, Mayo, water, butter and eggs in a large bowl on low speed for 30 seconds. Increase speed to medium and beat for 2 minutes, scraping bowl. Pour the batter evenly into the cupcake liners
Bake at 350 for 18- 23 minutes, or until toothpick comes out clean.
Cool for 5 minutes in the pan then remove to a cooling rack to cool completely before filling.
Filling:
3 Tbsp butter, softened

1/2 cup powdered sugar

1 tsp vanilla extract

1 Tbsp heavy cream

1 jar (7 oz) marshmallow creme
Cream the butter and powdered sugar with hand mixer until light and fluffy…about 1 minute. Add the vanilla and heavy cream. Beat until smooth. With mixer on low, mix in the marshmallow creme just until incorporated. Adjust the cream and powdered sugar to your preference of thickness. Fill a pastry bag or decorators tube with the filling and attach the filling tip.
Puncture the center of each cooled cupcake with the filling tip and push down to the center of cupcake. Gently press the bag or tube filling the cupcake and pulling it out as it fills. The filling will naturally expand into the cake. Use leftover filling to decorate the top of cupcakes.
This is my favorite chocolate glaze….I've been using it for years and it so easy and always turns out perfectly. It originated from allrecipes, and my version uses a little more vanilla and I simplified the directions by using the microwave instead of double boiler. Either way works.
3/4 cup semi sweet chocolate chips

3 Tbsp butter

1 Tbsp light corn syrup (makes it shiny!)

1/2 tsp vanilla extract
In a glass bowl or 2 cup measuring cup, add the chocolate chips, butter, and corn syrup and microwave for 1 minute. Stir. Continue at 20-30 second intervals, stirring after each, until the chocolate is melted. Don't over-microwave or the chocolate will be ruined. Microwave just until melted. Stir in the vanilla and frost the cupcakes by dipping the tops into the frosting and swirling. Allow to set. Decorate with leftover filling as you choose.
Links to Blogger's Posts for Mock Hostess Cupcakes: