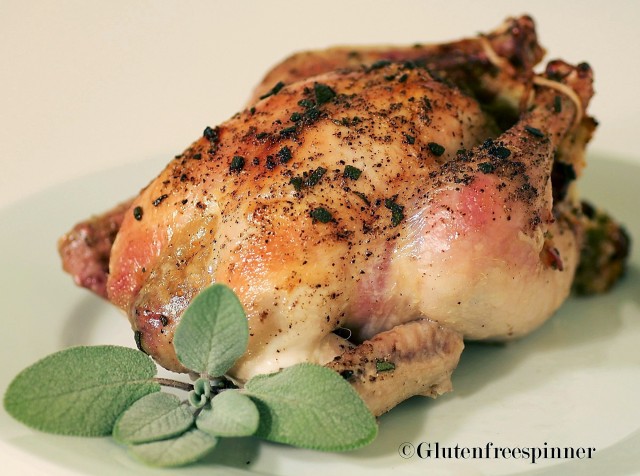 Cornish Game Hens
** Re-posting this recipe while I make it for dinner for Mr. Spinner and me…we are at the cabin and the weather is 64 and sunny.  All the leaves have fallen and the lake is brilliant blue amidst the straw colored foliage.  Nothing could be better on this beautiful October Saturday night than Cornish Game Hens with Apple Stuffing.
Cornish Game Hens with Apple Stuffing
Two years ago when my husband suggested we try to make Cornish Game Hens, I turned up my nose at the thought.  I never really understood the attraction to these little guys and wasn't all that excited to try them.  Something about a miniature chicken sitting on
my plate as a whole wasn't appetizing to me.  Yet to be fair, I'd never actually tasted them, and since we love new foods and recipes, I was intrigued.  We found a recipe in our vast collection of books, and it didn't take long for me to became a fan.  They do taste like a roasted chicken, but the meat is much more tender and delicate.  I think what makes them so special is each individual serving…the presentation is lovely.As I went through the check-out at Whole Foods this weekend with my Organic Hens, the cashier said, "Oh! I love Cornish Game Hens!  My dad made them for us all the time growing up…we had 5 kids and would cut them up to feed the whole family."  I told her I was impressed!  What a great memory…I'll bet her father didn't even realize that those Cornish Game Hen's he prepared were a cherished memory for his daughter.  I love that.
With many spins of the spice wheel I perfected my Cornish Game Hens with Apple Stuffing recipe.  It's consistently good every time, and the only change needed now was to gluten free.  My original recipe was with cornbread stuffing, but I just didn't have the time to make the cornbread from scratch.  I used Udi's Whole Grain bread, which was as quick as cutting the slices into cubes and it worked perfectly.  By all means, if you have gluten free cornbread, you can substitute.  This is an elegant dinner for two, or double the recipe for an impressive dinner for four…either way these beautiful little hens draw applause every time.  They are a bit of work, but you can prepare them ahead and refrigerate until ready to roast (same day).  I prepared mine four hours in advance which made for an easy and special Saturday night dinner.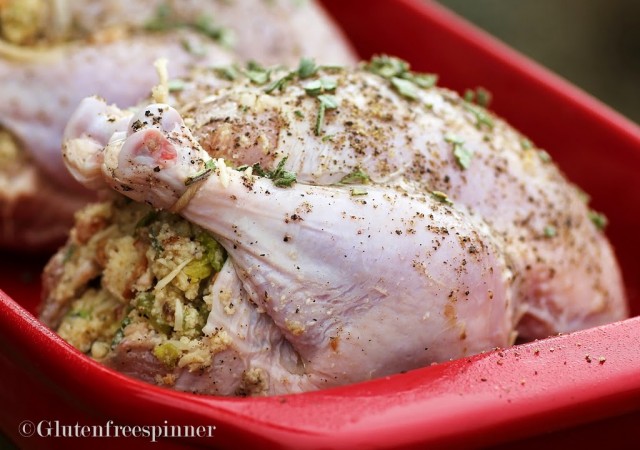 The savory sage, sweet tart Granny Smith apple, and smoky Canadian bacon give incredible flavor to the stuffing.  Consider doubling the batch of stuffing so there's extra…it's so-so good.  The final 'ta-da' is the wine sauce which finishes the entire dish.  Our choice for vegetable was white shoepeg corn but fresh green beans or cooked carrots would be equally delicious.  If you've yet to experience Cornish Game Hens, I encourage you to take another look (taste), they are worthy of their 'Special' reputation.
11-21-2010 – My son and his friends made a pre-Thanksgiving Dinner using this recipe.  They made 10 little hens and said their entire dinner was "phenomenal".  He sent me the picture below from his cell phone just before they sat down to eat.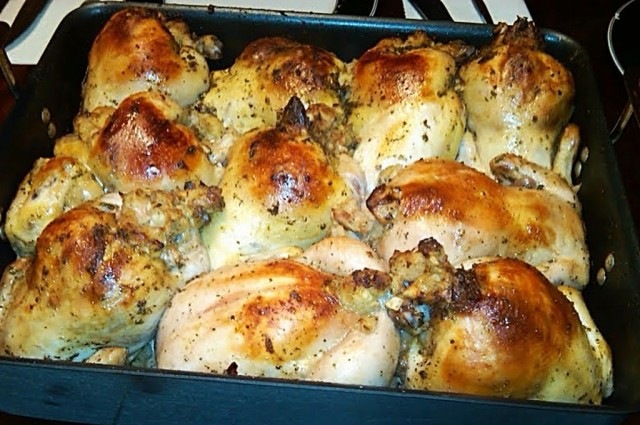 Good Food, Good Friends, Good Spirits, Good Times…
Happy Thanksgiving!
Ingredients:
Stuffing:
1 ½ Tbsp butter
1 Tbsp olive oil
½  cup chopped onion
¼ cup chopped celery
1 – peeled, cored, and diced Granny Smith apple
4 slices Canadian bacon, diced
1 tsp chopped fresh sage
½ tsp fine sea salt
½ tsp freshly ground black pepper
2 cups – fresh gluten free bread cubes – ½ inch in size ( I used Udi's whole grain)
1 egg, beaten to blend
¼ cup finely shredded swiss cheese
¼ cup grated parmesan cheese
4-6 Tbsp (approx) fresh apple cider or fresh apple juice
Game Hens:
2 – organic Cornish game hens, thoroughly rinsed, patted dry
Fine sea salt
Fresh ground black pepper
1 tablespoon chopped fresh sage
1 tablespoon olive oil
Wine Sauce
½ cup white wine
½ cup organic less salt chicken broth
3 Tbsp melted butter
Directions:
Stuffing:
Melt butter with olive oil in a medium skillet over medium-high heat. Add the onion and celery and sauté until they soften, about 3-5 minutes. Add apples and Canadian bacon, sauté until the apples begin to soften, about 3 minutes. Mix in the sage, ½ tsp salt, and ½ tsp pepper and remove from heat.  Transfer to a large bowl. Let stand about 5 minutes to cool.Combine the bread cubes with the vegetables. Add the beaten egg and toss to blend. Mix in both cheeses and add enough apple cider by tablespoonfuls to form stuffing that is moist but not wet.  Set aside.Preheat oven to 450 degrees
Game Hens:
Sprinkle the inside of the prepared hen cavity with fine sea salt and pepper…this is the only chance to season the inside of the hen so be generous without over seasoning…about 1 ½ tsp fine sea salt and 1 tsp pepper in each…or to your taste.  Pack the stuffing into each cavity – really stuffing to fill entire cavity (if you have any leftover stuffing, place into buttered ramekins and cover with foil…I fit all of stuffing into the hen, it just depends the size of the hen).   Tie the legs together with Cooking Twine, snipping any loose ends.  Tuck the wing tips under.  Sprinkle the top of each hen with more fine sea salt, pepper, and chopped sage.  Drizzle with olive oil.
Place hens in preheated 450 degree oven for 25 minutes.  Reduce heat to 350 degrees and add the combined wine sauce ingredients to the bottom of pan (wine, broth, and melted butter).  If the hens look dry on top, drizzle a little more olive oil over top of each.  Roast hens at 350 degrees for 20-25 minutes longer.  (If you prepared extra stuffing in little ramekins, this would be the time to put them in the oven.)
At end of cooking time, remove from oven and strain juices into a small heavy sauce pan.  Cover hens with foil to rest.
Wine Sauce
Bring the pan sauce liquids to a boil for about 6 minutes adding ½ tsp garlic powder, 1 Tbsp chopped parsley, and salt or pepper to taste (may not need so taste first).  When sauce begins to reduce, remove from heat and stir in 2 Tbsp butter.  This adds a silky smooth finish to the sauce.  Transfer hens to plates and serve with vegetable of choice.  Drizzle with wine sauce and serve remaining sauce on the side…it's amazing.