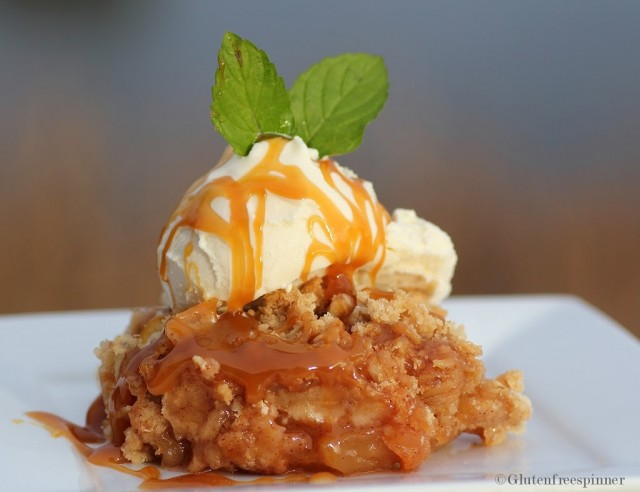 Another apple crisp? Ahhh, yes…can we ever get enough? And this one has butterscotch caramel oozing down the sides…oh heaven.
With a collection of apple crisp recipes in my files, I played around with a few different ingredients to create this easy traditional dessert that has a hint of citrus from orange juice and zest. I also love to use fresh ground nutmeg…if you don't have it, you can use the jarred, but consider purchasing the nutmeg nuggets and a good microplane zester, it's so worth the few dollars and you'll never go back.
But what really puts this Apple Crisp over the top is caramelizing it! With the help of Mrs. Richardson's
Butterscotch Caramel Topping
(designated gluten free on the jar),
it couldn't be easier. Just warm it up in the microwave and drizzle over the top allowing it to ooozzze down the sides. Don't forget the vanilla bean ice cream…it's a must.
6-7 Gala and Haralson apple – combination

Grated zest of 1/2 orange

3 Tbsp freshly squeezed orange juice

1/2 cup granulated sugar

2 tsp ground cinnamon

1 tsp fresh ground nutmeg(or jar if you don't have fresh)
For the topping:
1 cup GF all purpose flour

1/2 cup sugar

1/2 cup light brown sugar, packed

¼ tsp kosher salt

1 cup GF oatmeal

1 stick cold butter, diced
Preheat the oven to 350 degrees F. Butter a 9" round baking dish.
Peel, core, and cut the apples into 1″ pieces. Combine the apples with the orange zest, orange juice, sugar, cinnamon, and nutmeg. Pour into the dish.
To make the topping, combine the flour, sugars, salt, oatmeal, and cold butter in a medium bowl and mix with both hands working the butter into the flour and sugar and making a crumble. It takes a little while, but the crumbs should be the size of peas. Scatter evenly over the apples.
Bake in preheated oven for 50-60 minutes or until the top is brown and the apples are bubbly. Allow to cool at least 20 minutes. Serve warm drizzled with Mrs. Richardson's Butterscotch Caramel Topping and vanilla bean ice cream.