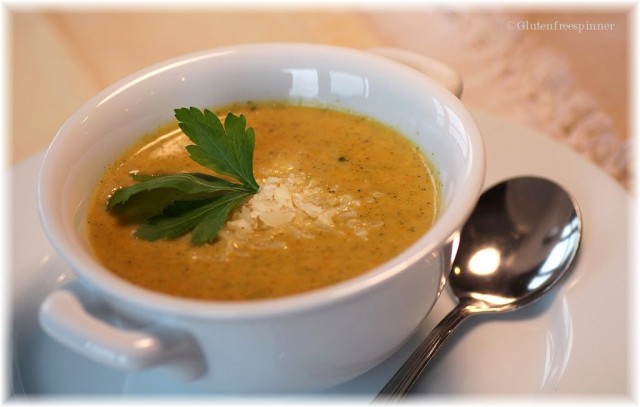 Broccoli, Carrot, and Cheddar Soup
I love making soup. There's something very comforting about a pot of soup simmering on the stove first thing in the morning…it's my favorite time to make it.
I worked with a chef years ago who told me there are three seasonings you should add to every soup: thyme, white pepper, and oregano. Although I don't add them to every soup, I've never forgotten his advice and enjoy the flavor it adds when I do. My Broccoli, Carrot, and Cheddar Soup is one of the soups I add them to. It's creamy and full of flavor. The carrots add a natural sweetness while adding another healthy component to the traditional broccoli soup. The onions, garlic, carrots and broccoli simmer in chicken stock until tender before they are blended with an immersion blender until smooth and creamy. Then half and half, shredded white cheddar and Parmesan cheese add another level of creamy rich flavor.
I finish the soup with two tablespoons of butter to add silkiness then serve with Parmesan shavings and chopped green onions or parsley. The flavors of broccoli and carrots are well defined in this soup which makes it so delicious. Enjoy!
Ingredients:
3 Tbsp butter

1 vidalia onion, chopped

2 Carrots, chopped small

1 tsp sea salt

½ tsp white pepper

½ tsp dried thyme

½ tsp oregano

1 tsp minced garlic

3 Tbsp all purpose GF flour

32 oz GF chicken stock (prefer stock over broth – richer flavor)

4 cups fresh broccoli floweret's

½ cup half and half (you can also substitute lowfat evaporated milk)

2 cups shredded white cheddar cheese

3 Tbsp grated parmesan cheese

2 Tbsp butter
Melt the butter in a medium heavy pot over medium heat and add the onions, carrots, salt, pepper, thyme, oregano, and garlic. Saute to soften the onions and carrots, about 4-5 minutes. Add the flour and cook for 2 minutes, stirring. Slowly add the chicken stock, stirring to loosen the bits from bottom of pan and incorporating the flour into the stock. Add the broccoli and bring the soup to a slow boil. Cover and simmer on medium-low for 10 minutes or until broccoli is very tender, stirring periodically.
Remove the pot from heat and with an immersion blender, blend the soup until smooth and creamy. (If you prefer chunks of broccoli in your soup, remove the desired amount first and return to pot after blending.) Return the pot to the stove on medium heat and add the half and half and stir for a few minutes to warm into the soup. Add the white cheddar and Parmesan and continue cooking over low heat until melted. Turn heat off and add the 2 Tbsp butter and stir until melted and incorporated into the soup. Add a little salt and black pepper to taste just before serving.
Garnish with Parmesan shreds and chopped green onion or parsley.