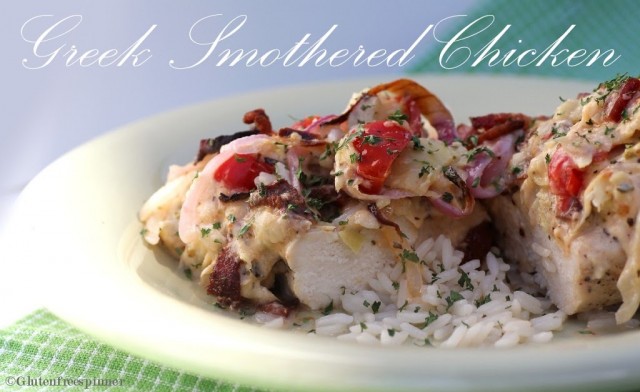 Adding a new recipe to GFS was at the top of my list today and as I took inventory of ingredients on hand they all added up to something Greek. Hmmm, how about smothered

chicken using artichokes and bacon! Yum! It's an easy weeknight meal full of flavor.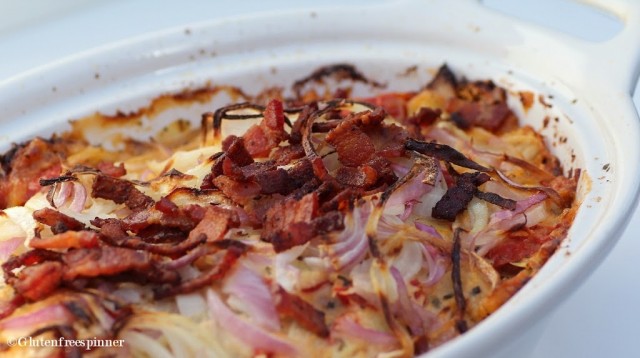 Boneless chicken breasts are smothered in a delicious tangy sauce filled with artichokes, tomatoes, red onions and bacon. Serve this flavorful meal in one of two ways…each breast whole (4 servings) or cut the chicken into pieces for family style. Either way, add rice, GF pasta, or a side of cannellini beans which would add a healthy serving of fiber to this delicious meal. Enjoy!
4 boneless chicken breasts

Sea salt and fresh black pepper

1 (14 oz) can Quartered artichoke hearts, drained and chopped

½ cup quartered grape tomatoes

¾ cup grated Parmesan cheese

¾ cup olive oil based Mayonnaise (it's less fat but also gluten free)

2 tsp brown sugar

1 clove garlic, minced

1 Tbsp Greek Seasoning

1 red onion, sliced thin (about 1/2 cup)

Drizzle of olive oil

4 slices thick cut bacon cut into ½ inch pieces and fried to crisp
Directions:
Preheat oven to 375 degrees.
Lightly season the chicken breasts on both sides with sea salt and pepper, don't over season as the ingredients have enough seasoning. Spray a casserole dish with non stick spray and lay the chicken on bottom, separated.
In a large bowl combine the artichokes, tomatoes, Parmesan, Mayonnaise, brown sugar, garlic, and Greek seasoning. Stir until all ingredients are combined. Spread over the top of the chicken breasts in dish. Top with the onion slices and a drizzle of olive oil.
Bake at 375 degrees for 45 minutes, uncovered. Top with crumbled bacon pieces and allow to rest for 10-15 minutes before serving. Serve over pasta or rice, or add a side of Cannellini beans to add more fiber and protein. A final sprinkle of red pepper flakes adds a nice zing too.