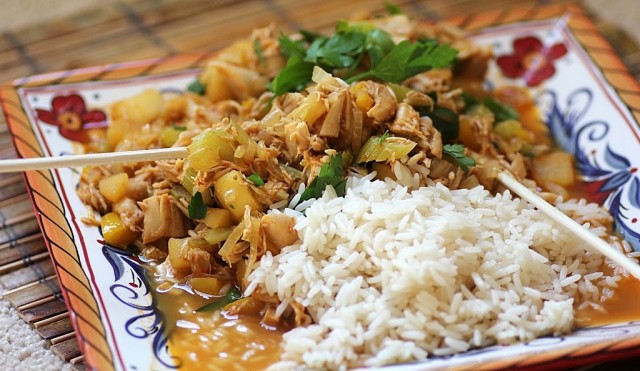 Chicken with Red Curry and Apples
I love Red Curry…huge fan, and combining it with apples was a wonderful compliment to the hot sweet flavors. I tried a yellow curry dish years ago and found it much too strong so I wrote off anything curry…that is until I tried red; the two are entirely different. Red curry

has a wonderfully warm spicy sweetness with a depth of flavor like nothing else.
This dish is so easy with the addition of cooked chicken. I deboned a broasted chicken from our local market which has simple salt and pepper seasoning. Be careful when choosing your broasted chicken as many are flavored with spices containing gluten. If you are unsure or the ingredients aren't listed, be sure to ask. You could also use fresh chicken breast, cubed and cooked with the vegetables…this would add nice flavor too.
I used cream of coconut because it's what I had on hand. You could also use coconut milk and reduce the chicken broth to equal measurements. Either way, the coconut is a welcomed balance of flavor in this dish. Enjoy!
1 Tbsp olive oil

1 Tbsp butter

1 vidalia onion, chopped

3 stalks celery with greens, chopped

2-3 apples, peeled, cored, and diced

½ yellow bell pepper, chopped

2 tsp cumin

2 tsp ground corriander

1 tsp minced garlic

3 tsp red curry paste

2 tsp cream of coconut

1 Tbsp diced pickled ginger (or fresh)

2 cups cooked chicken breast (deboned broasted works well-check for GF)

2 cups chicken stock

½ tsp Sriracha Hot chili Sauce (more if you like it hot, but wait until the dish is complete)

2 tsp Roasted Red Chili Paste

Chopped fresh cilantro for garnish

White rice for serving
Heat the olive oil and butter in a large skillet over medium heat. Add the onion, celery, apples, and yellow pepper and sauté for 3-4 minute. Add the cumin, coriander, garlic, curry paste, cream of coconut ginger and mix into vegetables. Add the cooked chicken. Toss to coat the chicken in the flavors and vegetables for 3 minute. Add the chicken stock, sriracha sauce, and chili paste and simmer on medium low for about 4-6 minutes. Top with fresh chopped cilantro and serve over white rice. Optional to add a sprinkle of red pepper flakes.
** I like the sauce a little thinner, feel free to thicken with a little corn starch if you like it thicker.