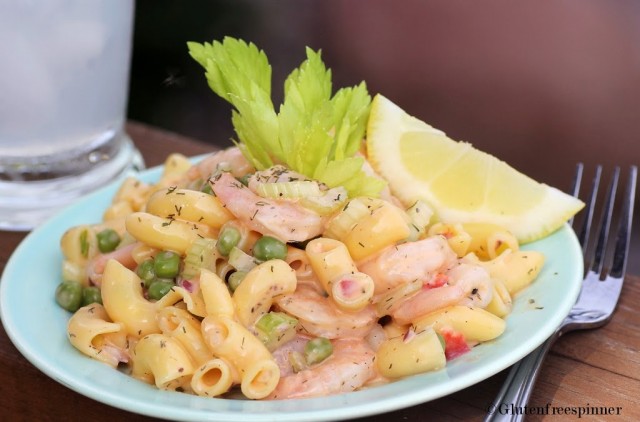 Shrimp Pasta Salad
Revisited shrimp pasta salad means larger shrimp (not the tiny canned shrimp of old), fresher flavors with green and red onions, sweet baby peas, pimento, and lots of fresh lemon and dill. The dressing is lighter using olive oil based mayonnaise combined with lemon juice and cocktail sauce for a zingy light creaminess.
I love the Ancient Harvest Quinoa pasta varieties, they are thin and soft and have become my new favorite for summer salads.
Ingredients:
8 oz pkg. GF elbow macaroni noodles (try Ancient Harvest Quinoa Elbows!)

¾ lb small cooked shrimp (tail-off, peeled and deveined (71-90 per pound), thawed

1 jar (4 oz) sliced pimentos, drained

3 green onions, chopped

1 Tbsp very finely chopped red onion

2 stalks celery, diced

¾ cup frozen baby peas, thawed

¾ cup real mayonnaise (I used the olive oil based mayo)

Juice from ½ large lemon (or from 1 small lemon) – about 3 Tbsp total

1 tsp sugar

1 1/2 -2 Tbsp GF cocktail sauce (to taste)

1 tsp dill weed

1 tsp lemon pepper

½ tsp old bay

¼ tsp celery seed

Top with dill weed and fresh black pepper. Garnish with fresh lemons
Directions:
Cook macaroni noodles per directions on package, don't overcook. Rinse in cold water and drain well.
Combine the cooked pasta, shrimp, pimentos, green and red onions, celery, and peas and toss to combine.
Prepare the dressing: In a separate small bowl, combine the next 8 ingredients and mix until flavors are blended. Add the dressing to the macaroni salad, beginning with half of the dressing and adding to your preference of creaminess. (Remember the noodles will absorb some of the dressing while refrigerated) Refrigerate at least an hour to ensure all ingredients are chilled.
Top with dill weed and fresh black pepper. Garnish with lemons.