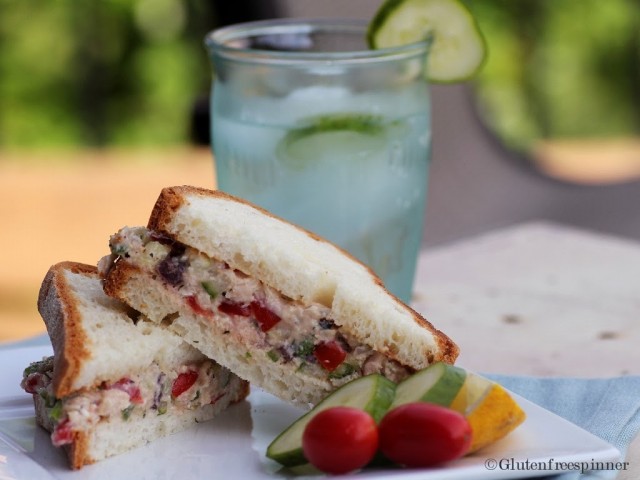 Mediterranean Tuna Salad Sandwich
Lunch is one of those meals we all look forward to midday when our tummies are growling and we need a half hour break from the daily grind. But lunch is also most often skipped due to a lack of planning. There's no stopping at a sandwich shop or deli anymore, and I've never been one for fast food chains, which most times isn't an option anyway. So this particular day I spent the time to make an amazing tuna sandwich…not your ordinary tuna sandwich…oh no, this was Mediterranean, and it was fabulous!
Red and green onions combined with cucumber and tomatoes give this sandwich a fresh start while the Kalamata olives, feta, banana peppers and lemon give it the Mediterranean twist. I used only a teaspoon of Mayo keeping this lunch healthy and light.
I've been switching between Rudi's and Udi's breads lately, both are very good and Rudi's has a multi grain bread that is soft and has thicker slices. Udi's white bread has a great texture (crust included), and when I want white, it's Udi's I go to. Udi's is also wonderful for making garlic crostini's for Brochette, they hold the crispness needed whereas other gluten free breads become spongy. I chose Udi's white bread for my Mediterranean Tuna Salad Sandwich, and I toasted it just enough to warm and soften. Yummy.
Add a chilled glass of cucumber water for a refreshing combination and enjoy your midday break.
Ingredients (serving for 1-2)
3 oz can Albacore whiteTuna, drained

2 Tbsp chopped cucumber

1 Tbsp chopped red onion

6 grape tomatoes, cut into quarters

1 Green onion, chopped

4-6 Pitted Kalamata olives, quartered

2 Tbsp crumbled feta cheese,

1 Tbsp banana peppers, chopped

1 Tbsp grated parmesan

Dash of Dill weed, Lemon pepper, Salt (optional), Pepper

1 tsp Hellmann's Olive oil reduced fat mayonnaise

1 tsp favorite GF Caesar dressing

½ tsp Dijon mustard

Squeeze of fresh lemon
Directions:
Lightly combine all ingredients with a fork, tossing gently to keep the tuna's texture. The salad will be chunky. Pile onto your bread of choice. Enjoy!