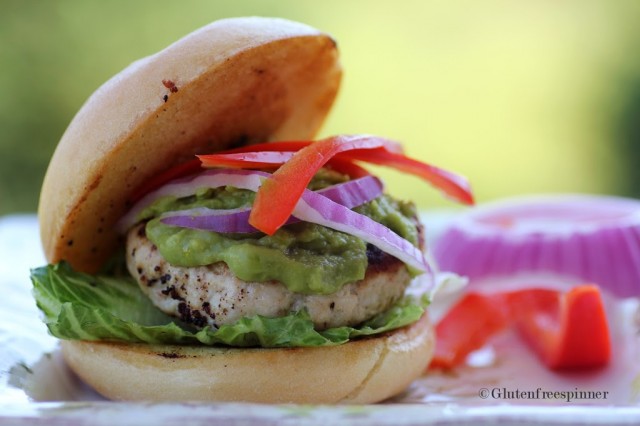 Jalapeno and Bacon Turkey Burgers
Nothing says summer like a good burger, and for me, it's always a turkey burger. Mr. Spinner's favorite burgers are beef jalapeno burgers that our local butcher makes. But I don't eat ground beef or ground pork, only ground turkey and chicken….so I took on the

challenge of making Turkey Jalapeno and Bacon Burgers – convinced he would love mine too. Ha! Success…he loved them and said the flavor was amazing. Taaadaaa! Healthy and delicious.
He ate his burger topped with a slice of melted pepper jack cheese and the traditional ketchup, mustard, and a large red onion. My burger, on the other hand, was topped with guacamole, lettuce, red peppers and red onions. YUM! And I tried a new bun this time wanting this to be a REAL burger experience rather than the usual toasted bread. I purchased Schar Brand Classic White Rolls.
They were much fluffier than previous brands I have tried, and toasting them on the grill just enough to give a little char added to the wonderful flavor of the entire burger.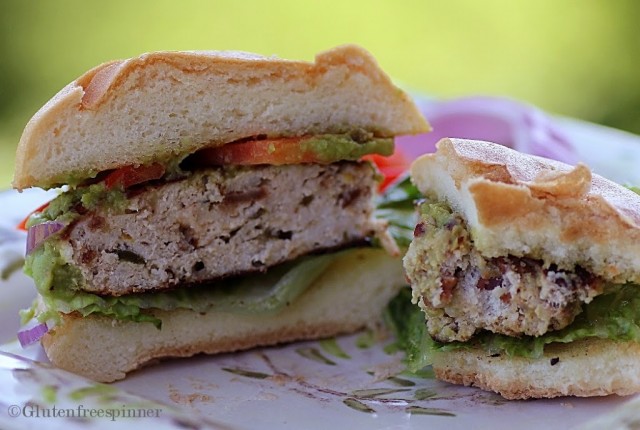 The ingredients I chose for these burgers were to add moistness and flavor, and both were achieved. The ricotta keeps the burgers moist, especially since I choose white turkey breast in my burgers rather than just ground turkey (which has a higher fat content). The bacon, jalapeno, and pepper jack cheese (along with the seasonings) add a perfect balance of flavor that challenges anyone preferring a beef burger.
Top these burgers as you wish; there are so many options. A simple slice of a summer tomato, red onion and lettuce would prove just as wonderful as the toppings we chose.
My new favorite burgers………Yummmmy.
Ingredients:
1.25 lbs fresh ground turkey breast

2-3 slices bacon, fried until crisp and crumbled

2/3 cup part skim ricotta cheese

1 Tbsp chopped Jalapeño's

½ cup shredded pepper jack cheese

1 Tbsp Worcestershire sauce

1 Tbsp grill seasoning

1 tsp Emeril Original Essence
Combine all ingredients in a medium bowl and mix just until all ingredients are combined. I use my hands as though making meatloaf. Don't overmix, but be sure the ingredients are distributed evenly. Pat into 6 small/medium burgers or 4 large.
Prepare the grates on grill by brushing with canola oil and preheat on high reaching a temperature of 375 degrees.
Reduce the heat on grill to medium and place turkey burgers on grill. Close lid and cook for 6 minutes. Turn and cook another 6 minutes on other side. Remove and cover with foil for 5 minutes.

While the burgers rest, toast the bread/buns and serve with toppings of choice.
Guacamole, lettuce, red onion, red bell pepper, tomatoes, salsa, ketchup, mustard. Endless possibilities!