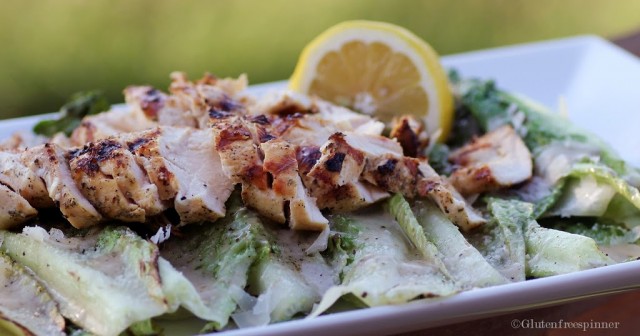 Grilled Caesar Salad
One of the first things I wanted to make returning from my trip to the East Coast was a grilled Caesar salad.  Odd choice you say?  Yes, maybe, but we ordered it at a wonderful restaurant in Camden, ME called "Fresh", where the salad was called, "Grilled Hearts of Romaine Salad" and it was delicious!  (If you just want the recipe, you can skip the following re-cap of my trip and scroll to the bottom of this post.)
The entire head of Romaine was tossed on the grill just until the leaves had grill marks and it gained a slight smoky flavor.  It was served on a platter with a drizzle of Caesar dressing and Parmesan cheese.  We ordered it as an appetizer and it was fantastic.  The restaurant had a great atmosphere; casual and classy, and we loved that the kitchen area was open to the seating so we could watch the chef create his masterpieces
One of the girls I traveled with, Kim, is a life-long friend and she loves seafood…like no-one else I know.  She ordered the Cioppino for dinner, which was the perfect choice for her as it had every species of shellfish imaginable all in one dish.  We watched the chef as he prepared her Cioppino for serving and when he garnished it with a whole lobster claw and tail we all screamed with excitement!  Hahhaa, really, we let out a "woooohooo!"  The entire restaurant turned to look and we proudly smiled at each one of them.  We are all foodies and appreciate good food and those who prepare it.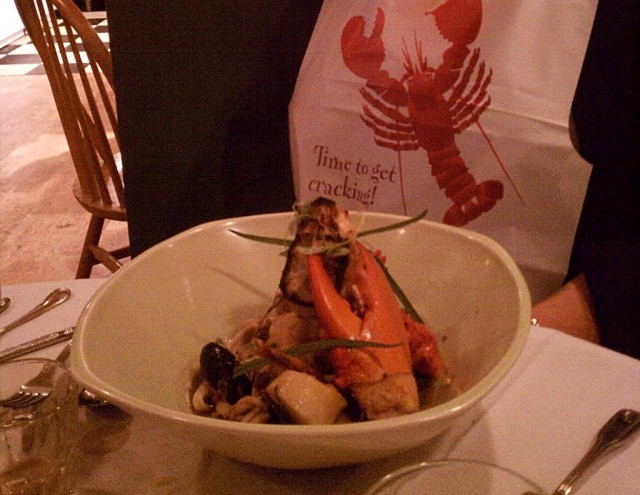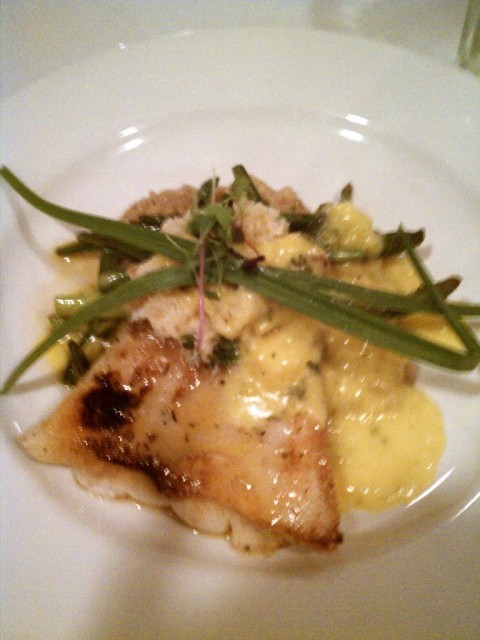 This is her dish as it arrived to our table.  Keep in mind this picture was taken with my cell phone so the quality isn't great, but you get the idea.  Scallops, muscles, clams, calamari, lobster, shrimp, etc. all in a herb tomato broth.
The rest of us ordered the Halibut Oscar which was absolutely wonderful AND gluten free!  A seared fillet of halibut topped with a touch of crab and scallions laid on a bed of tender asparagus and risotto then drizzled with a creamy hollandaise sauce.  The entire combination was delicious.  I can't wait to re-create this dish too.
Again you're viewing a blurry grainy picture, but this gives you a glimpse of the presentation.
Now…about that Grilled Caesar Salad…..Yum.
We've had this salad four times since I've been home. Twice with chicken, once with steak, and once with no meat at all. It's a great summer meal, it's easy, light, and my children have requested it twice when coming over. Here it is…enjoy.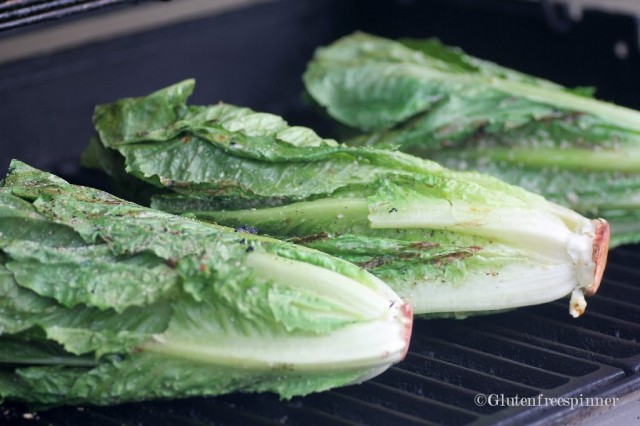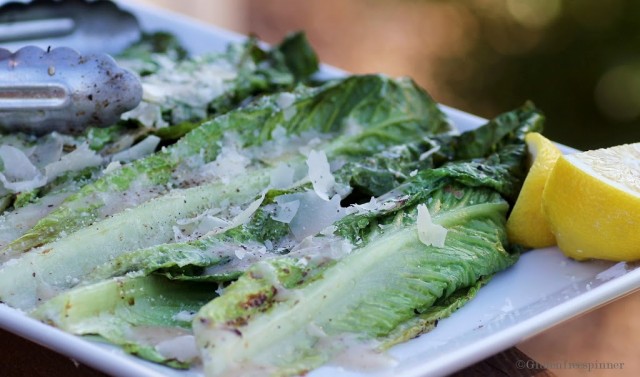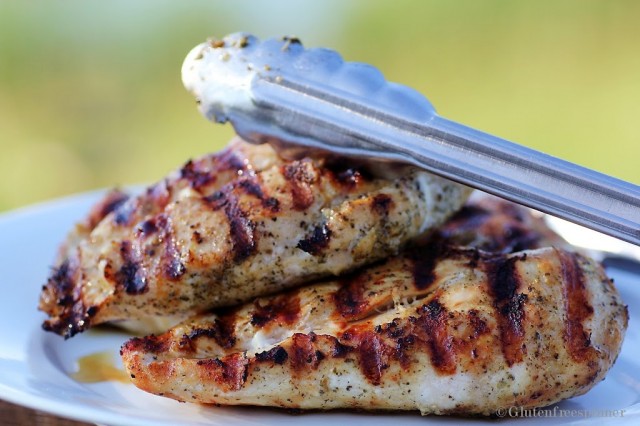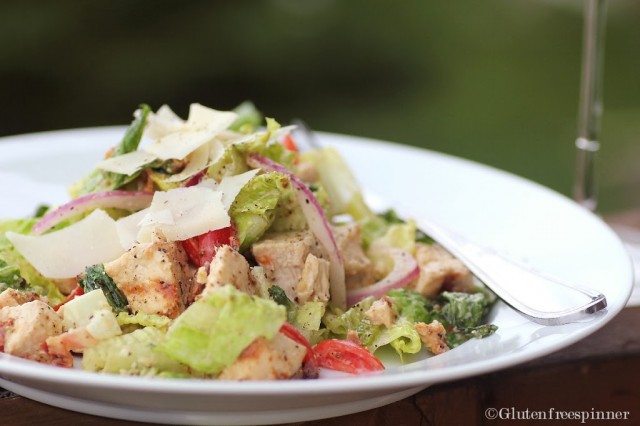 Grilled Caesar Salad (with grilled chicken)
Ingredients:
• Boneless skinless Chicken breasts – trimmed of any fat
• McCormick Greek Seasoning, Garlic Powder, Sea Salt, Fresh Black Pepper
• Favorite GF Caesar Dressing (I like Cardini's)
• Olive Oil
• Head of Romaine Lettuce (1 large or 2 small for 2 people), rinsed and drained but left whole – best if prepared ahead of time so the leaves are dry.
• Grated Parmesan cheese
• Parmesan Cheese Curls
• Gluten free croutons
• Lemons
• (Optional: Grape tomatoes – cut in half, crumbled bacon, thin sliced red onions)
Directions:
First you want to prepare the chicken. I didn't put the amount of ingredients above as it depends on the number of people you are serving. Basically, season your trimmed chicken with the Greek Seasoning, garlic powder, sea salt, and black pepper to taste. It's important to get flavor into your chicken, so season both sides and pat into the breasts. Drizzle each chicken breast with about 1 Tbsp of the dressing and rub into the breast. Cover the chicken with plastic wrap and refrigerate for at least 1/2 hour…longer is better.
To Prepare:
With the grill preheated, grill the chicken breasts until done…they should be moist and tender and juices run clear. Place on a plate and set aside while you grill the Romaine lettuce.
Place the prepared heads of Romaine on a large baking sheet. Drizzle with olive oil (not too much – just a drizzle) and season with sea salt and fresh ground black pepper. Place the heads (whole) on the preheated grill (medium high) and allow to get char-marks before turning. Don't leave them unattended, it's a quick process – about 3-4 minutes total. Keep turning over until all sides are grilled, you still want the crunch so don't over-grill. Remove to baking sheet and bring inside.
First, cut the chicken breasts into bite sized pieces (or however you prefer on your salad). Next, cut the Romaine Heads into bite sized pieces (discarding the ends) and place in a large salad bowl. Top with grated Parmesan cheese, fresh ground black pepper, and a drizzle of the Caesar Dressing. Not too much, a little goes a long way. Toss.
Add the chicken and croutons and toss to combine with the dressing. Add the Parmesan curls to the top and grind fresh black pepper over all. (This is also where you can add the optional red onions, crumbled bacon, and tomatoes.)
• If you aren't using meat, squeezing a fresh lemon over the salad before serving is a great addition. It's also nice to serve the romaine leaves whole on a platter garnished with lemons on the side. (see picture above)
• If using steak, just season your steak as usual and lay on top of the salad. Don't squeeze the lemon if using steak.
Enjoy!