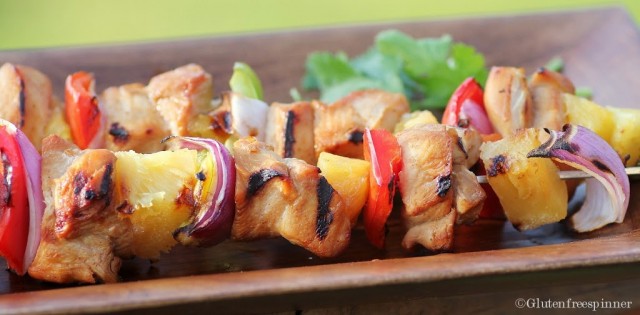 Kabobs…an easy weeknight meal all on a stick. Chicken breasts are cut into large bite-sized pieces and marinated in Teriyaki, Szechhuan, and BBQ sauces (GF of course). The three sauces give a wonderful char on the grill while infusing the chicken with a gentle sweet and
spicy flavor. The red onions and red peppers retain a little crunch while the pineapple adds an island sweetness to the whole kabob.
Serve over a bed of brown rice with chopped cilantro….Yummmy!
Three boneless skinless chicken breasts, trimmed of fat and cut into large bite-sized pieces

1 cup San-J gluten free Teriyaki Sauce

1/4 cup San-J gluten free Szechhuan Sauce

1/4 cup your favorite GF BBQ sauce (a honey one is good)

1-2 Red Bell Pepper, cut into large chunks (depends on size)

1-2 Green Bell Pepper, cut into large chunks (again, size)

1 medium red onion

– cut into large pieces

1 can pineapple chunks or fresh is amazing if you want to take the time

Optional – Red Pepper Flakes

Kabob skewers (if wooden, soak in water for 1/2 hour before assembly)
Directions:
Combine the three sauces and pour over the chicken pieces (pre-cut) into a zip-lock bag. Press all the air out and smooosh the chicken around in the sauce. Refrigerate for at least 1/2 hour, 2 hours is best.


To assemble:
Layer the red pepper first, then red onion, chicken, pineapple, and last green pepper. Continue in the same order until the kabob is full. Continue until all the ingredients are skewered. If you like spicy heat, sprinkle the kabobs with Red Pepper Flakes. I like to lay them on a large baking sheet as I assemble them so it's easy to bring to grill. (Don't bring the cooked kabobs in on the same pan unless you wash it first.)
Preheat grill on High. Reduce to Med-High before grilling.
Grill the kabobs just until the chicken is cooked through and juices run clear, about 10-15 minutes. Turn often to sear all sides.
Serve over a bed or brown rice sprinkled with fresh chopped cilantro.

Deeeeeeelicious!