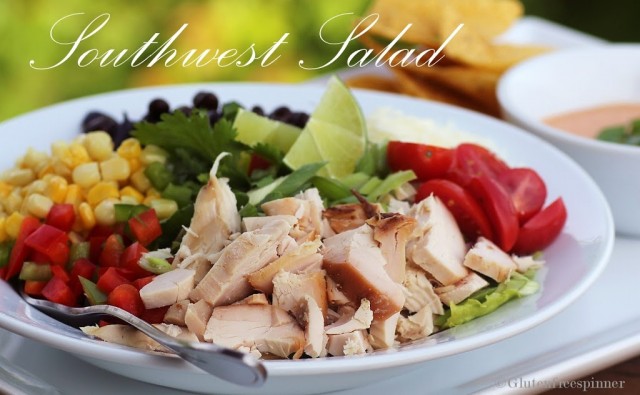 Southwest Chicken Salad
Last week while on my morning walk with a friend we were talking about our busy schedules and finding time to prepare a satisfying dinner. It's so easy to run out of ideas day after day as we strive to make healthy, wise choices. She mentioned her plan for a Southwest chicken salad that night and I've been craving one ever since.

How easy it is to forget these classic salads when creating new recipes and ideas. It's back to the basics of simple salads that pack a flavorful punch, and this is one of them.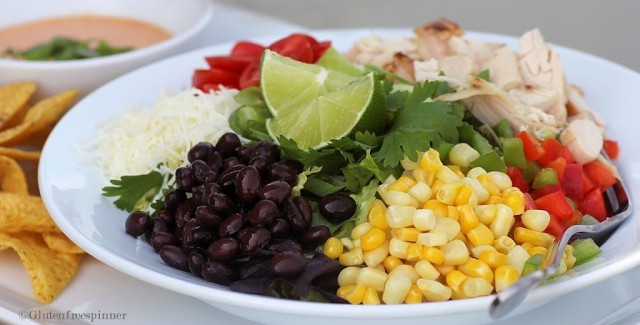 Not only is this salad easy to prepare with the help of a roasted chicken, but its pretty to look at and is loaded with healthy bright flavors for a satisfying summer meal

. A smorgasbord of southwest flavors including smokey, sweet, tart, crisp, crunchy, and smooth all packed into one delicious salad. The dressing comes together easily with prepared dressings and a splash of fresh lime juice.
Ingredients: (quantities vary depending on number of salad's you are making)
Chilled roasted chicken cut into bite sized pieces (if purchasing from a deli, be sure to check ingredients)

Combination of Romaine and spring lettuce washed, rinsed and drained

Black beans, rinsed and drained

Frozen corn, thawed

Grape tomatoes, sliced in half

Red and green bell peppers chopped together and added as one

Finely Shredded Monterrey jack cheese

Fresh Cilantro, rinsed, dried and coarsely chopped

Green onions, chopped (use at least one per salad…they add so much flavor)

Fresh limes

Diced fresh jalapeno's (optional)

Stone ground corn chips (check ingredients)
This salad can be made in individual serving salad bowls (as shown in picture) or in one large salad bowl that is tossed upon serving.
Start with the lettuce's, mounding higher in the center. Starting with the roasted chicken, create clusters of ingredients around the outer edges of bowl, black beans, corn, tomatoes, red and green bell peppers, and finally the Monterrey jack cheese. Add the cilantro to the top of the salad in a tuft, then the green onions, then jalapeno's if using. Add wedges of fresh limes to the very top. Serve with a side of the dressing (below) and a stone ground corn chips to crush on top.
Dressing: (recipe makes 1 cup)
Mix ingredients together until combined. Adjust ingredients to taste, adding more lime juice, Emeril, or more sour cream.