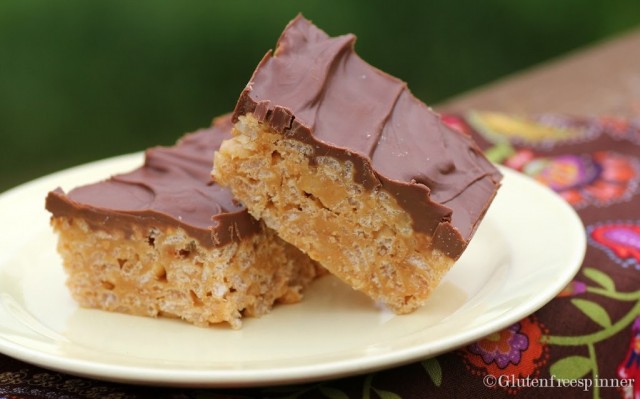 One of the birthday traditions in our family is allowing the B-Day Person to choose the menu for that evening (or weekend if it's a cabin trip). My son chose "Scotcharoos!" for his birthday dessert. Yum…I also love Scotcharoos and had forgotten all about them.
Did you know Kellogg's makes their Rice Krispies gluten free? Oh yah! Gloriously gluten free! I was so excited when I found them that I snapped this picture and sent it to my son announcing I could eat them too. Be careful on the ingredients, Nestle's butterscotch chips are NOT gluten free….use Hershey's or Krogers.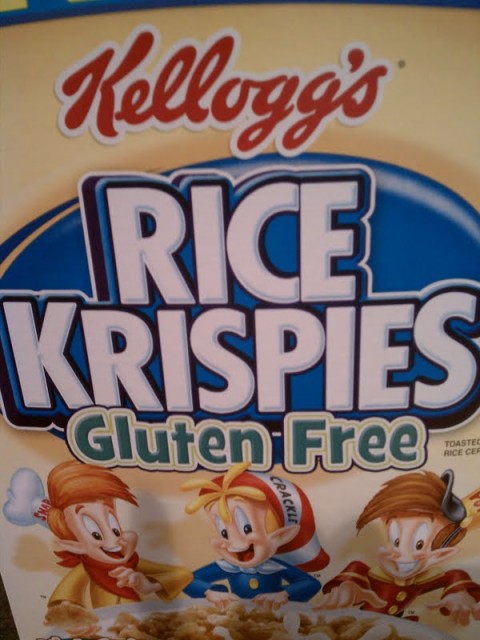 Kudos to all the companies paying attention and listening to their consumers.
Enjoy these wonderfully delicious peanut buttery, butterscotchy, chocolatey, crispy crunchy bars. They are truly a "treat".
1 c. light corn syrup

1 c. sugar

1 c. peanut butter

6 c. gluten free Rice Krispies

6 oz. pkg. Hershey or Kroger butterscotch chips (gluten free – be sure to double check)

6 oz pkg. chocolate chips
Directions:
Bring corn syrup and sugar to a rolling boil, watching so as not to overflow or burn. Remove from heat, add peanut butter. Mix thoroughly. Add Rice Krispies. Pat into buttered or sprayed 9x13x2 inch pan.
Melt butterscotch chips and chocolate chips in microwave at 30 second intervals until melted, stirring to combine. Be careful not to over melt. Spread over bars and chill.
Cut into squares and serve room temperature.