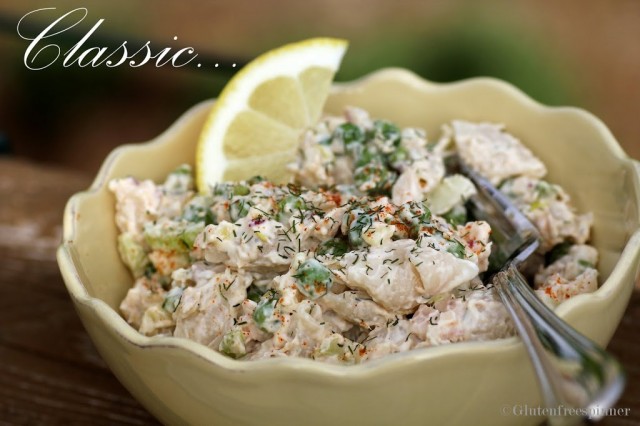 Summertime Classic Tuna Pasta Salad
Summertime pasta salads are back in season and the classic tuna salad is a favorite. Tender pasta shells with white albacore tuna chunks, crisp diced celery and red onion combined with tiny baby peas that pop with a burst of sweetness.

A squeeze of fresh lemon and a sprinkle of dill & paprika adds wonderful color before serving. The dressing is very creamy and although it's not a light salad being it's mayonnaise based, it's a classic that's anticipated at summer BBQ's and picnic's.
Enjoy your Memorial Weekend with a few classic pasta salad's like this one.
Ingredients:
12 oz uncooked brown rice pasta shells (Tinkyada Brand is good)

1 cup frozen baby peas, thawed

½ cup diced celery

2 Tbsp finely diced red onion

1 (5 oz) can solid white albacore tuna, drained

½ cup Mayonnaise made with olive oil

½ cup Miracle whip (regular has modified corn starch – not modified food starch – check label)

3 Tbsp light sour cream

¼ tsp 30% less sodium Old Bay Seasoning

¼ tsp garlic powder

½ tsp dill

½ tsp lemon pepper

1 tsp yellow mustard

1 lemon for garnish and squeeze of freshness in serving

Sprinkle of dill and paprika for garnish
Cook the pasta shells according to directions on package, taste-test for doneness, then rinse in cold water and drain well.
In a small glass bowl, mix together the mayo, Miracle Whip, sour cream, Old Bay, garlic powder, dill, lemon pepper, and mustard. Taste for seasoning.
In a large bowl, add the peas, celery, diced onion, tuna, and pasta and toss lightly to combine. Add the mayo mixture to the salad and gently fold together to combine. The salad will be very creamy and will seem like too much dressing but the pasta will absorb the dressing as it cools in the refrigerator.
Refrigerate for at least 2 hours. Serve with a squeeze of fresh lemon and sprinkle of dill and paprika.