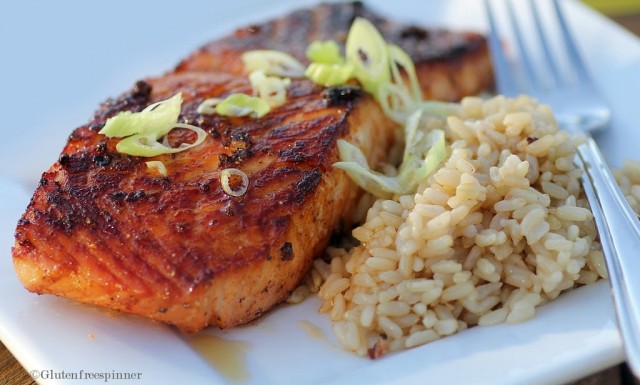 Pan Sear Smokey Maple Salmon
Another salmon recipe for all you salmon lovers!
This is my go-to salmon recipe because it's quick, easy, always delicious, and uses ingredients I have in my pantry. The two main seasonings, Urban Accents Mesa Rosa Chipotle and McCormick Grill Mates Smokehouse Maple are two of my favorite finds that I keep stocked. If you follow my blog, you've noticed how often I use the Mesa Rosa Chipotle seasoning because of the smokey, sweet, slightly spicy blend of flavors that enhances so many dishes and sauces. If you haven't tried these spices yet, add them to your spice collection…you will use them often.
Along with these two spices, I add a simple drizzle of maple syrup, 1/2 tsp of brown sugar, and olive oil. Easy, yes? And so very good. The smokey chipotle and smokey maple taste like it's been grilled and the syrup and brown sugar make a slightly sticky -not too sweet – glaze over the salmon. Reeeeeally good.
I love to serve this salmon with brown rice and Mukimame blended with corn. Mukimame is shelled Edamame (the individual beans). They have wonderful texture and when you pair them with sweet white and yellow corn it's a winning combination.
This recipe makes two servings.
Two 7-8 oz skinless salmon fillets, rinsed and patted dry

Fine Sea Salt and Fresh Black Pepper

1 tsp Urban Accents Mesa Rosa Chipotle

1 tsp McCormick Grill Mates Smokehouse Maple Seasoning

1/2 tsp brown sugar

1 1/2 tsp Drizzle 100% pure maple syrup

1 tsp olive oil, plus 2 tsp for the pan

sliced green onions for garnish
Directions:
Preheat oven to 375 degrees.
Place the fillets on a plate to season them.
Lightly
sprinkle both sides of the prepared filets with the salt and pepper – use maybe 1/4 tsp total.
In a small ramekin, combine the Mesa Rosa, Smokehouse Maple, and brown sugar until combined as one. Sprinkle over both sides of the fillets. Drizzle about 1 1/2 tsp maple syrup on just one side then drizzle the 1 tsp olive oil over that. Rub into the fillet and turn on the plate so the drizzle coats the plate and turn them back over so the opposite side becomes coated with the olive oil and syrup. Rub the fillets evenly coating both sides.
In a medium oven-proof skillet, add the 2 tsp olive oil and heat on Medium-high. Once the oil is hot, add the fillets to the pan, searing the one side (about 1 1/2 min). Flip the fillets to the other side and sear for an additional 1 1/2 minutes. Transfer to the preheated oven for 6-8 minutes to complete cooking. The time will depend on the thickness of your fillets. Check with a fork in the middle, when it flakes easily, it's done.
Serve with the pan juices drizzled over top (it's basically seasoned olive oil and there won't be very much but the flavor is wonderful) and sliced green onions sprinkled on top. Brown rice and Mukimame Corn blend make a great side dish for this meal.