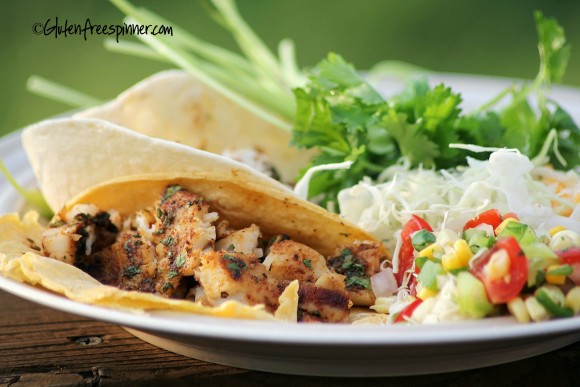 Grilled Fish Taco's
When asked what my choice for dinner was on Mother's Day, I chose my Grilled Fish Taco's.
If you haven't tried fish taco's, you need to add them to your menu.  This light, healthy meal is a winner every time and it's a great way to prepare an inexpensive fish like Tilapia.  I've been making this recipe for years and posted it back in 2010, but this recipe is repeat worthy so I'm sharing it again for those who missed it.
This recipe is basically three simple steps, the fish, the tomato corn salsa, and the sauce.  The fish is seasoned with a smokey rub that has the added freshness of cilantro.  The corn tomato salsa adds the summer flavors of sweet corn and tomatoes with green onions, bell peppers, fresh lime juice, and again, cilantro.  The sauce is a must for this recipe as it adds a cool creamy layer and can be made up to a day ahead.  **  If you are short on time, you can just make the fish as directed and use pico de gallo and sour cream, but come back and try the whole recipe as stated when you can, it's entertaining worthy!
For the tortilla, I use extra thin yellow corn tortillas and heated them in a dry skillet on both sides until soft and slightly puffed then placed in a casserole dish covered with a damp towel and kept warm in a 170 degree oven until ready to serve.  You can also microwave them for 30 seconds covered with a damp towel.  There are also many recipes online for making your own gluten free tortillas if you have the time.
Ingredients (salsa and creamy sauce follow)

6-8 skinless Tilapia Fillets, rinsed and patted dry with paper towels
1 tsp Fine sea salt (optional)
1 tsp Fresh black pepper (optional)
Yellow corn tortilla's (check ingredients for GF) warmed as mentioned above or Homemade gluten free flour tortillas.
Fish Rub:
1 Tbsp Urban Accent Mesa Rosa Chipotle Seasoning (or other chipotle chili seasoning)
1 Tbsp Emeril Southwest Seasoning (or your favorite)
1 tsp cumin
1 tsp dried oregano
4 Tbsp olive oil
¼ cup chopped cilantro
Directions
Lightly sprinkle the prepared fish fillets on both sides with the sea salt and pepper…(I listed the salt and pepper ingredients above as optional as fish is very tender and you don't want it salty – you can skip this step if you are watching your salt intake – flavors will still be amazing).  Combine the seasoning rub ingredients together until well blended.   Brush or spread the rub with your fingers over both sides of each fillet and place on plate or baking sheet covered with plastic wrap.  Refrigerate for ½ hour (no more than 2 hours).
Lightly oil the grates of grill with canola oil.  Preheat grill to high.  If your fillets are firm and large, you can grill them directly on the grates.  Otherwise use a fish grate for the grill.  Once heated, reduce grill to medium-high and grill the fillets 5-8 minutes without moving (or they will break) until the fish is opaque and flakes easily.  Gently remove from the grill (you might need two spatula's) and transfer to a clean plate.  Cover loosely with foil and let sit for 4 minutes.
With a sharp knife, gently cut the fillets into 2" pieces and serve immediately with warmed tortillas and all the toppings.
Suggested order to assemble:
Tortilla, fish, corn and tomato salsa, seasoned sour cream, guacamole (optional), shredded cabbage, and picante sauce if using.  So very good!
Taco Toppings:
Corn and tomato salsa
1 cup frozen sweet white and yellow corn, thawed
1 cup chopped grape tomatoes (or regular)
¼ cup chopped Vandalia onions
¼ cup chopped green onions
¼ cup chopped green pepper
¼ cup chopped fresh cilantro
Juice of ½ lime
Combine all ingredients together, cover and refrigerate no more than 2 hours before using.  Best freshly made before serving.
Creamy Sauce for fish taco's
½ cup Daisy light sour cream
2 Tbsp Cardini's Parmesan Ranch dressing
½ tsp Emeril's southwest seasoning
1 ½  Tbsp fresh chopped Cilantro leaves
Combine all ingredients.  The sauce can be made a day ahead.  This sauce is a must on these taco's.
Other Toppings:
Shredded Cabbage ( I like to use the Angel Hair shredded cabbage…..the fine texture is perfect with the delicate fish)
Guacamole (optional) I like Trader Joe's if I don't make my own
Picante Sauce