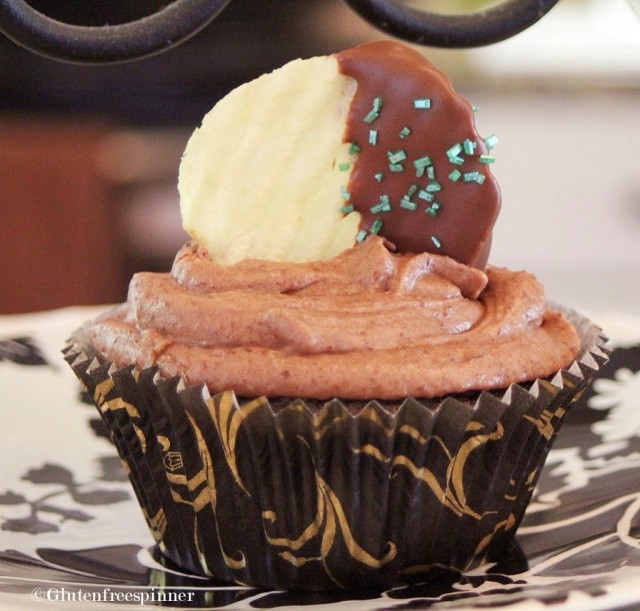 with Almond or Chocolate Cream Cheese Frosting
I created these cupcakes for my daughter's bridal shower as she loves cupcakes and she loves chocolate covered potato chips!  What a great combination, yes?  And what's not to love…deep dark devil's food cake so moist and flavorful topped with chocolate almond 
cream cheese frosting and garnished with a chocolate covered potato chip?  They were wonderfully sinful.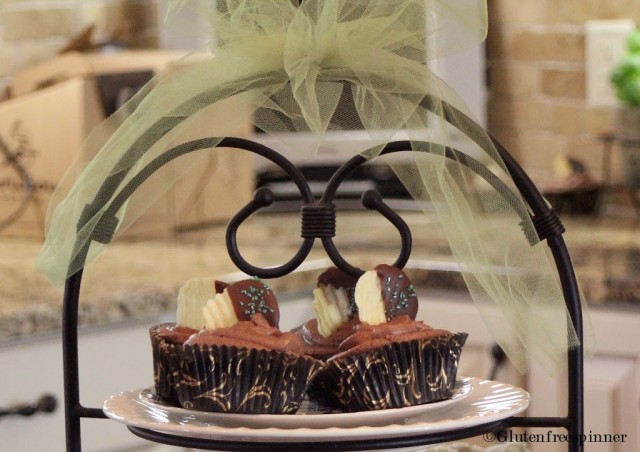 Another wonderfully sinful component of these cupcakes is the ease of the batter.  It starts with a Betty Crocker Devil's Food Gluten Free Cake Mix, and with the addition of mayonnaise, the cake was as moist as my favorite Naughty Valentine Cupcakes, which take a bit of time and have quite a few more ingredients.  The added detail of chocolate dipped potato chips was a personal touch for my daughter, but certainly not necessary for the ta-daa factor.   The frosting on it's own is simply to die for and was very much part of the attraction to these little lovelies.  YUM!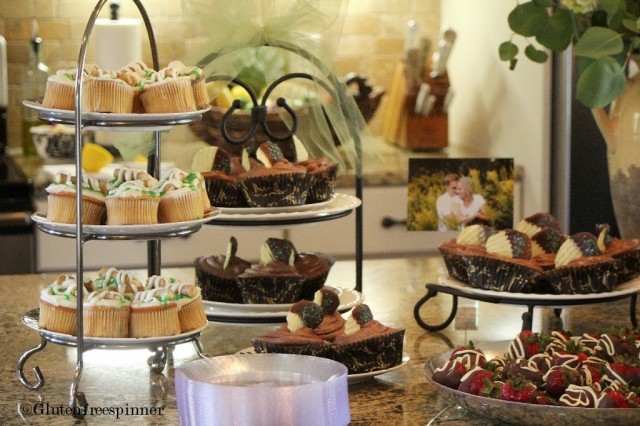 This was the dessert bar we had at the shower.  I actually made two kinds of cupcakes, the Devil's Food (which were gluten free) and Chai Latte' which were not so I couldn't taste them.  But to my joy, the gluten free cupcakes were the favorite.  Yay!  We also served chocolate dipped strawberries drizzled with white chocolate, thanks to a friend of mine who so graciously hand dipped each one.  Divine.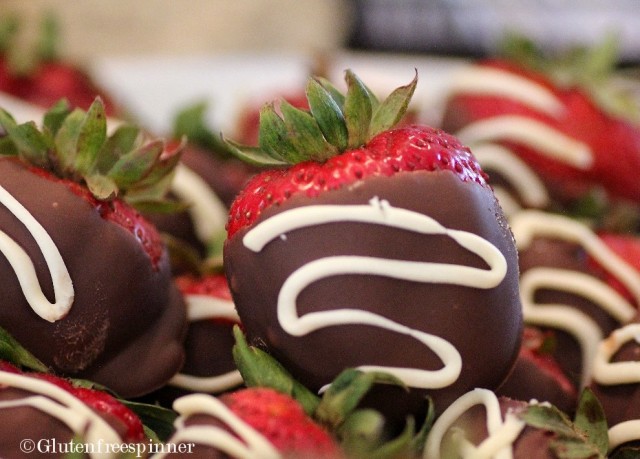 Next time you have a special occasion, give these special cupcakes a try.  Have fun with your garnishes; personalizing them for the person or event and creating a dessert bar of your own.
For large cupcakes

you'll get about

13-15 cupcakes

 

Using 1/

4

cup measure for each cupcake

you'll have about

2

3 cupcakes
Ingredients:
Cupcakes
1 pkg Betty Crocker GF Devil's Food Cake Mix 

2/3 cup Real Mayonnaise (I used Hellmann's with olive oil) 

¾ cup water 

1 stick butter, softened (1/2 cup) 

3 eggs
Directions:
Preheat the oven to 350 degrees.
Line cupcake pan with paper baking cups (I found these swirl ones at a specialty baking store).
Beat the cake mix, Mayo, water, butter and eggs in a large bowl on low speed for 30 seconds.  Increase speed to medium and beat for 2 minutes, scraping bowl.  Pour the batter evenly into the cupcake liners
Bake at 350
18

-23 minutes for larger cupcakes or until toothpick comes out clean
15-18 minutes for smaller cupcakes or until to

othpick comes out clean
Cool for 5 minutes in the pan then remove to a cooling rack to cool completely before frosting.
Almond or Chocolate Almond Cream Cheese Frosting
1 (8-ounce) package cream cheese, room temperature 

1/2 cup (1 stick) butter, room temperature

4 cups confectioners' sugar

1 tsp almond extract

1 tsp vanilla extract

For chocolate…add the following:

4 (1 oz) squares unsweetened chocolate

Pinch of salt

1 Tbsp half and half (as needed)
Directions
Beat the cream cheese and butter in a medium bowl with hand mixer until creamy.  Slowly add the powdered sugar, scraping down the sides as necessary to combine all ingredients and blend until it becomes creamy.  Add the almond and vanilla extracts and blend

in.
For Chocolate Almond Frosting:
Melt the chocolate squares in a small glass bowl at 30 second intervals, stirring after each until melted.  Be careful not to over-melt as you can easily ruin the chocolate – melt slowly and stop once it is creamy.  It won't be hot, just melted.  Add the melted chocolate and pinch of salt to the frosting and increase mixer speed to medium. Blend until frosting is fluffy, about 1 minute.  Add 1 Tbsp half and half if needed for a creamier texture.