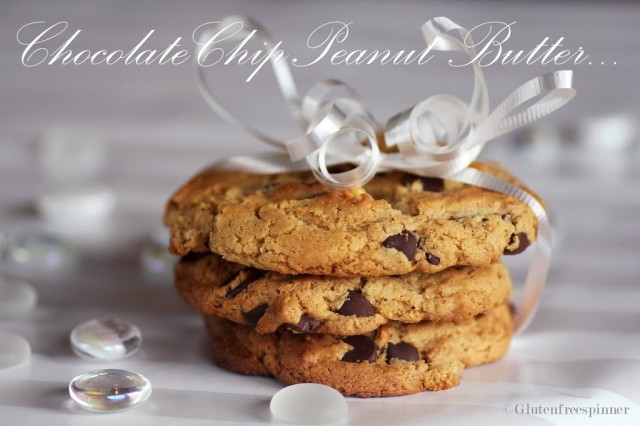 Chocolate Chip Peanut Butter Cookies
I stopped at the Co-op on the way to work Tuesday morning to grab a piece of gluten free banana bread. I had noticed a basket of baked goods in the deli a few weeks ago with yellow "gluten free" labels on some of their items. It's not very often I find fresh gluten free baked goods so I made a note to come back and try a piece. I'm sorry to report it was a huge disappointment. It was $1.75 for a 1″ slice and I had no qualms about the price until I took a bite and ended up throwing it in the trash. Really awful. It had a strange starchy taste with no flavor whatsoever. And the sad thing is, banana bread is one of the easiest things to make
gluten free! I posted my recipe for Cinnamon Crusted Banana Bread with Chocolate Chips last September and it's really good! But the convenience of grabbing a slice already made is what enticed me to try it.
Gluten free food get's a pretty bad rap for being awful, and this is one of the reasons. I'm sure all of you who live gluten free have had similar experiences more than once and wonder why/how they even put it on the shelf. I have honestly taught myself to cook/bake gluten free just as I use to cook/bake…so most everything tastes as it should…delicious. Otherwise, why bother? The only challenge I have yet to conquer is bread….and I have tried both my own creations and most recipes listed as "The best" or "This is it!" or "Favorite". It's just not good. A big, fluffy, tender, airy, crispy on the outside and moist on the inside loaf of golden brown bread doesn't exist without gluten…no matter who says they have the perfect recipe. Udi's and Rudi's is the closest I've come to 'normal' bread and it has to be purchased in the freezer section, not the bakery. Although both brands are my go-to for anything needing bread, they just aren't all that great unless toasted. So…anyway….I could talk about bread for days…it's the one thing I reeeeeeeeally miss. But I'm here to post about delicious baked goods today, not bread.
So the inspiration for these cookies came from my craving for something sweet, chocolate, and baked as well as wanting to prove to myself that most recipes can be converted to gluten free with a few simple changes…you just need the correct ingredients. This recipe is one of them. It's exactly the same recipe I used when I baked with gluten, I just substituted the flour for Pamela's Baking Mix and reduced the water. They are fantastic and stayed moist and delicious for days. Mr. Spinner loved them and said you'd never know they were gluten free. He is my greatest critic along with my son and daughter….they always tell me if something is even borderline 'gluteny' and I love them for that.
Give these beauties a try and share them with a few friends who are not gluten free. Wrap them with a bow and allow the chocolate chips to melt into the soft tender peanut butter laced sweetness we all love in a warm home baked cookie.
1/2 cup butter, softened

1/2 cup gluten free chunky peanut butter

1 cup packed brown sugar

1/2 cup white sugar

2 eggs

2 tsp light corn syrup

2 tablespoons water

2 teaspoons vanilla extract

2 1/4 cups Pamela's baking mix

1 teaspoon baking soda

1/2 teaspoon salt

1 cup semisweet chocolate chips

1 cup dark chocolate chips
Directions:
Preheat oven to 375 degrees. Line two large baking sheets with parchment paper.
In a large bowl, cream together the butter, peanut butter, brown sugar, and white sugar until smooth. Beat in the eggs one at a time, then add the corn syrup, water, and vanilla. Combine the Pamela's baking mix, baking soda, and salt and blend into the peanut butter mixture, just until combined. Fold in both kinds of chocolate chips. Drop by heaping Tablespoons, 3 inches apart onto the parchment paper lined baking sheets. (I had 9 per sheet)
Bake for 13 minutes in the preheated oven, or until edges are golden. Allow cookies to cool for 1 minute on the cookie sheet before removing to wire racks to cool completely. Makes 24-27 cookies.