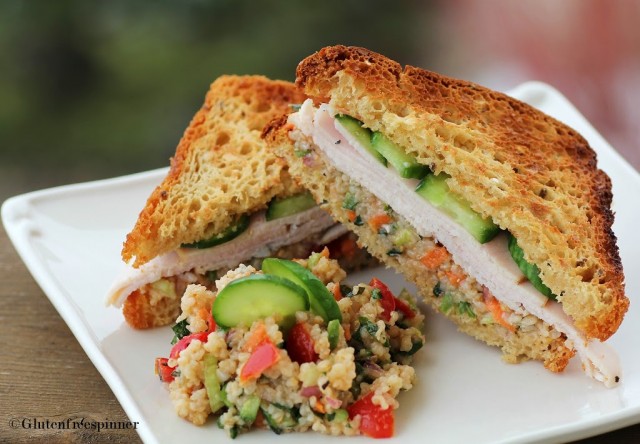 Tabouli Salad Turkey Sandwich
This week I was craving a Tabouli Pita Pocket Sandwich. I love those soft puffy pockets filled with the fresh vegetables and herbs found in tabouli. The problem is, the two main ingredients in my food craving are loaded with gluten. Pita's contain wheat flour and tabouli is made with Bulgur wheat. I've tried the gluten free versions of pita bread available and ended up feeding them to the birds…cardboard and flavorless. As for gluten free tabouli…I'm not a big fan of quinoa tabouli as I find it a bit too mushy.
Well yesterday I found gluten free couscous. It was in the gluten free section of our market, which has grown to cover two isles over the last few months. The brand is Lundberg and the flavor I used was roasted garlic and olive oil. They also have an herb blend and I hope to find an unflavored package as well.
If you've already discovered this find…you know how good it is, and it
made my tabouli taste like Tabouli!
As for the pita pockets…I didn't have as much luck. Since learning of my gluten allergy I've been inspired to recreate the foods I use to enjoy to gluten free. With research, trial and error, and help from the pioneer gluten free bloggers, I've had great success. So I set out to make puffy, bendable, pita pockets. I was inspired by a post for regular Pita Pockets by Cheri at KichenSimplicity, which are beautiful! The picture below is from her recipe, take a look at the link and see the step by step process she details along with the lovely finished product. This is what I was craving.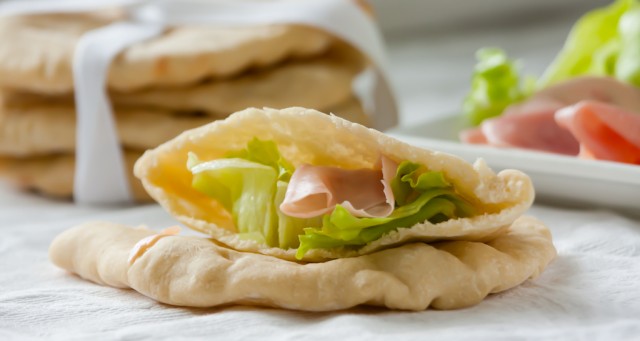 Step-by-step I followed her directions substituting a combination of gluten free flours and starches using Carol Fenster's sorghum base as a guideline. Cheri's recipe calls for 3 cups of flour and since I was short on sorghum, I used a combination of sweet white rice flour, sorghum, corn flour, corn starch, potato starch, and tapioca flour with 3/4 tsp guar gum. After three hours of prep, rise, roll, rise, and bake, they never puffed like hers did and turned out like cardboard. Oh the disappointment. I was so excited as they seemed to be working all the way up to baking. I actually stood by the oven window watching…anticipating the puff. (Haahahaa, that's kinda funny now that I think about it.) But they never puffed. I will try them again sometime with different flour's when I have time to play, maybe I made them too thin (?). But I'm leaning towards the reality that gluten must be a needed ingredient for such thin 'puffable' bread. Same theory as regular loaves of gluten free bread…they are fine, but not like days of old…no matter how many proven recipes I find.
If, by chance, you try her recipe and have success recreating it to gluten free, I'd love to hear about it!
So, feeling defeated, I toasted two pieces of Rudy's multigrain bread (my new fav) and added a layer of my traditional tabouli made with gluten free couscous, a few pieces of turkey breast, and fresh cucumbers. It was delicious…not the same as a pita pocket, but delicious just the same. The texture of the couscous worked well with the fresh mint, parsley, cucumbers, tomatoes, lemons, and green onions to make the tabouli I remembered.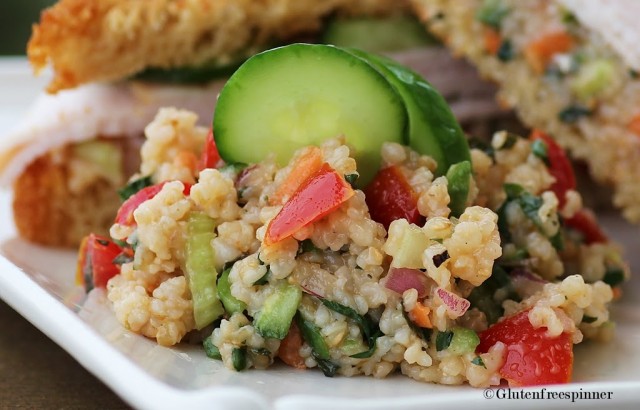 Gradually, I will have all my old recipes converted to gluten free as I learn of new products and techniques. Spinning recipes, old and new, it's what keeps me interested and looking forward to the next challenge or creation… it's what I love to do.
Enjoy a simple sandwich today with fresh bright tabouli salad.




Tabouli Salad

Ingredients:
1 (7 oz) pkg Lundberg Brand roasted garlic and olive oil Brown Rice Couscous

¾

cup chopped fresh Italian Parsley

3 Tbsp fresh chopped mint leaves
1 carrot, peeled and grated
¼ cup finely chopped red onions
4 green onions, chopped (white and green)
½ cup chopped English Cucumber (skin on). If you use a regular, peel and seed first.
1 stalk celery, finely chopped
½ cup grape tomatoes that have been cut in quarters then in half
Dressing:
¼ cup olive oil
3 Tbsp rice vinegar
1/2 tsp gluten free Tamari
1-2 lemons, juiced – about

1/3

cup (depends on the size and how much juice it has)
1 -2 tsp Agave Nectar
½ tsp garlic powder
Salt and pepper to taste
Dash of red pepper flakes
Directions:
Prepare the couscous according to the package directions. Be sure to allow it time to sit so all the water is absorbed and it fluff's with a fork. Set aside to cool.
Add all vegetable ingredients in a large bowl and toss to combine. Add the cooled couscous and toss gently, incorporating all vegetables with the couscous. Note: Traditional tabouli wouldn't use this much couscous….you can try 1/2 the amount to start and see if you prefer less, I like the texture of the base to have more couscous, therefore I used the entire prepared package.
Whisk the dressing ingredients together and taste for seasoning (should be good to go). Pour over the salad and toss to combine. Chill for an hour before serving. Holds well in the refrigerator for 3 days.
For the sandwich:
Toast two slices of your favorite gluten free bread. Spread a healthy layer of the tabouli salad over one slice. Top with slices of gluten free turkey breast and thin slices of English cucumber. Enjoy!