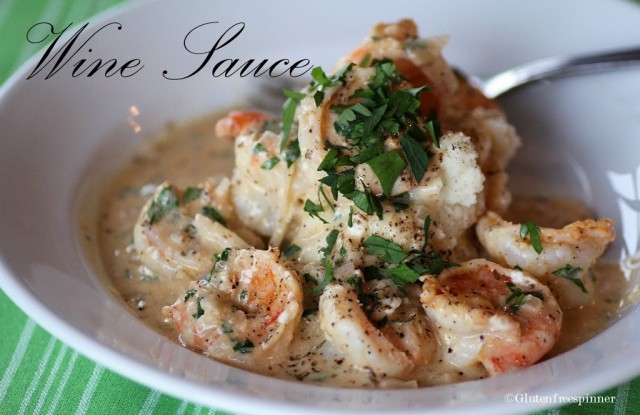 Shrimp in Creamy Garlic Wine Sauce
Our schedules have been crazy-busy lately so when dinner rolls around I'm scrambling for something easy to make. Shrimp is a great go-to as it thaws and cooks quickly and I always keep a bag in the freezer. Last night I spun this creamy shrimp dish that ended up being amazing.
Most cream sauces are made with heavy cream which has many of sticking to low-fat scampi sauces instead. But I lowered the calorie count by using 1/3 less fat cream cheese to add the creaminess and it worked beautifully. The sauce is the star in this flavorful dish and we served it over mashed potatoes (Mr. Spinner's preference), but it would be equally good over brown rice or linguine. Risotto would also be a wonderful choice if you have the time, and a side of fresh spring asparagus would pair nicely. Whichever way you serve this dish, I think you'll agree it's easy and delicious.
Enjoy!
Ingredients:
16 – (21-25 per lb) large raw shrimp, deveined, tails removed, split down the back
Seasoning blend:
1 Tbsp old bay 1/3 less salt

1 tsp lemon pepper

½ tsp onion powder
1 Tbsp olive oil (to toss on the shrimp)
For the sauce:
2 Tbsp olive oil (divided)

1 large shallot, minced

1 Tbsp minced garlic

3/4 cup good white wine (pinot grigio or sauvignon blanc)

2 Tbsp butter

2 Tbsp – 1/3 less fat cream cheese

Pepper

1 Tbsp Parmesan

Red Pepper flakes to taste

¼ cup chopped fresh parsley
Directions:
Combine the seasoning blend and sprinkle over the prepared shrimp, using only enough to lightly coat each shrimp, tossing to distribute. Store the remaining in a sealed container or plastic bag. ( I had about a tablespoon leftover.) Sprinkle the 1 Tbsp olive oil over all the shrimp and toss. Set aside.
In a large sauté pan, heat 1 Tbsp olive oil over medium high heat and add the shrimp, one by one, placing them on their sides to brown. When they start to turn pink (after about 1 minute), turn onto the other side and cook another 1-2 minutes, no more. Remove from pan to platter and cover loosely with foil.
In the same pan, add the other 1 Tbsp olive oil and sauté the shallots for 2 minutes. Add the garlic and sauté for another minute. Add the 3/4 cup of white wine and allow to simmer and reduce, about 2-3 minutes. Add 1 Tbsp of the butter, swirling as it melts. Add the other Tbsp of butter and do the same, the sauce will begin to thicken. With a whisk, add the cream cheese and continue swirling and whisking until the cream cheese is incorporated into the sauce. Return the shrimp to pan and coat with the sauce. Sprinkle 1 Tbsp grated Parmesan cheese (no more or you will lose the flavor), fresh black pepper, and a dash of red pepper flakes (optional).
Serve over a bed of garlic mashed potatoes, rice, or thin brown rice spaghetti noodles. Sprinkle with fresh chopped parsley.
Serve with a glass of your favorite white wine.