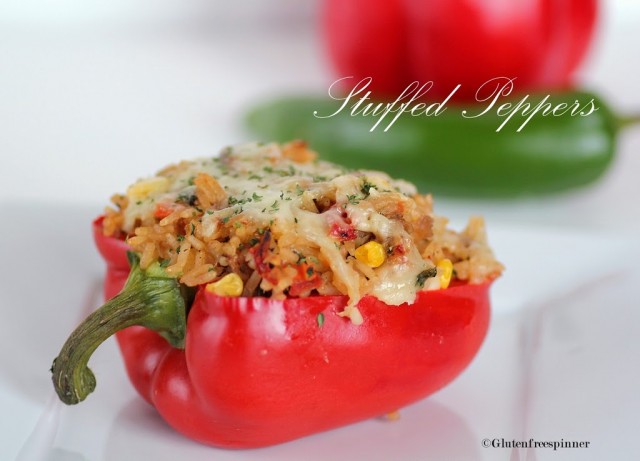 Stuffed Red Bell Peppers
Have you ever stuffed red bell peppers? If not, let me give you a reason to. First the flavor…sweet, juicy, and tender (not mushy) filled with chili's, rice, corn, and turkey sausage. I prefer red bell peppers over the other varieties simply because they're a treat all by themselves. Before I learned the in's and out's of gluten free living, I brought sliced red bell peppers with me everywhere.
They satisfy the sweet, the crunch, the flavor, and the freshness we often look for in many other foods. They also travel well in a little cooler and their vibrant color stays true for days. Did I mention the nutrition value of red bell peppers? A 20 calorie serving (1 small pepper) packs
1.7 g of dietary fiber and a hefty dose of Vitamins A and C, B6 and folic acid. They're also
one of the few foods that contain lycopene, a carotenoid which studies have shown may help protect against certain cancers.
Everything you ever wanted to know about red bell peppers is here , giving yet another reason to
add them to your menu.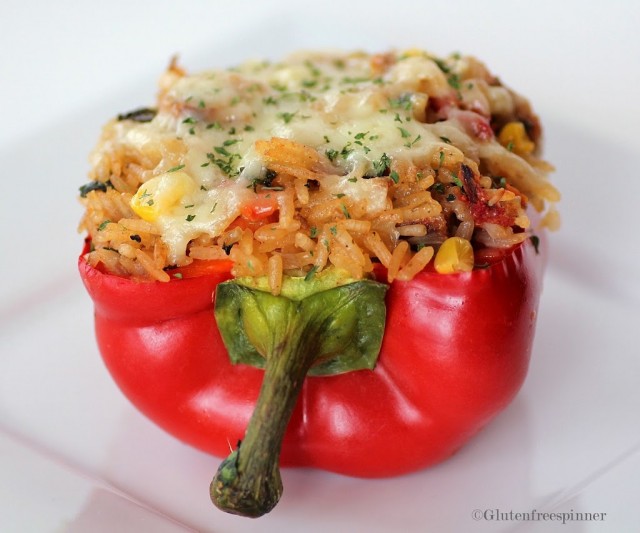 I was browsing the new produce section of my local Costco store when I noticed the bright red peppers sold in bags of six. I wasn't sure what I would do with all six, but I bought them anyway. As with everyone else, I'm anticipating Spring and look forward to the fruits and vegetables as they become available. The comfort foods of winter like stews, soups, and long cooking roasts are satisfying and delicious, but there's something to be said for a change in seasonal flavors.
What could I make to showcase these beautiful peppers? Mmm, I will stuff them. Stuffed Red Bell Peppers are a perfect solution to this in-between season and because I leave the peppers slightly crisp, it allows the freshness of the pepper to highlight the dish. If you like your peppers a little softer and more tender, just bake them under the foil a little longer before browning the cheese. The stuffing in my peppers is slightly spicy, but not so much to overpower the sweet pepper. A large contributor to the flavor is a new turkey sausage I found at our co-op that has moved to the top of my list of favorites. It's from Ferndale Market, in Cannon Falls, MN and it's a gluten free roasted red pepper and garlic sausage. I'm not much of a sausage gal, I don't eat beef or pork sausage and once in a while I'll make turkey sausage…it's a texture thing. But this one is different, it's a finer ground turkey sausage and the flavor is fantastic. It will definitely be a new addition to many more of my recipes, much to my husband's delight!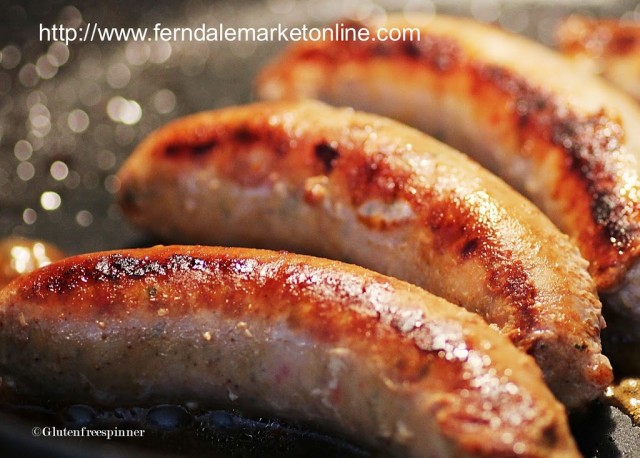 I browned the sausages first and cut them into small pieces before adding the red onions, Vidalia onions, Anaheim peppers, carrots, celery and garlic. I then tossed it all with Cajun seasoning before adding the rice and chili tomatoes. The combination of all these ingredients was intoxicating. Jake, my Brittany, was laying on the floor by my feet and I could see his pleading expression of "c'mon…just a taste?" I gave in…how could I resist those big brown eyes?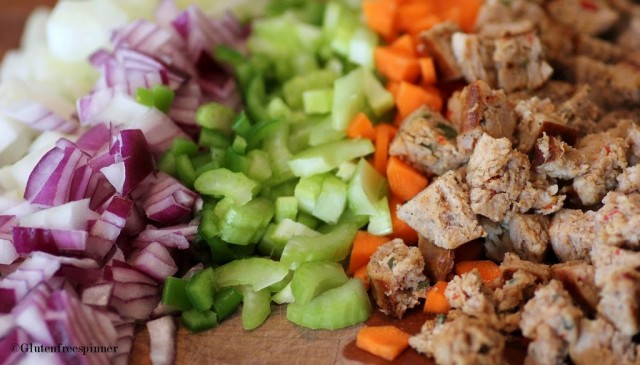 Contrary to the traditional method of using a whole pepper, I cut them in half, lengthwise, and stuffed each half. They are much easier to eat this way and it allows for a smaller serving. I also left the stem on the ones that had one and it made for a nice presentation. A little shredded white cheddar on top and they were ready to bake.
These peppers can be made ahead of time, which is great for weeknight meals. I made them in the morning and baked them for dinner, but you could certainly make them the night before. They were so-so good and they were beautiful too. Enjoy!
Ingredients:
3 Red Bell Peppers, cut in half and seeded (making 6 – half peppers)

1 (12 oz) pkg spicy turkey Sausages (4 sausages) – check gluten free
2 Tbsp Olive oil

½ cup chopped Vidalia onion

½ cup chopped red onion

1 Anaheim pepper, chopped small pieces

1 stalk celery, chopped

1 carrot, chopped

2 cloves garlic, minced

1 tsp McCormick perfect pinch Cajun seasoning

½ tsp salt

½ tsp black pepper

1 ½ cups Jasmine long grain rice

1 ¼ cups water

1 (10oz) can Ro-Tel diced tomatoes with lime juice and cilantro

2 cups shredded white cheddar cheese

1 cup frozen corn

1 bunch Fresh Cilantro – chopped
Directions:
Heat the olive oil over medium-high heat and add the turkey sausages. Brown on all sides and lower heat to medium low, cover, and cook until thoroughly cooked. Remove from pan and cut the links into quarters, then chop into ½" pieces.
Return the sausage pieces to pan over medium heat with both onions, Ananheim pepper, celery, carrot, and garlic. Saute until the onions start to tender. Add the Cajun seasonings, salt, pepper, and rice and toss to combine all ingredients. Add the water and Ro-Tel tomatoes. Bring to a simmer and reduce heat to medium low, (must be low so you don't burn the rice) cover and simmer for 20 minutes.
Turn off heat. Fluff the rice and sausage mixture and cover again for 10 minutes while you prepare the peppers.
Preheat oven to 350 degrees.
Cut the peppers in half, lengthwise. Leave the tops intact for looks, but remove the membrane and seeds. Set aside.
Add 1 cup of the cheddar cheese, corn, and the chopped cilantro to the rice mixture and toss to combine. Stuff the peppers and lay in a 13×9" baking pan side by side. Top with the remaining 1 cup cheese. Cover with foil and either refrigerate until ready to bake or follow directions for baking. If you have leftover filling like I did, pour into a small baking dish and cover with shredded cheese and bake as an additional side or refrigerate for another meal.
To bake the peppers: Bake, covered with foil, in 350 degree oven for 30-40 minutes, depending on your preference of crisp in the pepper. Remove foil and bake an additional 10 minutes or until cheese is melted and toasty brown.