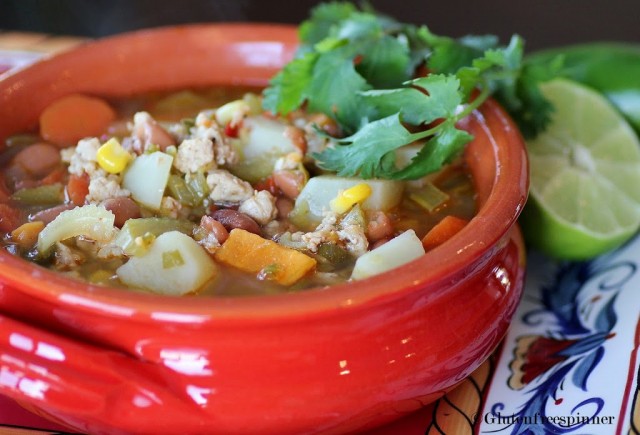 Southwest Soup
This Southwest Soup will warm your tummy and sizzle your soul with the spicy flavors of Santa Fe. It's not just the lingering zip of chili on your tongue, it's also the healthy blend of vegetables and potatoes that make it a satisfying meal. I love to use sweet potatoes whenever I can as they pack a punch of vitamin A, antioxidants, and anti-inflammatory nutrients with every bite.
In contrast to many vegetables where the nutrition value is highest in the raw form, the sweet potato is highest in its nutrition value when steamed or boiled. Think of the benefits one sweet potato brings to any dish, not to mention the sweet creamy flavor it adds. Yumm. Had I been the only person devouring this bowl of wonder, I would have added two more.
I'm also entering my Southwest Soup into the event "Go Ahead Honey, It's Gluten Free" which is being hosted by Gluten Free Homemaker this month and the topic is Seasonal Soup. This soup is loaded with winter vegetables like the sweet potato, russet potato, carrots, and beans.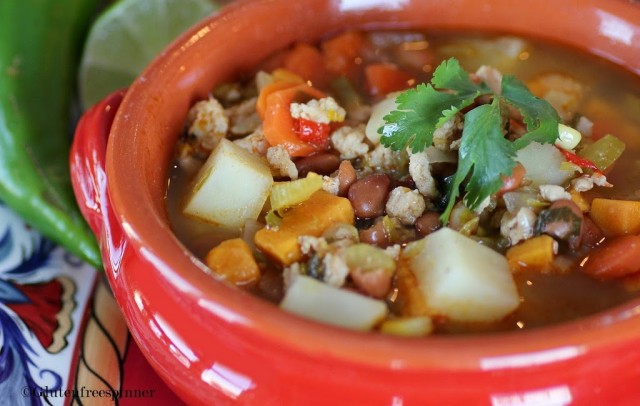 Another feature of this soup is the ease in making it. The list of ingredients looks to be many, but it comes together quickly and simmers to a beautiful finish. I served my Soup with Pumpkin Corn Muffins from Karina at gluten free goddess. It was a perfect match as the moist, sweet (but not too), fluffy, and tender golden cake calms the spicy heat while adding another Santa Fe influence.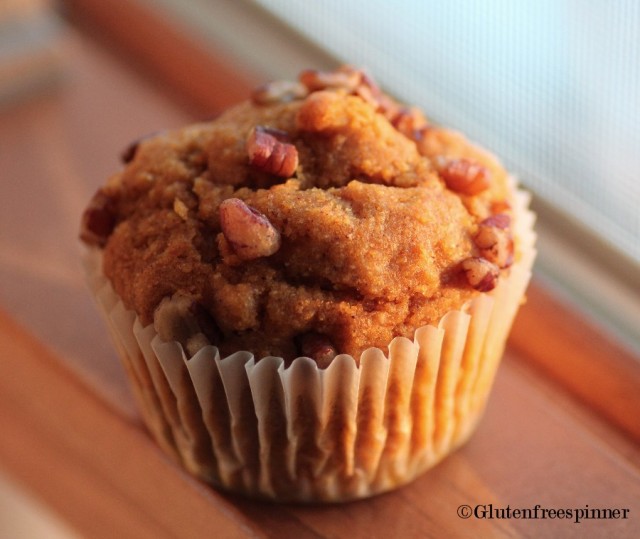 I added a few chopped pecans to the top of these beauties and a schmear of soft butter made them irresistible. My husband and I ate them for two days and they held their moist and tender deliciousness.
It's true Karina is a Goddess, you have to be to create such golden goodness.
Enjoy a bowl of my Southwest Soup and be sure to keep a napkin close by for the teary eyes and runny nose…the sign of good

Santa Fe Cuisine.
Southwest Soup
Ingredients:
1 lb ground turkey breast

2 Tbsp olive oil

2 tsp sea salt

1 tsp fresh ground pepper

1 medium Vidalia onion, chopped

2 cloves garlic minced

1 jalapeño seeded and diced

1 red pepper, seeded and diced

1 Anaheim pepper seeded and diced

2-3 stalks celery, diced with greens

2 carrots peeled and diced

1 (4oz) can fire roasted green chili's

1 large or two small russet potatoes, peeled and cubed-small 1/" cubes

1 medium sweet potato, peeled and cubed – small ½" cubes

1 Tbsp Urban Accents Mesa Rosa Chipotle

1 Tbsp brown sugar

2 tsp ground cumin

Red Pepper flakes to taste (pinch at a time)

4 green onions, chopped (greens and white)

1 (32 oz) carton organic chicken broth (33% less salt)

1 can pinto beans, rinsed and drained (or black if you prefer)

½ cup frozen corn

Fresh chopped cilantro and limes for finish
Directions:
Add the olive oil to a large soup pot and add the ground turkey. Break up the turkey and add the salt and pepper while browning. Add the onions, garlic, jalapeño, red pepper, Anaheim pepper, celery and carrots and sauté until the onion is tender. Add the green chilies, potato, sweet potato, chipotle seasoning, brown sugar, cumin, green onions, and red pepper sautéing until well combined and seasoning meld into the turkey (about 3-4 minutes). Add the chicken broth, beans, and corn and reduce heat to low. Cover and allow to simmer on lowest setting for about 25 minutes until the potatoes are tender. Add the chopped cilantro and juice of fresh limes before serving.